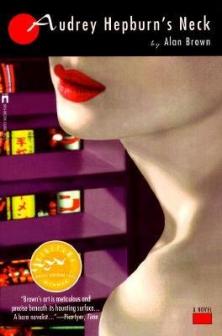 Audrey Hepburn's Neck; Alan Brown
By Kristy Webster | published Saturday, November 23, 2013 |
Thursday Review Contributor
Sometimes judging a book by its cover leads to pleasant surprises. Such was my experience with Alan Brown's Audrey Hepburn's Neck. The gorgeous cover, a picture of Audrey's neck of course, from the bottom of her face to her shoulder, juxtaposed against purple blinds and bright Tokyo lights piqued my interest. Being a huge fan of Banana Yoshimoto who writes about twenty-somethings in modern Japan, while simultaneously weaving in traditional Japanese customs and culture, I was interested to see how an American would write about a young Japanese man and his relationship with Americans living in Japan.

In essence, this is a novel about relationships, or, Relationship, capital R. Toshi, the main character, finds himself repeatedly drawn to dating American women, the newest being Jane, his language teacher who becomes the catalyst in a fun, sordid and frightening affair. My favorite character is his best friend Paul, a gay, wealthy American, who while gregarious and charming, is painfully isolated. In addition to the expected thrill and turmoil amongst a group of twenty-somethings, the relationship between Toshi's parents, or rather, lack thereof, adds a rich, intriguing layer to the story. A family secret looms over Toshi's head as he experiences his own trials and missteps among his American friends. Within this secret lies not only a personal discovery for Toshi, but a rediscovery of his cultural background, one that is both illuminating and painfully jarring.

The tone of the novel is a great imitation of life. Some moments are romantic and light, others dark and suspenseful, and throughout its unraveling, the story manages to keep a genuine sense of humor about self-discovery in the shadow of painful cultural histories, family secrecy and turbulent romances.

This is a beautiful, thrilling story I plan to read again and again. Alan Brown has bestowed upon us a true gem of a novel.