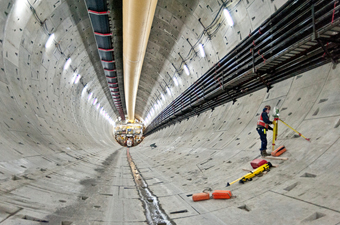 Image courtesy of Washington Department of Transportation
Seattle's Big Dig:
Bertha is Still Stuck, For Now
| published September 9, 2015 |
By R. Alan Clanton Thursday Review editor
One of the biggest tunneling projects in the world is stuck, sort of literally. Seattle's massive tunnel project—which has as its main attraction a giant boring machine called Bertha—is still idle while engineers continue to work on problems with the huge machine's cutting face.

Bertha came to a halt back in early December 2014 when the mechanism overheated and stammered to a complete stop, with engineers and construction workers believing that it had improbably encountered an obstacle stronger than the cutting edge. Since Bertha's cutting face was engineered to grind, slice and chip its way through even the most stubborn of rock and earth, the problem briefly confounded workers. But it turned out that Bertha had, in fact, encountered something even more immovable than solid rock.

In an ironic twist, Bertha had run directly into the left-over remnants of an older digging project, one in which geologists in 2002 had placed 8-inch hardened steel well casings deep into the ground to evaluate water, sand and soil, part of a complex set of studies in the period immediately after the 2001 Nisqually-Seattle earthquake. Bertha's cutting teeth were severely damaged in the encounter, and the blades had to be painstakingly replaced.

But this was just the start of Bertha's complicated misadventures and expensive misfortunes, as months later, and not long after engineers finally started the machine back up, she overheated—the expensive bearings and exotic bearing seals damaged beyond the capacity for quick on-site repairs. Unable to move the massive machine backward (Bertha was basically designed only for forward progress, as no one anticipated having to put the whole thing in reverse), engineers were forced to dig an enormous rectangular hole, lined with reinforced concrete and steel, so that Bertha's huge cutting disk could be safely removed—lifted straight up out of the ground with cranes.

But even task this was not without problems. While a massive trench was being dug into a downtown Seattle street, the routine groundwater pumping accompanying the job suddenly triggered a ripple effect of problems in the surrounding underground, inducing structural damage to South King Street, cracks in nearby buildings and sidewalks, and even serious damage to the foundation of other structures. This caused the "Big Hole Project"—intended merely to remove Bertha's cutting face from the pit—to become its own engineering fiasco as surrounding buildings and streets were now in peril. More engineers were brought in to help solve the now rapidly-expanding set of problems, not the least of which was the safe extraction of Bertha from her now very expensive burrow without triggering the collapse of streets and offices.

Finally, in late March, after weeks of struggling to solve the structural conundrum of lifting a 4-million pound machine and its enormous cutting head from a deep hole, Bertha was hoisted to the surface so that repairs could be started. Meanwhile predictions swirled—some in jest—about what damage might come next for Seattle.

The project is part of a project called officially the Alaskan Way Viaduct Replacement Program, which includes one of the most ambitious tunneling projects ever attempted, and one which used a machine designed exclusively for the task. The original cost: $3.1 billion.

Most analysts doubt that the project can be completed within that already huge budget. Bertha and some of her internal organs were sitting for months this summer in various parts and pieces in neat lines along the Seattle waterfront awaiting repairs and adjustments. After months of delays, and scores of official statements as to when the project can resume, officials with the Washington State Department of Transportation (WSDOT) and Seattle Tunnel Partners (STP) say that the new target date for a Bertha reboot is November 23. This means that—assuming there are no further problems—Bertha will be at least four years late for her grand opening for vehicular traffic on the long-awaited Highway 99 project. The tunnel was originally touted to be open for travel by spring 2015, a few months ago.

In the closing days of August, engineers and construction crews finally lowered the front-end of Bertha back into the tunnel, where the cutting face could be reattached to the massive machine. More of the machine's parts will be lowered over the next weeks, and—if all goes well—Bertha will be back in the business of boring in the near future by the November target date.

The machine's principal manufacturer is the Japanese industrial firm Hitachi, and early in 2015 the company dispatched engineers to help with repairs. Hitachi designed the 57 foot diameter boring machine especially for the specs of Seattle's Big Dig, part of an overhaul of Highway 99 and the Alaska Way Viaduct Replacement Project—which is to say the elimination of the controversial multi-level multi-lane viaduct, long considered an eyesore on the waterfront, with an alternative…anything…and some other route for traffic. Besides, the viaduct sustained some varied forms of damage after the 2001 earthquake which rocked the Seattle area—the same earthquake which (again, ironically) led geologists and engineers to poke those steel pipes into the ground in the first place, pipes which brought an unglamorous end to Bertha's boring prowess.

Not without its own forms of contentious political debate, the tunnel idea won out over a variety of other options—too numerous to list here (though it is worth noting that one option was to simply dismantle the viaduct and, using existing roads, reroute traffic away from downtown). Once completed, the huge tunnel will have two levels for traffic (one level northbound, the other southbound) along with ample space to serve as a conduit for utilities, cables, pedestrian movement and emergency egress. The plan is to channel all that traffic under downtown Seattle from SoDo in the south to South Lake Union north of downtown, and to complete dismantling the viaduct shortly thereafter.

But all of that is dependent upon the tunnel being completed. And that depends on getting Bertha back on track, for the giant machine was supposed to be digging at a rate of 6.5 feet every day.

In reality, Bertha has only moved a tiny fraction of the total distance originally slated for digging, and the tunnel now looks to be many years away from completion. Newspaper reports show that Bertha was already weeks behind schedule within the first month of digging, and every setback—minor, major, or fair-to-middling—has multiplied the timetable for completion. By the time the machine overheated last year, the 14-month project had already swelled to more than five years, depending on which report you read or who you ask in state government. WSDOT issued a revised statement last month explaining its own interpretations of STP's numerous changes and modifications to the Highway 99 schedule. Delays now include a variety of factors, including a long series of tests now that repairs to Bertha are nearly complete. Some of the tests will involve Bertha's cutting face simply spinning in order to assess the bearings and motors; still more tests will be conducted only after more dirt, sand and rock is put back into the hole to simulate cutting. Meanwhile, back at the Hitachi plant in Osaka, engineers can evaluate each step of the testing to make sure every aspect of Bertha is back in order, one step at a time.

This has caused maddening delays, of course, but the alternative is worse. The costs of lowering her back into the tunnel are too great for another foul-up once she is expected to be back in the business of boring; no one wants to be the one to make the call to halt her progress again and order her hoisted back to street level. Bertha's progress has been measured in mere inches this year, and she and her tunneling operation have cost taxpayers tens of millions of dollars more than originally expected.

Bertha and the SR-99 project have become a classic political hot potato, with all the usual and predictable finger-pointing, shouts of I-told-you-so, budget recriminations, threats by legislators, scathing cartoons and satire, and even calls by some to simply halt the project. Predictions by engineers and builders that the project could ultimately balloon to more than five times its originally-projected cost has spurred critics to suggest that simply stopping the work is cheaper and safer than throwing more money into the hole; better to cut losses and use what work has been done as a monument to poor planning and ill-conceived public schemes.

Still, an independent review last spring concluded with strained optimism that the tunnel might be completed within budget, but only if nothing else goes wrong. Skeptics are concerned, especially considering the engineering obstacles the SR-99 project has already encountered. Opening day was recently rescheduled for June 2018.

Bertha is one of many major infrastructure upgrades taking place across the U.S., even as Congress continues to debate the merits (and the political costs) of providing adequate funding for even a fraction of the cost of replacing the more than 9,000 bridges and overpasses deemed structurally deficient in the 50 states. Bertha is also considered crucial—like thousands of other similar projects across the country—to ease some of the most troublesome choke-points of urban and suburban congestion. Gridlock accounts not only for a significant amount of wasted time and suppressed quality of life for communities and cities, but also a measurable amount of damage to the environment; traffic jams are not merely inconvenient, they are also consumers of fossil fuels and destroyers of air quality. The average American commuter spends about 42 hours each year in traffic jams or road congestion, a figure which will do doubt increase in 2016. Infrastructure upgrades and improvements, including new roads with higher capacity, may be at least one answer.

Not all environmentalists see it that way, and many regard those improvements as tantamount to an invitation to commuters to travel further and extend the carbon footprint. Each time new roads are blazed, each time new lanes are added, each time a new bridge is christened, and each time a new tunnel is opened, individuals and families are indirectly (and in some cases directed) encouraged to drive further. New and wider roads often spur retail development and the construction of more homes, along with the inevitable surge in traffic. Bertha's tunnel fits not-so-neatly into this complex mix of concerns, and many of those who were annoyed by the multi-level ugly duckling road along the waterfront are even more outraged that the tunnel-once open for business—will generate even more driving, if for no other reason than driving will be even more convenient.

Adding to the misery of crowded roads, jammed highways and aging bridges and overpasses: falling gas prices, now hitting record lows, and spurring an ironic increase in driving, one of the biggest surges in road and highway travel in decades. In some states gas has dipped below $2 per gallon, its lowest price in a decade. Adjusted for inflation, those dramatic dips make gas ever cheaper now than it was in the early 1970s. Initial estimates show that the Labor Day 2015 traffic may have reached an all-time high. Just as environmentalists worry about the net ecological impact of all that new driving, those who watch closely the long-term effects of cars and trucks on aging bridges, overpasses and highways worry that the surge may also accelerate damage and force tens of billions of dollars' worth of infrastructure repairs.

In her new book Move: Putting America's Infrastructure Back in the Lead, Harvard professor Rosabeth Moss Kanter argues that despite the obvious signs of wear-and-tear all around us—from obviously rusted bridges which date back to the 1930s and 40s, to ancient concrete highways cracked and split from disrepair, to airport runways in need of resurfacing, to rail lines woefully under-inspected, to highway overpasses in danger of collapse, to still-used urban gas lines first installed in the late 1800s—no corresponding sense of urgency pervades U.S. political processes.

Infrastructure was once without political risk; roads, bridges, tunnels, runways, you name it, were producers of jobs and instant tools for the improvement of towns and communities. And where Americans once counted pothole-filling and bridge-building as a central political duty of elected officials, politicians nowadays spend more time and energy shirking even the questions about infrastructure. Easier to embrace or berate Obamacare than it is to declare the importance of replacing any one of the country's 64,000 structurally deficient bridges. In her book, Kanter says that the United States loses more than 5.5 billion hours in lost productivity because of traffic gridlock. Worse, Americans waste nearly three billion gallons of fuel while stuck in traffic jams. Beltways around some large urban areas—built and expanded during the 1960s and 1970s—are already at capacity, and many of the biggest are the scenes of daily gridlock and frustration. Worse, most are crumbling.

The costs of even modest improvements are staggering, which is why politicians flee from the discussion and prefer to kick that can down the road. In Washington, D.C. much of the Capital Beltway's 60-plus miles are pitted and shattered, with its underpinning of rock and stone already sagging from overuse and decades of neglect. Highways and major thoroughfares in and around New York, Boston, Buffalo and Cleveland are so pockmarked from the extreme cold of three record breaking winters that some stretches more closely resemble highways in the Third World than the handsome roads built in the 50s and 60s. Each morning and each afternoon Jacksonville's I-295 beltway—its vast western and southern segments built in the 1970s—becomes a 20 mile-long parking lot as commuters creep along sometimes at walking speeds. In Houston, five of the state's ten busiest and most crowded limited-access roads fill with cars as drivers spend an hour moving only a dozen miles.

According to a 2013 report by the U.S. Department of Transportation, California highways are the busiest in North America. California's I-5 tops the list, with a staggering 21.4 billion travel miles logged. California's sections of I-10 and I-110 are not far behind. The stretch of I-405 in Los Angeles is the busiest of all U.S. urban corridors, with nearly 400,000 vehicles passing along its paved surface each day.

By contrast, Seattle's downtown area and its brisk Highway 99 viaduct seem tame. Still, residents of Seattle would generally like to see that traffic routed someplace other than the waterfront. Besides, engineers who have studied the effects of the 2001 earthquake on the viaduct say that the span will not likely survive another major quake. That means that the elevated road will have to come down sooner or later—and better now than as a result of disaster.

After Bertha passes all of her medical tests, and by the time digging on the tunnel begins again in late November, the SR-99 project will be under more-or-less continuous scrutiny by political forces already poised to kill the project. It is unclear even now how—or who—will pay for the cost overruns by the time the tunnel is open for traffic in 2018. Finger-pointing between the contractors large and small, the state, the city of Seattle, and scores of subcontractors—including Hitachi, has been constant. At issue could be tens of millions, even billions, in cost overruns and lost revenue.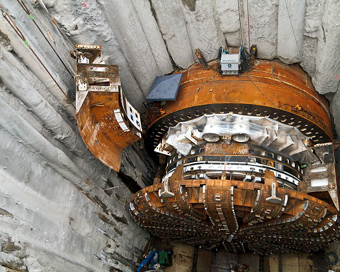 The state's top transportation officials say, however, that any costs associated with delays and breakdowns fall exclusively with the principal contractor, Seattle Tunnel Partners. But top execs with STP—citing contractual arrangements and specific clauses which cover the unforeseen—say those costs will be divided appropriately among all the participating agencies involved, and that the time for that financial reckoning is months or years away. STP, for example, does not acknowledge responsibility for those leftover steel pipes which severely disabled Bertha. In other words, Bertha's breakdown was the result of the state's negligence.

Expect fireworks, and not just the kind used to celebrate the ribbon-cutting.

As recently as September 8, the WSDOT was posting photos of Bertha's repair progress, her cutting face being reassembled this week and next week as she sits—partially wrapped in clear plastic and vinyl tarps at the bottom of the pit. Teams used giant cranes to lower heavy parts into the hole while engineers worked to put Bertha's face back together.

Despite all the pessimists' predictions and the political finger-pointing, some observers say that Bertha will indeed be fixed, that boring will begin again in earnest this winter, and that the tunnel will be completed—an engineering marvel and a traffic congestion game-changer for Seattle. At this point, however, no one is willing to make a prediction as to the true timetable or the ultimate cost.

Related Thursday Review articles:

Bored With Boring?; Thursday Review staff; Thursday Review; January 1, 2014.

Paying for Roads, Bridges & Overpasses; R. Alan Clanton; Thursday Review; July 13, 2014.