Book Review: The Thief of Always; Clive Barker
By Lori Garrett
Thursday Review Contributing Writer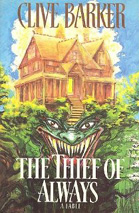 Growing up, I was a huge horror fan, and by age ten was well versed in the subject, Clive Barker being one of my favorite names associated with the genre. The Hellraiser and Candyman series were both delightfully cheesy and superbly creepy.
When I began reading his novels, lets just say I was less than impressed. I suppose his particular brand of story-telling translates better to the big and small screens. Which is why I'm surprised that no one has ever turned his superb novel The Thief of Always into a movie, especially now that computer animation has come so far.
This is a horror tale with a moral twist. It is the whimsical story of Harvey Swick, who is a very bored young man. Unable to bear his monotonous existence any longer, the boy accepts an offer to spend some time at the Holiday House, where every wish is granted and there is always a new adventure to be had. The property is inhabited by mysterious creatures and people who cater to the whims of the young guests. But the boy soon learns that everything comes at a price, and that there are some wishes that you should hope never come true.
The Thief of Always is one of the few horror novels that can easily be shared with young children, or the young at heart. The story-telling is swift, neat, and accompanied by illustrations from Clive Barker himself. I highly reccomend it, but be warned; this Thief may just pilfer your heart, and teach you a little something along the way.