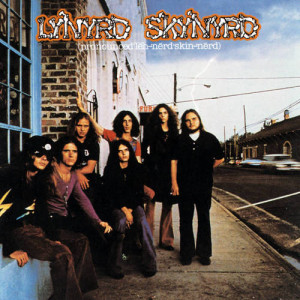 By Earl Perkins, Thursday Review Contributing Editor
September 9, 2013: They were known for songs like "Sweet Home Alabama" and "Free Bird," but it all started back at Robert E. Lee Senior High School in Jacksonville, Florida. In the 1960's, Coach Leonard Skinner told the boys they needed to cut their hair to meet school regulations, and instructed them to show up for gym class on a regular basis.
We all know that dog wouldn't hunt. They got tired of the same old message from the coach and other teachers, and one day they cut down what kids at the school dubbed "the alley," a narrow utility path adjacent to the school's parking lot which ran behind a few small retail stores. They kept going, and soon walked into history.
Ronnie Van Zant. Allen Collins. Gary Rossington. The names just roll off your tongue, but nobody knew them back in the summer of 1964. The same year Lyndon Johnson defeated Barry Goldwater, they formed a rock group called The Noble Five, changing the name to The Backyard the following year with the addition of Larry Junstrom and Bob Burns. It was another reference to their school. The football field behind Lee High was known as The Backyard, because the football team had lost only a scant few home games since the school was built in 1927. The band kept playing and practicing. The boys won a battle of the bands contest in 1968, along with the opening slot on the southern leg of a tour with the California psychedelic rock band Strawberry Alarm Clock.
Around 1970 they began billing themselves as Leonard Skinnerd, as a kind of mocking, irreverent tribute to their nemesis, the former high school coach. Ronnie and the band juggled a few players through the years until 1972, when the line-up settled into the familiar team of Van Zant, Collins, Rossington and Burns, along with Leon Wilkeson and Billy Powell. That was when the group was discovered by musician-songwriter-producer Al Kooper of Blood, Sweat & Tears fame. Kooper, who had worked with greats Stephen Stills, Bob Dylan and B.B. King, was at a nightclub called Funnochio's in Atlanta when he saw them perform, and he quickly signed them to his MCA Records-backed Sounds of the South label. Shortly after that, they officially changed the spelling of their name to Lynyrd Skynyrd, and with that they were poised for their upward trajectory.
Their career exploded from 1973 to 1977. Their debut album, Pronounced Leh-nerd Skin-nerd, included four especially potent songs, "Free Bird," "Gimme Three Steps," "Tuesday's Gone" and "Simple Man," a particularly strong set of tunes for any debut record. Indeed, many rock music fans regard Pronounced as one the greatest debut albums of all time, ranking it closely behind Led Zeppelin's self-titled debut, and on a par with (or better than) Boston's namesake first release and The Eagles' debut record. Then came their next album, Second Helping, which included "Call Me the Breeze," "Don't Ask Me No Questions," and "The Ballad of Curtis Lowe," songs which solidified their base of followers. Other albums followed, including Nuthin' Fancy, Gimme Back My Bullets and Street Survivors.
The group had their share of good fortune in the early days. In 1973, not long after their debut had already begun its upward climb, Lynyrd Skynyrd was selected to be the opening act for The Who on their Quadrophenia tour of the United States, and Skynyrd's appearances alongside Pete Townshend and company garnered rave reviews, helping to spark constant radio air-play far outside their native Deep South and exposing them to rock music lovers across the country.
The year after The Who tour came that follow-up, Second Helping, which was a break-out success. Like their debut, it contained no musical duds, but it featured what would become their biggest song, "Sweet Home Alabama." The catchy, infectious "Sweet Home Alabama" was a direct response to Neil Young's "Southern Man," a song in which Young had called to task the notion of a clear conscience for The New South. Skynyrd's own response was a cultural and political retort, and an open challenge to Neil Young to face the fact that hypocrisy existed in places like California and New York, and that unresolved issues of race were not limited to the South.
King, Collins and Rossington collaborated on the songwriting for the album. Burns left the band in early '75, and was replaced by Kentucky native Artimus Pyle. In '75 and '76 the band released the albums Nuthin' Fancy and Gimme Back My Bullets, respectively, with fair results. In the meantime their live shows were becoming legendary, and "Free Bird" had already become their signature crowd-pleaser, arguably the greatest anthem in rock history.
But the modest success of Nuthin' Fancy and Gimme Back My Bullets sparked a desire to jumpstart their portfolio, and they decided a third guitar player was needed to give performances and recordings a stronger sound. Backup singer Cassie Gaines told the others that her brother was fronting for a group called The Crawdads and could really play guitar. He was invited onstage and auditioned at a Kansas City show in May 1976. He immediately got the job and it looked as though he would be a large part of the band's future. Van Zant told his band mates Collins and Rossington—no slouches on the guitar themselves—that someday they'd all be playing in Gaines' shadow, because he was that good.
Street Survivors, released in 1977, was his showcase. The mix of the three guitar players worked well, and Gaines' powerful style meshed easily with the other guitar sounds. An oddity about this album is that it was recorded twice from start-to-finish, the first time in Florida with producer Tom Dowd, then again in Atlanta with the band members' own hands on the studio controls. A few songs were dropped, a few were added. Gaines infused their sound with bulk and power, just as they had hoped, and the band made a conscious effort to polish the otherwise raw sound, adding horns, additional keyboards and layered vocals. The result was an album which looked to transform their trajectory yet again. The songs "What's Your Name?" and "That Smell" became instant hits. The band was on top of the world and tickets for the upcoming tour were selling fast. And then came the plane crash.
There is nothing like death to take you from being a great band to one of mythical status. It was October 27, 1977, a date that all Southern Rock fans will remember forever. Late that night, following a show at the Greenville, South Carolina Memorial Auditorium, their chartered airplane crashed en route to the band's next tour date at Louisiana State University in Baton Rouge. The Convair CV-300 ran out of fuel and went down in a swampy pine forest near Gillsburg, Mississippi, about 60 miles west of Hattiesburg and a scant 40 miles from their destination. The pilot and co-pilot had apparently attempted to divert to a small rural airfield for an emergency landing, but had fallen short after the plane's fuel was exhausted.
It was three days after the release of the Street Survivors album and only five days into what was shaping up to be their most successful tour to date. Among the dead were Van Zant, along with Steve and Cassie Gaines, the two pilots and the band's assistant road manager. Collins, Rossington, Wilkeson, Powell, Pyle, backup singer Leslie Hawkins and tour manager Ron Eckerman were all badly injured. Pyle was the only band member able to walk from the crash site, though he had sustained multiple broken ribs and severe lacerations.
The band was scheduled to headline New York City's Madison Square Garden in November. It was Van Zant's lifelong dream, and the one which was never to come to fruition.
Between the plane crash, too much partying and numerous well-publicized personal problems (Van Zant could take credit for almost as much damage to hotel rooms as Joe Walsh and Keith Moon combined), things would never be the same. They were one of the greatest bands of all time, but the music world and outside influences kept them from their rightful place in history for decades. They were nominated seven times for induction into the Rock and Roll Hall of Fame, but the voters would not let them in. Folks just weren't ready to glorify the sort of unrepentant party animals who were proud to play in front of the Confederate battle flag.
Following the crash, Skynyrd broke up for 10 years, although they kept performing and touring individually and in various pairings. The band reunited officially in 1987, but there was plenty of animosity and a legion of lawyers involved. Accusations of broken promises and exploiting the group's name were at the top of the litigation list. Legal documents were signed and agreements made, and the group performs and tours to this day despite the high attrition rate among the 1970s members. Rossington is the only original member, although several of the other musicians have performed with the band on and off for decades. Rickey Medlocke has been with the band off and on since 1970, and today you can hear him on vocals, drums and mandolin.
In the wake of their huge success in the 70s, the sub-genre of Southern Rock reached maximum output. Bands like .38 Special, Blackfoot, The Outlaws and Molly Hatchet followed the wide path blazed by Skynyrd.
Lynyrd Skynyrd finally joined the Hall of Fame at the 25th annual induction ceremony in March 2006, along with Black Sabbath, Blondie, Miles Davis and the Sex Pistols. What a lineup. But, of course, there was certainly controversy again. The inductees included Ronnie Van Zant, Rossington, Collins, King, Steve Gaines, Wilkeson, Pyle and Burns. The post-crash members and the Honkettes (the backup singers) were excluded. The new Skynyrd, along with King, Pyle, Burns, Hawkins and former Honkette JoJo Billingsley performed "Sweet Home Alabama" and "Free Bird." Judy Van Zant Jenness (Ronnie's widow) and her two daughters, Teresa Gaines Rapp and her daughter, Collins' daughters, along with Wilkeson's mother and son, were in attendance at the event.
Recent album releases include God and Guns (2009) and Last of a Dyin' Breed (2012). The group recently announced it's headed to New Zealand for a summer concert tour in February, along with Starship and 10cc. Stops include Taupo, North Auckland, and Queenstown. Meanwhile, if you can't get enough, you can always hit up Skynyrd on its Twitter account, "High on the Hog."
And when you hear "Free Bird," just keep your cigarette lighter aloft.
See more at: http://www.thursdayreview.com/LynyrdSkynyrd.html