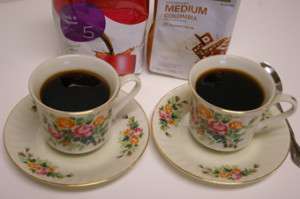 By R. Alan Clanton, Thursday Review editor
(Originally posted February 5, 2014)  North Americans, and some other folks spread across the northern hemisphere, may not soon forget this year's record-breaking cold winter, a time when those hot cups of coffee have been one of the few cheap ways to stay warm.
But it's not winter in the southern hemisphere, nor is it cold in Brazil and other parts of South America where a severe dry spell has put the brakes on coffee production.
Some parts of central and northern Brazil are experiencing a drought serious enough to cause coffee prices to rise worldwide for the seventh straight day of trading on commodities markets (the drought is also affecting other crops in Brazil, including sugar, sugar cane and soy).  Brazil is the world's biggest producer of coffee, producing far more than its famous neighbors to the north and west, Columbia, Peru and Ecuador.  Market analysts say that because Brazil supplies so much coffee to so many nations—nearly one third of the Earth's total production of coffee—that the South American drought will have a ripple effect throughout the world.
For coffee drinkers this could mean higher prices, sooner, rather than later, not only in restaurants and high end coffee shops like Starbucks, but in U.S. grocery stores as well.  For Americans and Canadians suffering through the longest and most severe winter in over 100 years, this is bad news when it comes to those easy and cheap ways to stay warm.
This year alone coffee prices have increased 29%.
For many restaurants, and in the hotel and hospitality industry, one solution would be to simply tweak the brand or grade of coffee being served to customers or guests.  Coffee is now being produced on every continent, and in many countries.  For example, many Americans might be surprised to learn that Vietnam is also a huge producer of a wide variety of coffees distributed around the world.  Other countries producing large quantities of coffee include Indonesia, Ethiopia, Thailand, India and Malaysia.  So why not just alter wholesale buying habits to work around the Brazilian drought?
For retailers like Starbucks, it's not that easy.  In the U.S., coffee aficionados are known for their discriminating nose and taste buds, and a shift in source, grade or quality might result in customer dissatisfaction.  Menu price increases might also backfire.  Sudden or fluid price changes can often an immediate effect on sales, especially in an economy in which so many consumers are looking to save money wherever possible.
Grocery stores and big retailers like Target and Wal-Mart will most likely find it easier to pass along slight increases in bagged coffee to their customers.  Target, which is known to stock a variety of brands, from intermediate to high end (Starbucks, Gevalia, and Seattle's Best), often offers brief price cuts, often to undercut their competing grocery stores.  To cope with the world increase in prices, Target may simply forego those discounts and stick to their typical $8 to $10 per bag price.
Brazil has had their lowest rainfall in about 20 years, coupled with slightly hotter temps than usual for this time of year.  Some market analysts predict that if Brazil's dry conditions continue, even for a few weeks, U.S. and European consumers will see those increases in coffee prices no later than the end of February.
There is good news for consumers: Columbia, which has not been suffering as badly under drought conditions, has increased coffee production by 15% within the last year, and several other coffee producing countries have also increased output.  Though this may not be enough to offset Brazil's shortfall, it may close part of that coffee gap.
In the U.S., now suffering under the fourth of what may be five massive and severe winter storm systems, coffee may be cold comfort for those looking to save money before that next energy bill shows up in the mailbox.
– See more at: http://www.thursdayreview.com/CoffeePrices.html#sthash.mpkX3c96.dpuf