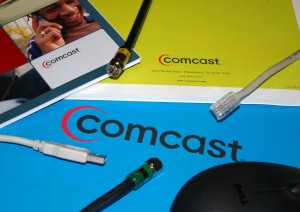 By R. Alan Clanton, Thursday Review editor
Comcast CEO Brian Roberts told reporters from CNBC and NBC (two networks whose parent company, by the way, in Comcast) that he would not have proceeded with Thursday's announcement of a proposed $45 billion merger between Comcast and Time-Warner if he didn't think the deal would move easily through the federal regulatory processes in Washington.
Some business analysts suggest that Roberts and his top Comcast brass know what they are doing, and that his comments about moving forward through the regulatory steps are in fact reflective of the mood of the principal government agencies involved: the Federal trade Commission and the Federal Communications Commission. Comcast has a well-established track record of managing major media and cable mergers, almost always coming out on top and rarely facing fierce political opposition. Its past merger with AT&T's huge broadband division and its purchase of entertainment giant NBC-Universal (which it purchased from General Electric), proved that Roberts and his team understood the political and regulatory waters.
But let's assume for a moment that this time—in this deal—pressure is brought to bear in Washington to give the Comcast's proposed Time-Warner buyout closer scrutiny.
Consumer groups, predictably, are already shouting that the mega merger would essentially make the already number one cable provider even more massive, creating in essence a cable monopoly for those subscribers in areas already served exclusively by one of the two companies, or in those areas where there is marginal competition between the two giants. The proposed combined cable company would include some 34 million subscribers, and both companies provide cable, phone and high speed internet in most of their customer footprint.
In a variety of customer satisfaction surveys cable companies often rank poorly. The Philadelphia-based Comcast and the New York-based Time-Warner, the two largest cable providers in North America, typically trade places for the top slot (one might say the bottom slot) in those grim surveys with their dubious distinctions. Consumer groups and several watchdog groups have suggested that the mega merger will only make things worse for millions of customers.
But there is a flip side to the equation. As the costs of technology and content rise, Comcast's massive size gives it leverage to manage and control at least some of those prices and fees. (See Mega Cable Mega Merger; Thursday Review; February 13, 2014).
This has been Comcast's modus operandi for decades as it moved from the second tier of cable providers into the top ten. Indeed Comcast's track record of keeping current with technological changes, product innovations, and a dizzying ten or twelve years of customer marketplace changes (including a dramatic shift toward wireless and mobile technologies) has meant that smaller cable providers and the few Mom & Pop operators still out there often found themselves unable to compete on the same scale as Comcast. In short, Comcast says it can offer far-reaching service improvements and advancements based on its economy of scale.
But, this is cold comfort for people who fear the worst: slower response time to field service problems, longer on-hold waits for customer service, prices increases, and billing problems.
One possible political and regulatory outcome might be that even if the deal is allowed to proceed, federal regulators might impose strict conditions, such as divestiture of some parts of the newly created cable footprint. There may also be a push to allow more competition from smaller companies in many of the areas now served exclusively by either Comcast or Time-Warner, but especially in those locations where competition currently exists between the two giants. (A similar debate may ensue over the proposed merger of Sprint and T-Mobile, a marriage which would leave the U.S. with only three major wireless carriers).
And there will be possible ripple effects into other areas. The merger may give Comcast the muscle to more fiercely compete with Netflix, a service which has taken a big bite out of Comcast's desire to make content king. Companies like Netflix and Apple have a lot at stake in this deal, and indeed it may be in their best interest to lobby against the Comcast/Time-Warner merger as it will no doubt affect their access to valuable bandwidth—some of which Comcast will control.
In the end, the question of how this will affect cable customers remains open and speculative. The answer will come only when millions of customers see which weighs more—the product and technological gains, or the longer on-hold waits for a customer service representative.
Related Thursday Review articles: Mega Cable, Mega Merger; R. Alan Clanton; Thursday Review; Thursday, February 13, 2014.
– See more at: http://www.thursdayreview.com/ComcastTimeWarner2-14-14.html#sthash.0YhS4tCX.dpuf