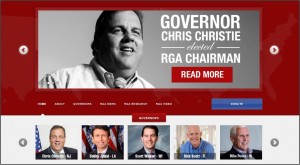 By R. Alan Clanton, Thursday Review editor
(Originally published Friday, February, 14, 2014) New Jersey Governor Chris Christie has had a rough seven or eight weeks in the spotlight, even with the remarkable positive spin from the most watched Super Bowl—and the most highly rated TV event—in history taking place right in his own home state.
The so-called Bridgegate scandal has diverted his energies and his time, and has driven out of the limelight save for that nearly two-hour press conference last month followed by his state of the state address to the New Jersey legislature a few days later.
Now he must face the music again, this time in his new and prominent role as chairman of the Republican Governors Association. His selection for that job last fall was widely regarded as the final step in what would be his inevitable entry into the 2016 presidential sweepstakes. Until the fracas over the lane closures on the George Washington Bridge, which connects New Jersey to New York City, Christie was generally viewed by political analysts as the GOP front-runner, and the man-to-beat among the other Republican hopefuls.
Christie's poll numbers last fall showed him to be the favorite among GOP voters, easily besting his closest potential competitors—Jeb Bush, Paul Ryan, Bobby Jindal and Rand Paul.
But much water has passed under that bridge. And much has changed.
Once able to hold his own in theoretical match-ups against presumed Democratic front-runner Hillary Clinton, Christie's poll numbers have fallen—slowly at first, then more dramatically. Other than a brief appearance at the Super Bowl, during which boos could be heard (albeit from lots of people not from New Jersey), he has been forced to stay out of direct contact with reporters. His much-watched trip to Florida a few weeks back to help raise money on behalf of Florida Governor Rick Scott resulted in no appearances outside of the private dinners and receptions, and zero contact with reporters.
Even as subpoenas were issued by the special committee investigating the bridge scandal (and the matter of the Sandy Relief money), Christie has communicated with the media by way of written statements, emails or through spokespersons in his office. The normally gregarious, outgoing and plainspoken Christie has remained tucked away behind his office walls and the cover of tinted windows on black SUVs.
But beginning on February 24, that may have to change, and the governor may have to face direct and heavy incoming fire from reporters as he convenes the GOP governors in Washington, D.C.
In Washington, where the press corps makes up a significant share of the political population, any event in which a top-tier presidential contender makes an appearance will draw throngs of reporters and photographers. In this case, many of them will be drawn by the scent of blood in the water. In fact, had everything been going swimmingly for the New Jersey governor, you can bet a few of those same reporters would yawn and stay home. But this is different. The media super storm which has swirled around Christie seems to know no limits, and the sharks have been circling for months.
Fairly or unfairly, the dilemma he will face during the Republican Governors Conference is a no-win scenario. If he makes an appearance, even for a brief few questions, it will produce little of anything useful for the GOP and nothing but grief for Christie. Reporters will ask nothing about the conference, despite the importance that such confabs can sometimes generate. All questions will be directed, again, toward what the governor knew and when did he know it: lane closings, vindictive emails, threats to withhold Sandy relief funds, bullying of political opponents, and the issue of what evidence folks like David Wildstein might possess to incriminate the governor.
On the other hand, if Christie decides to duck reporters—and the governors send out someone else to field the media questions—Christie will be accused of dodging accountability, or worse, of hiding something. As a group, reporters tend to get more annoyed by a failure to appear than anything else, and you can bet the spin will be universally negative—even from Christie's friends among the press corps—if he avoids any public appearances in which Q&A is the order of the day.
By most accounts and by most measures, artificial or otherwise, the clock is ticking on Christie's window of opportunity. If he is unable to make Bridgegate go away by mid spring (so far there is no smoking gun linking him directly to any of the bad behavior for which he has been accused) his presidential ambitions for 2016 may be ruined. Even some in the GOP have begun slowly backing away for the governor. But his immediate culpability will become irrelevant by June or July, which many regard as the failsafe point for the start of exploratory action for presidential fundraising and organizing.
The test of his resolve to put the scandals behind him may come next week in Washington, when he makes that fateful decision about whether or not to appear before that shark-frenzied room of reporters, videographers and photographers.
Related Thursday Review articles:
Bridge to Nowhere; R. Alan Clanton; Thursday Review; February 1, 2014.
A Super Storm in Jersey; R. Alan Clanton; Thursday Review; January 20, 2014.
Chris Christie: A Bridge Too Far; R. Alan Clanton; Thursday Review; January 13, 2014.
– See more at: http://www.thursdayreview.com/ChrisChristieBridge2-14-14.html#sthash.fk4Pnz4X.dpuf