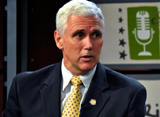 By R. Alan Clanton
Thursday Review editor
In early April, Thursday Review published an article about the possibility that former Florida governor Jeb Bush was considering his options for a presidential run in 2016. In a Republican field in which New Jersey Governor Chris Christie is no longer a major contender—and it is not clear that he will survive the current storm of scandals now surrounding what has been called Bridgegate—Jeb Bush rises easily to the top tier among Republican candidates.
Bush has been non-committal, but for some GOP strategists (and for some of the big cash donors), Bush resides at the very top of a list of other probable candidates: Paul Ryan, Rand Paul, Ted Cruz, Bobby Jindal, and Marco Rubio. Others waiting in the wings, perhaps also watching to see whether Bush gives an indication if he is officially in, or out, of the GOP sweepstakes, may include Rick Santorum and Mike Huckabee (each veterans of past primary and caucus seasons), and Wisconsin Governor Scott Walker.
In the days after we published the article several folks wrote to us via email or social media to point out that among the stalking horses is Indiana Governor Mike Pence, a former U.S. Representative and a favorite of the biggest of the big money GOP political contributors, the Koch Brothers. The Koch Brothers have been reported recently to be worth over $100 billion, and the recent Supreme Court ruling which rules unconstitutional limits on political contributions means that the politically active brothers can lavish cash upon their chosen candidates.
More importantly to some GOP centrists, Pence is a fully-vetted stand-in for Jeb Bush, but without the inevitable baggage that would accompany anyone with the last name Bush. Many in the GOP are squeamish about an election which might be a rematch of previous Clinton-Bush battles, and despite Jeb Bush's likeability, success as governor of a big state, and current high approval ratings, there is fear that many voters would reject the specter of Bush facing off against Hillary Clinton.
Clinton is the presumed front-runner among all potential Democratic candidates eyeing 2016, though she has repeatedly insisted that she has not made a decision. Her cageyness has essentially frozen other potential Democrats in place, preventing even early exploratory committees from developing organically around names like Joe Biden, Andrew Cuomo, Brian Schweitzer and Deval Patrick.
Bush, on the other hand, does not necessarily create the same deep freeze among potential Republican rivals. Even with home-brewed scandal swirling around Chris Christie, the New Jersey governor has powerful fundraising capability, drawing huge sums for the Republican Governors Association and raising cash for current Florida governor Rick Scott. Fundraising aside, the central question for most Republicans is whether Jeb Bush lends enough potency and credibility to outweigh the inevitable baggage associated with the last name of two past presidents.
If Bush decides not to run in 2016, Pence—largely unknown among mainstream Republicans outside of Indiana—may easily benefit by stepping into Jeb Bush's role as big-tent conciliator.
In the run-up to 2016, both parties face an odd confluence of circumstances, and both parties could face the specter of The Seven Dwarfs, a term associated most memorably with the early Democratic race of 1988. That year, after a sex scandal brought about the implosion of presumed front runner Gary Hart, and after other popular fence-sitters like Mario Cuomo and Sam Nunn opted to not run, the remaining field consisted of Rev. Jesse Jackson and six other largely unknown faces, including Bruce Babbitt, Al Gore, Paul Simon, Richard Gephardt, Joe Biden and Michael Dukakis. Likewise, in the unlikely event that Hillary Clinton decides not to run, Democrats are left with a dusty Rolodex and few well-known names to call upon. Joe Biden would rise to the top tier by default, and some Democratic strategists fear the outcome would be dismal. One Democratic friend told me that supporting Biden would be an experience similar to the "eat-your-Brussels-sprouts non-enthusiasm Republicans felt in 1996 for Bob Dole."
Likewise, in a race without Bush, the GOP might produce a cadre of lesser-known candidates, but unlike the Democrats, some of those among the GOP hopefuls have substantial charisma and untapped star power. Both Rand Paul and Paul Ryan have proven their mettle as speakers and campaigners, and Rick Santorum already maintains a substantial list of supporters and backers from his 2013 run. Jindal has high-caliber likeability, and Marco Rubio may be the GOP's biggest star when it comes to attracting Latinos. Likewise, Ted Cruz combines a Latino heritage with high ratings among the GOP's social conservatives.
Ultimately, what GOP strategists seek most is a candidate who can best bridge the seemingly widening divides between the party's warring factions: pro-business, pro-growth advocates; social conservatives and evangelicals; less-government, less-taxation fiscal hawks; anti-Obamacare legions; pro-life advocates; immigration hardliners; market libertarians. The primary and caucus seasons of 2008 and 2012 show just how fraught with danger these fractious differences can be, and especially how difficult the challenge becomes to moderate such language after the close of conventions and in the approach to that first Tuesday in November. (See: Anatomy of a GOP Loss: Parts One and Two; Thursday Review; fall 2012).
Though the process is like herding cats, top Republican strategists have already begun planning for that difficult convergence. The Republican National Committee voted unanimously last summer to greatly limit the total number of debates between Republican candidates in the run-up to the primary and caucuses. The RNC also threatened to walk away from specific networks (CNN, NBC) if planned films and documentaries about the Clintons went to air without a promise of equal time for a GOP message or response.
In the meantime, Pence and his supporters are marketing his skills and attributes, and spreading the word that the Indiana governor knows his way around fundraising. His backers and promoters also say that Pence can win over social conservatives—the same types that would have supported Huckabee in 2008 and Santorum in 2012—without offending mainstream Republicans or Main Street business interests.
Pence is also a strategic hawk—supporting Israel, and openly backing any move by Israel or its allies to take unilateral military action against its aggressive neighbors, most especially Iran. Pence wins over neo-cons for his opposition to the closing of the detention center at Guantanamo Bay, and his vocal concerns about a date-certain for the withdrawal of U.S. forces from Iraq. And Pence is a foe of earmarks, which makes him popular among libertarians and fiscal conservatives who see Congress as unable to control its penchant for spending.
And Pence gets high marks from tea Partiers for his vocal opposition to Obamacare.
Concerned that Jeb Bush may ascend unchecked to the top slot, perhaps for all the wrong reasons, a few savvy strategists are talking more openly about Pence's chances.
Pence, whose shock of white hair makes him appear more mature than his relatively young 54 years, says he has not given a lot of serious thought to running for president, though he has acknowledged to reporters for the Indianapolis Star that numerous influential Republican movers and shakers have approached him. Pence, who says he is devoting his energies to Indiana, does not completely rule out the possibility that he will make a run at the presidency. He has said he and his staff and family will work out a decision no later than the beginning of next year.
For Republicans who fear carnage in 2016 at the hands of the Hillary Clinton steamroller, Pence may seem a long shot. But the renewed talk of his prospects and the recent heavy marketing accompanying the mention of his name is an indication of how much the GOP wants to get it right in the next presidential election.
– See more at: http://www.thursdayreview.com/MikePence2016.html#sthash.qNr1z7xI.dpuf