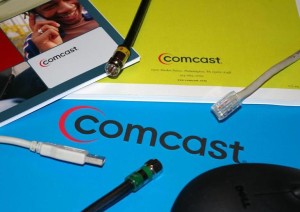 By R. Alan Clanton Thursday Review editor
(Originally published February 28, 2014) When Comcast's CEO Brian Roberts announced weeks ago that the cable company he captains has entered into an agreement to merge with the massive cable, internet and phone provider Time Warner, there was an explosion of business reporting and mainstream press discussion about what this would mean for cable television customers across the United States.
After all, Comcast is already the nation's largest cable and internet provider, and Time Warner—the number two player—was its only real competition among the big boys. Roberts and those around him spoke of improvements to infrastructure, technological advances, a beneficial merger of internet access, new compatibilities and better leverage when it comes to its entertainment and programming. All fine and good—and certainly in keeping with common sense business notions of vertical integration, especially in a fast-changing world.
Roberts hopes that the public sees it his way, and he figures that his long view of the advantages of this merger will prevail among members of Congress and the several regulatory agencies which might have concerns.
But, predictably, consumer advocates screamed. They saw an already non-responsive cable giant merging with an equally intransigent cable company to create what amounts to a de facto monopoly for as many as 35 million Americans. To make matters worse, the proposed merger will bind the two companies whose customer service ratings are among the most dismal anywhere. Some analysts predicted longer on-hold waits, slower response time to service calls, longer and more frequent outages, and unbridled price increases.
A few pragmatic and even cynical business reporters resigned themselves to the view that, in fact, nothing would change. In this view, prices will creep upwards as they always have, with little interference from state or local governments, and customer service will remain approximately static—save for a few cases where customer support centers and operations functions are folded into one another. If the two companies are already ranked at the bottom in terms of customer satisfaction, then they can't get any worse because of a merger.
In other words, neither the rosy scenario drafted by marketing and lobbying wordsmiths, nor the gloom and doom Earth-asteroid collision view will prevail.
Brian Roberts, however, is almost certainly looking beyond these distractions. For Roberts, who ascended as a young man under the tutelage of his father, Ralph Roberts, Comcast's vision has always been about finding—and correctly using—the longest possible lens. Where cable companies in the 1990s spoke glowingly of "convergence," they now speak of divergence as content migrates toward Google, Apple, Amazon and Microsoft. Indeed, with new threats emerging almost weekly on his flanks as newer technologies siphon cable customers away—especially younger customers who do not share a loyalty to the idea of a fixed TV screen or computer monitor sitting in a room—from the traditional model, Roberts wants to follow the money. And in this context, that means content.
For Brian Roberts and company, content is king.
Comcast has been savvy about content from the early days of cable. For old-timers like me, who remember an age when there were 16 cable channels, plus one HBO, and who can correctly identify what things like "CATV" and "headend" mean, there was never a time when Comcast was not looking forward. (Disclosure: I worked for Comcast for 11 ½ years, from early 1991 to late 2002; my 401k contains Comcast stock).
0Comcast always had its eye on content, and the management of its value and flow.
As we pointed out in previous articles about the proposed merger between Comcast and Time Warner, the Philly-based Comcast has an impressive track record of eyeing potentially advantageous mergers and acquisitions, and the examples are big. Its mega-buyouts of AT&T Broadband in 2002, and, later, NBC-Universal in 2011 are two historical examples of mergers that reflect Comcast's intention to place itself squarely in the center of an increasingly content-rich environment.
Comcast is also flexible and dynamic in its thinking, which meant that its business model was never pinned solely on that braided copper wire coming into your home.
Ever since the elder Roberts saw opportunity when, for about $500,000, he bought fledgling cable television operations in Tupelo and Meridian, Mississippi back in the early 1960s—about as avant garde an investment as one could imagine in those days—Comcast has shown a predisposition toward a savvy understanding of the possibilities of new technologies. In those early days, when most folks had three networks plus educational TV (lucky souls in big cities might have an "independent" station), the coming fragmentation of television entertainment was sci-fi. Atlanta's Ted Turner was still regarded, at best, as a crank, for his insistence that there was a wider marketplace for additional streams of TV entertainment beyond the rigid, calcified formats constructed by CBS, NBC and ABC.
Roberts and his partners understood instinctively that with technological advances and potential bandwidth growth, divergence would be inevitable, and content would one day be king. This meant that Ralph Roberts, who once sold golf clubs and putters, would have the vision and moxie years later to buy a controlling stake in the Golf Channel, among other content acquisitions over time—Sci-Fi Channel (later rechristened SyFy); E! Entertainment; a controlling percentage of QVC (later complete ownership); Outdoor Life; Speedvision.
Comcast's growth, which included purchases like Group W Cable in the 1980s and MacLean-Hunter Cable in the early 1990s, put it on a path to becoming one of the dominant forces in cable during the same period that Mom & Pop cable operations were in rapid decline. When acquiring new cable properties, Comcast bought wisely, and always with its footprint in mind—carefully developing a dual revenue model which included not just cable customers, but also advertising sales.
Throughout that period, the elder and junior Roberts' also kept a keen out on emerging technologies, entering into partnerships with Sprint, TCI and others to provide cellular phone service (which they correctly identified as early as 1991 as having the potential for explosive growth in the consumer markets), and identifying the broadband highway as being superior to phone lines and dial-up when it came to the toddling internet. Comcast's 1993 annual report makes clear their intention to play a part in the growth of the web. "Online computer services represent an exciting new potential revenue source for Comcast," the report says, "Our cable television infrastructure is capable of transmitting data 1000 times faster than existing phone lines, accommodating several applications simultaneously without interruption." The report references services like AOL and Prodigy, and takes a prescient view of the potential for online shopping and web-based banking as the wave of the future.
In 1993 there were plenty of skeptics when it came to the farfetched notion of computer-based shopping, but not among those close to Brian Roberts who envisioned millions of consumers—in the comfort of their home—making simple online click choices for blinds, dinnerware and books. Talk about prescience. Fast-forward exactly 20 years: for the holiday quarter just ended, Amazon reported sales of $17 billion dollars; on "Cyber Monday" alone, Amazon sold 36.8 million items—or an eye-popping 426 items per second.
Comcast was also at the leading edge of the inevitable all-digital future, and its earliest forays into Pay-Per-View (it owned and developed Viewer's Choice in the 1990s), fiber optics and high-definition are documented in its annual reports as far back as the early 1990s. Its earliest adventures with digital transmission came with its partnership with—and partial ownership of—Primestar, a satellite dish division which it eventually divested its interest in as broadband capacity grew more robust. Later, after its huge buyout of TCI and AT&T Broadband, Comcast would be instrumental in developing and expanding HITS (Headend-in-the-Sky) which it now owns and operates in Colorado, a technological and data convergence center which operates as a kind of one-stop-shop for content providers—receiving, processing and distributing television and movie content along a variety of platforms and pipelines.
The potential for a perfect storm of content, capacity, technology and diverse spending habits was tempered with an eye for its overall footprint.
When Comcast made a friendly (some would say generous) offer of $60 billion to buy Media One in the spring of 1999, the proposed merger made for big headlines in the business and media press. The merger looked like a done deal to many observers, and the move would have placed Comcast in a position of preeminence in terms of national subscribers. But AT&T, hoping to outflank others on content convergence, outbid Comcast by $2 billion more. Not wanting to get suckered into a bidding war, Comcast deferred.
The Media One deal would ultimately prove to be a stink bomb for AT&T, which was not prepared for the steep learning curve involved with the rapidly expanding and increasingly complex cable business. In many of the new AT&T Broadband markets customer service sank to levels which could only be described as abysmal as Media One's already poor customer service reputation and slow response times melded with AT&T's misunderstandings and faulty business model. Comcast bided its time as stockholders in the newly enlarged AT&T saw their earnings plummet. In some AT&T markets, customers were complaining to their local government and regulatory bodies: what had been uncomfortable 20 minute on-hold waits had now inflated to 45 minutes. Lines in retail payment centers could entail a one hour wait, and service response time in the field could take up to three days.
Comcast would eventually buy up the entirety of the AT&T Broadband unit for $44 billion in 2001, at which point Comcast had no major rivals save for Time Warner (then known as AOL Time Warner). Comcast had gone from being a second-tier, small town cable operator to the number one provider of cable TV in the span of only two decades.
Along the way, Comcast never lost its eye for valuable content. In an audacious 2004 move, it proposed a $54 billion buyout of Walt Disney Company (along with the absorption of $12 billion of Disney's debt), in what was then the biggest media deal ever floated. Comcast's endgame was to acquire Disney's prized ESPN, by then a cash machine of highly rated sports content and versatility, by then already spinning off into three or four networks. Disney politely rejected the offer, and Comcast set about finding other avenues to harvest a bigger share of the sports market, developing (or buying) Comcast SportsNet, SportsNet New York, the MLB Network and Comcast Sports Southeast.
Less than a year after the Disney/ESPN bid, Comcast entered into a deal with Sony to acquire MGM and all of its affiliate studios, which at the time included United Artists, in an effort to aggressively channel motion picture content into its growing war chest of content. This gave Comcast distinct advantages in practically every cable market where competition existed: an offering of direct content that the smaller players did not have.
Comcast improved its footprint once more when the bankrupt Adelphia Cable went on the auction block. Comcast and Time Warner each took over 50% of Adelphia's components, solidifying Comcast as number one and Time Warner as number two.
Comcast's biggest coup came in the form of a slow-moving deal, begun in late 2009 and formally approved and completed in 2011, to purchase a controlling interest in NBC Universal from GE. Despite a chorus of concerns in the business press and among consumer groups, the FCC and other regulatory bodies approved the deal. This gave Comcast the lion's share of access to the NBC family of content, including USA Network, MSNBC and CNBC, along with that of Universal Pictures and Universal's television studios (not to mention Universal Studios theme park in Orlando, Florida). The NBC Universal deal cemented Comcast's intention to remain a crucial manager—some would say gatekeeper and key-master—of content.
Comcast bought the remaining shares of NBC Universal between 2012 and early 2013, at which point it had become arguably the largest entertainment and electronic communications company in North America, with rivals among only Verizon, Microsoft, Google, News Corp (Fox) and the aforementioned Time Warner. Add to the mix Comcast's recent deal with Netflix—a largely undisclosed arrangement whereby Netflix will deliver content directly through Comcast in exchange for uninhibited speeds and streaming. Netflix will pay Comcast for this faster access for its approximately 55 million subscribers. This may be a win for Netflix, but the arrangement will be a win/win/win for Comcast: it creates a solid revenue stream; it puts Comcast's fingers on the pulse of content preferences; and it creates another tollbooth operation for the cable giant.
Thus the conventional view that the Time Warner buyout may be too big for the regulators in Washington to ignore.
But this is where Comcast still maintains an edge. Its lobbying efforts, as well as its capacity to understand every nuance and every fine print clause of communications law, has given it the clout to make extremely competent strategic decisions. If Comcast makes an announcement to the public and the business press, of say an acquisition or merger, you can bet the farm that their top attorneys, lobbyists and policy wonks have thought the matter through. And as Bloomberg recently reported, Comcast's top lobbyists are now embedded in, and intertwined among, the offices and halls of Washington. The cable giant maintains a seamless overlap between elected officials and their own lobbying efforts, including one Comcast lobbyist who was until recently a member of the FCC's top governing board. According to Bloomberg, Comcast is the second biggest spender on U.S. lobbying efforts, behind only Northrop Grumman.
Comcast has also been adaptable and magnanimous about politics, smartly avoiding picking a partisan side in the increasingly bitter and gridlocked Washington battles. Instead, Comcast takes care to massage the sensibilities of players on both sides of the aisle. This conciliatory approach wins friends, but also avoids making enemies—which is just as important. Comcast also likes to co-opt politics as theater, as in its decision to be instrumental in convincing the Republican Party to let Philadelphia serve as host to the GOP convention in 2000. The effort paid off as Comcast gained valuable exposure and goodwill, hosting the event in a sports arena and convention center which bears their name. Years later, Comcast execs raised money for President Obama, and Brian Roberts has been known to donate to candidates of both parties, though in recent years he has been a bigger contributor to Democrats than Republicans.
Comcast also counts among its legal advocates and lobbyists several former elected officials, including former U.S. Senators Don Nickles (a Republican) and Blanche Lincoln (a Democrat).
Still, you can bet the pressure from consumer advocates and some politicians will be fierce.
What complicates the Comcast Timer Warner merger is the reality of a recent decade of poor service and price increases. Comcast and Time Warner have each traded the dubious distinction of being the least-liked companies in the U.S., and often, if one is at the top (bottom!) of that sad list, the other places second. This may become the driving factor in resistance to the merger, at least as it is currently packaged.
Some business analysts suggest that even if Comcast's superior lobbying efforts win the day and the FCC approves the deal, both companies may be forced to accept heavy concessions—selloffs of certain properties or geographic footprints, or divestiture of certain business components. Some in Washington have also suggested that even if the deal maintains momentum among the key decision-makers, the newly formed company may have to agree to measurably expand its customer service and tech support operations in order to mitigate further mass customer complaints, and this may be coupled with a concession that there be demonstrable evidence of improvement.
Acting independently of Washington, some state and local governments may feel the heat from residents to open up areas to competition, especially in those towns where only one cable company will remain standing once the deal is complete. But even if cities, counties and communities open that door—inviting and encouraging second-tier players into their markets—two things would have to happen: competitors would have to take the bait, which means spending millions on construction and facilities; and, that "competitor" would still have to negotiate on a more-or-less continuing basis with Comcast for content, and its extensive technology footprint of Pay-Per-View and bandwidth. The return of the Mom & Pop cable company is not likely.
And in a world in which content remains king—growing more emperor-like with each passing month—few competitors would have the moxie or the clout to challenge Comcast's preeminence when it comes to technology and content.
Related Thursday Review articles:
The Big Merger: Comcast and Time Warner; R. Alan Clanton; Thursday Review; February 14, 2014.
Mega Cable, Mega Merger; R. Alan Clanton; Thursday Review; February 13, 2014.
– See more at: http://www.thursdayreview.com/ComcastTimeWarner2-28-14.html#sthash.yNirjLSY.dpuf