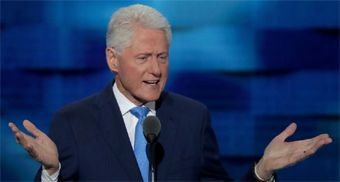 Image courtesy of C-span
Bill Clinton Highlights Tuesday
for Democrats
| published July 27, 2016 |
By R. Alan Clanton, Thursday Review editor
Hillary Rodham Clinton—former attorney, former First Lady, former United States Senator, and former U.S. Secretary of State—became the first female nominee of a major American political party when Democrats in Philadelphia Tuesday night cast their votes to make her their candidate for President in 2016.

Clinton's nomination was assured when South Dakota cast the roll call votes which put Clinton's delegate total over the top early in the evening.

The optics of Tuesday night's proceedings were markedly more unified and positive after two days of disruptions, anger, and tension among some delegates. Clinton's victory came after a long, bitter fight with her Democratic Party rival, Vermont Senator Bernie Sanders—a rival who only endorsed her candidacy last night in Philadelphia amidst angry jeers and the frustrated catcalls of those who still support Sanders.

Her triumph also comes only days after Democratic National Committee chairperson Debbie Wasserman-Schultz was forced out in the wide wake of an email scandal which shows that the DNC was frequently attempting to tip the political scales in favor of Clinton while routinely suppressing the efforts of Clinton's rivals, which included Senator Sanders and former Maryland Governor Martin O'Malley.

Hillary Clinton's selection by Democrats was followed later in the same evening by a stirring, engaging and intensely personal speech by former President Bill Clinton which wove his life's recollections of his relationship with Hillary—starting from the first moment he met her in a college classroom to his memories of her joy at holding their grandchild.

"In the spring of 1971 I met a girl," Bill Clinton began, then spinning the sometimes humorous story of how she repeatedly rejected his proposals of marriage in the early 1970s so that she could, in effect, stay focused on her studies and her early professional life. From there, his speech moved intimately through the personal sphere of their two parallel lives in politics and government work.

The former President spoke for nearly one hour, threading his personal story of Hillary Clinton—her first political jobs, their travels, their first house, their wedding, their dramatic political victories and their painful political losses—into an intimate portrait of the person he called the "best darned change-maker I've ever met in my entire life."

"This is a really important point," Clinton said as he looked around the arena, "This woman has never been satisfied with the status quo. She always wants to move the ball forward. That is just who she is."

Clinton sought to connect the dots between the very personal, intimate view of the Hillary he says he knows and understands better than most, and the Clinton often seen as chilly, artificial and self-promoting on the campaign trail.

"I married my best friend," Clinton told the delegates, "I was still in awe after nearly four years of being around her at how smart and strong and loving and caring she was, and I really hoped that her choosing me and rejecting my advice—to pursue her own career—was a decision she would never regret."

Most political analysts regarded the speech as the highlight of the evening—a carefully paced, engaging, and well-delivered personal address effective at humanizing the former First Lady and former Secretary of State who now wants to become President, and making the case that her track record of experience is what is needed in the White House for the next four years. Though he rarely mentioned Republicans, he did ask delegates and those watching on TV to reconcile the sharp differences between the Hillary described in mocking terms at the GOP convention last week with the one he described in glowing vignettes on Tuesday night.

The former President sought to close the one persistent gap among Americans' opinions of Hillary Clinton: that she is neither trustworthy nor genuine, but a creature instead of a stilted and unvarnished desire for political power, a theme now more toxic than ever as several major polls show that 68% of all voters believe she is untrustworthy and unaccountable. Bill Clinton attempted to present a more humanized Hillary—a strategy perhaps critical in a period when recent NBC News and CBS News polls show Trump and Clinton in a dead heat nationally.

The former President's speech was also an attempt to push back against Donald Trump's frequent campaign trail attacks on Bill Clinton, barbs meant to portray the former Arkansas Governor and popular President as an abuser of women and a sexual predator.

Bill Clinton's popularity among Democrats was evident throughout the speech as the crowd interrupted his presentation with applause scores of times, pushing the conclusion of his talk well past its scheduled ending time.

After a long period of thundering applause by the delegates and visitors, and after a musical performance by Alicia Keys, Clinton addressed those in the arena by video, thanking Democrats for the support which brought her to this point, and asking that they remain diligent going forward into a general election campaign which will surely be a tough fight with Republican nominee Donald Trump.

Image courtesy of Reuters
Her appearance on the giant video screen, after a glass-shattering dissolve symbolic of the glass ceiling being broken, harkened back oddly and eerily to a famous ad titled "1984," first used by the computer Apple during its days of challenging IBM, but rebooted shot-for-shot in 2008 when the Obama forces crafted a similar Orwellian ad featuring Hillary Clinton's looming image hovering over masses of grey, faceless voters. The ironic, bizarre element will no doubt be widely discussed and mocked for days and weeks, and came as a strange denouement for what was otherwise a flawless evening for the thousands of Democrats assembled in the room.

Bill Clinton's well-received address came after several hours of other speeches, the highlights of which included appearances by former DNC chairman Howard Dean and actress Meryl Streep, and a video appearance by former President Jimmy Carter.

Related Thursday Review articles:

Bernie Sanders, Michelle Obama Highlight a Convention Beset by Heckles & Boos; R. Alan Clanton; Thursday Review; July 26, 2016.

Wasserman-Schultz Resigns as DNC Chair; Keith H. Roberts; Thursday Review; July 25, 2016.