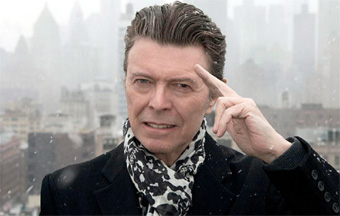 Image courtesy of David Bowie Facebook page
David Bowie:
The Life of an Audacious Innovator
| published January 11, 2016 |
By R. Alan Clanton, Thursday Review editor
Just days after the release of his latest album, pop and rock music innovator David Bowie died after his long battle with liver cancer, according to his publicist and family. Bowie had celebrated his 69th birthday last week. In his remarkable career in music, Bowie recorded and released some 28 albums, scored movie soundtracks, recorded with more than two hundred other musical artists, starred in films and television, performed in thousands of live shows, produced memorable and award-winning videos, developed video games, wrote and scored operas, and was inducted into the Rock and Roll Hall of Fame in 1996. As of the end of 2015, Bowie had sold more than 140 million records worldwide.

His trademark was that he had no "trademark" per se, other than a razor-like otherworldly voice, and relentless innovation; he remained a musical experimenter and trailblazer throughout his long career, often at the forefront of musical changes and shifting styles, sometimes in spite of popular tastes or in defiance of convention. His music spilled easily into a variety of categories and styles and subgenres, and among the most notable facts of Bowie's legacy was that he often bent—or defied—easy categorization.

Bowie's range of style and his often audacious love of innovation also helped him transcend the decades: by the time of his death he had as many fans and followers among the newest generation of rock listeners as among those of the 1960s, 70s, 80s and 90s. His songs "Starman," "Rebel Rebel," and "Let's Dance" are instantly recognizable by music fans of any generation and genre.

But despite his deep influence on music, he received only 10 Grammy nominations in his lifetime, and won only one—for his musical scoring of a short video for music video creator Julian Temple.

Music often very nearly overshadowed his talent. Indeed, some critics have pointed out that his acting career was noted for the same remarkable skill and style as his music, though he made millions of dollars from recording. His first motion picture role was in the 1976 British science fiction film The Man Who Fell to Earth, based on the 1963 novel by Walter Tevis. Bowie portrays a human-like alien who has traveled to Earth in search of water for his drought-stricken home planet. Though some critics were taken aback by the movie, Bowie's performance proved that he had an on-camera gravitas which was hard to ignore or deny.

The film, which is laced heavily with brilliant surrealism and stunning visuals, retains a powerful cult following even decades later. Bowie was able to deliver a stunning performance despite (by his own admission), being under the influence of roughly 10 grams of cocaine each day.

Bowie also appeared in many other films: the goblin king in the equally surreal and strange Labyrinth (starring Jennifer Connelly and Shelley Thompson; directed by Jim Henson); The Hunger (starring Catherine Deneuve and Susan Sarandon; 1983), an erotic-fantasy-horror film which tells the story of an Egyptian vampiress, and the immortality (or lack thereof) of her various lovers; The Prestige (starring Hugh Jackman, Scarlett Johansson, Michael Caine and Christian Bale), in which Bowie portrays scientist and inventor Nikolai Tesla. The film tells the late 19th century tale of two talented but gimmick-obsessed magicians, each trying to outdo the other for the most amazing stage illusion. Each accuses the other of using devices developed by Tesla to achieve the remarkable on-stage feats, including the illusion of teleportation.

Bowie also played Pontius Pilate in The Last Temptation of Christ, Andy Warhol in Basquiat, and Phillip Jeffries in Twin Peaks: Fire Walk With Me, a screen adaptation of the avante garde television series.

But it was Bowie's stunning and influential contributions to music which truly mark his long span as a pop icon and recording artist. His love of the eclectic and the unusual led him to create scores of now classic, atmospheric and memorable songs. His 1972 album The Rise and Fall of Ziggy Stardust & The Spiders From Mars became an instant classic, and remains in the eyes of many music critics one of the most influential albums of all time. A concept album in which the songs all connect to the same central story, it produced the chart-topping song "Starman," which became an enormous hit in the U.S., Britain, and across most of Europe. The album Ziggy Stardust sold some 1.5 million copies in the U.K. alone, and another half million in the U.S., and rose to number 5 on the British charts. According to a 1987 list in Rolling Stone magazine, Ziggy was the sixth greatest album of the previous 20 years; decades later Time magazine ranked it as one of the 100 best albums in rock and roll history.

His other landmark albums include Diamond Dogs (1974), Young Americans (1975), Scary Monsters & Super Creeps (1980), Let's Dance (1983), and Tin Machines (1989).

Never considered mainstream, he was nevertheless a voracious collaborator known for his studio and stage recordings with John Lennon, Paul McCartney, Queen, Lou Reed, Brian Eno, Tina Turner, Nine Inch Nails, Bob Geldof, various members of the Rolling Stones and more than two hundred other American, British and Australian acts. Bowie is perhaps best known as the musician, songwriter and musical performer most adept at making adaptations to each new musical trend and remaining a potent innovator through each new decade of popular music.

Bowie was born David Robert Jones, but adopted the name Bowie in 1966 from his early love of American folk heroes and specifically from James Bowie, a Texas pioneer and explorer who died at the Alamo in 1836. He felt compelled, in part, to make the name change as a conscious effort to avoid being confused with British singer and peformer Davy Jones, by then famous as a member of the Monkees.

His social media accounts stated that his battle with liver cancer had lasted 18 months, but that Bowie "died peacefully, surrounded by his family."

Related Thursday Review articles:

Janis Joplin's Porsche Breaks All Records; Thursday Review staff; Thursday Review; December 12, 2015.

Rock's Most Famous Saxophone; R. Alan Clanton; Thursday Review; December 3, 2014.