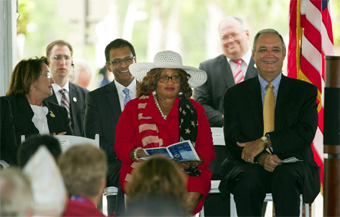 Images courtesy of U.S. House of Representatives/
Office of Corrine Brown
Congresswoman Under the
Investigative Glare, Again
| published March 7, 2016 |
By Earl Perkins, Thursday Review features editor
The director of an organization with close ties to U.S. Representative Corrine Brown has pleaded guilty to conspiracy to commit wire fraud, according to CBS47-Fox 30, The Florida Times-Union, and other media outlets.

On Friday, One Door for Education Director Carla Wiley pleaded guilty to the charge, according to public records (which can be accessed at U.S. District Court Middle District of Florida/Document Filed ) and news reports on Action News Jax.

Brown had widely touted the Leesburg, Virginia, company for several years, and it was named as a co-sponsor for a golf tournament she hosted in 2013. One hesitates to call the company a non-profit or charity, because it evidently never successfully filed proper letters of incorporation despite accepting money for charitable purposes.

Although the Jacksonville congresswoman, who represents Florida's 5th district, has not yet specifically been named as a defendant, there is no mistake Brown is inextricably entwined in the probe. According to several dozen pages of recently-released federal documents, money raised for scholarships and nonprofits was instead siphoned off into private bank accounts. Of approximately $800,000 in money deposited in the name of One Door for Education, the organization seemingly managed to award only one actual scholarship worth about $1,000.

Investigators says that the majority of the funds were diverted—among other things—to host parties at luxury hotels in Washington, D.C., to pay for alcoholic beverages and food at a large reception, and for another fundraiser in an arena luxury box during a musical concert…all between 2012 and 2015. Federal investigators say that Wiley withdrew more than $140,000 from the One Door bank account, and placed it instead in her personal bank account. The documents state funds were moved between bank accounts benefitting three people—Wiley, and two others, identified now as Person A and Person B.

The investigation documents imply that Person A is Rep. Brown, because the person is listed as a public official, and photographs on the organization's website suggest it is her in her role as a high profile supporter of the charity. It states One Door's website was updated with nine new photos, with Person A appearing three times. Brown appears in three photos on the site. Documents say Wiley appeared in two photos, and site shows two photos of her, which are still up on the site.

Legal consultant Dale Carson, who works closely with a Jacksonville TV station and its reporting crew, says the federal investigators will now analyze the paper trail on One Door's account in an effort to determine how the cash flowed from one place to the other, and to determine where all that money ended up.

"If you knew, or should've known, that money came from something you didn't help with," Carson said, "or didn't do, or shouldn't be benefitting, you are considered to be part of the conspiracy."

Wiley and her attorney did not return phone calls to reporters from last Friday, while Brown hung up the phone when contacted by a Jacksonville television reporter.

The underlying sources of the legal actions date back more than three years, to a time when in 2013 Brown sought to help raise more than $100,000 for the group. One Door for Education–Amy Anderson Scholarship Foundation saw cash pour in from numerous prominent figures in politics, business and government, many of whom were in Jacksonville for a major transportation conference at that time. Approximately 120 golfers were lined up to pay a $250 entry fee, while overall pledges totaled around $103,000, according to event organizer records. One local businessman and his wife pledged $6,475 worth of silent auction items to support One Door.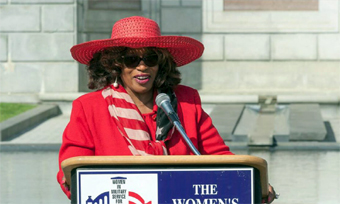 Brown claimed the organization was a charitable nonprofit, created to help deserving children with educational assistance and scholarships. However, it turns out that One Door, based out of a single-family home 700 miles from Jacksonville, lacks tax-exempt status, according to the Internal Revenue Service. Furthermore, months before that fundraising golf tournament, Virginia officials terminated One Door's then-incomplete articles of incorporation for failing to file the proper paperwork.

The golf tournament kicked off a five-day annual gathering of the Conference of Minority Transportation Officials, a professional organization for minorities in the transportation industry. The high-profile event was attended by Brown, along with at least three other members of Congress, including her district neighbor, Republican Ander Crenshaw, plus Democrats James Clyburn of South Carolina and Cedric Richmond of Louisiana. Tentative plans had envisioned attendance from several other lawmakers, and there were no immediate inklings the event might garner so much negative fallout.

Jacksonville Transportation Authority contractors helped Brown organize the tournament, and an assistant for the agency's chief executive officer, Nathaniel Ford, circulated invitations to play or help sponsor the event. Several JTA contractors planned to participate in sponsorships. But JTA has said its involvement was strictly voluntary and that it was only there to help facilitate what it believed at the time was a worthwhile public service event.

"On tournament day, volunteers associated with JTA were not compensated for attending or working at the tournament," Ford said. "The JTA has no direct knowledge about how the golf tournament proceeds were spent. Any further questions about the golf tournament should be directed to the golf tournament organizer."

The usually outspoken and loquacious Brown has been tightlipped concerning the tournament, which was held at the posh TPC Sawgrass in Ponte Vedra Beach, although she did issue a statement at the time.

"I have no comment on an ongoing investigation," she said. Asked whether the event or One Door were part of a probe, Brown responded, "I have no comment."

Brown's 5th Congressional District includes parts of Jacksonville in the north, and stretches along the Saint Johns River south to Palatka, parts of Gainesville, and further south to Mount Dora and Orlando.

This is not the first time Brown has been at the center of controversy. In 1998 she faced a House inquiry into a $10,000 check she received from National Baptist Convention president and CEO Henry Lyons, a personal friend and associate of Brown. Brown accepted the check, but had it converted improperly into another check which was redirected to a tour bus company—buses obtained for transporting hundreds of participants to a political rally in Tallahassee.

Brown also came under intense scrutiny by the Congressional Accountability Project for an luxury car which was given as a gift to Brown's daughter, Shantrel Brown, by a representative of a multi-millionaire from Gambia. That millionaire, Foutanga Sissoko also happened not only to be a friend of Brown's, but had also served time in a Federal prison in Miami for bribery and attempted bribery of U.S. Customs officials. At issue was whether the gift of the expensive car was meant to speed up Brown's lobbying efforts with then-Attorney General Janet Reno to secure Sissoko's release and deportation back to Gambia.

Related Thursday Review articles:

Clinton's Huge S.C. Win May be Reliable Barometer of Super Tuesday; R. Alan Clanton; Thursday Review; February 29,2016.

Super Saturday Wins Go to Trump, Cruz; Earl Perkins; Thursday Review; March 6, 2016.