Ted Cruz addressing the room at C-PAC on Saturday/Image courtesy C-Span
Super Saturday Wins go to
Trump, Cruz
| published March 6, 2016 |
By Earl Perkins, Thursday Review features editor
GOP front-runner Donald Trump remained in the catbird's seat on Super Saturday as Senator Ted Cruz battled to position himself as the primary Republican alternative, according to Yahoo.com, CNN, and several other media outlets. Trump and Cruz divided the spoils even as rivals Marco Rubio and John Kasich campaigned in Florida, Michigan, and Puerto Rico.

Voters in Maine and Kansas breathed new life into the Texas Senator's presidential aspirations with big wins, but the real estate mogul garnered narrow wins in Louisiana and Kentucky with his sights set on his party's presidential nomination.

Despite what was seen as a last minute surge by Kasich supporters, Cruz won the Maine caucus handily, taking nearly 46% of the vote to Trump's 32.6% and Kasich's 12.2%. In Maine, Rubio finished fourth with about 8%. Cruz also scored a huge win in Kansas, racking up more than 48% of the caucus votes, leaving Trump in a distant second place with 23.3%, and Rubio with a respectable third with 16.7%. Kansas alone will deliver 24 delegates to Cruz, nine to Trump, and six to Rubio.

Things were a bit closer in Louisiana, where—despite some early assessment that the state might be Cruz's to lose or win—Trump surged to win 41.4% to Cruz's 37.8%, the closest contest of Super Saturday. Rubio finished third with 11.3%. Delegates from the Bayou State will split evenly between Cruz and Trump, 18 apiece (Rubio will collect five delegates).

During a press conference Saturday night in West Palm Beach, Trump sounded a triumphant tone and called on Florida Senator Marco Rubio to withdraw from the race. The Sunshine State's junior senator finished a distant third behind his party's frontrunners in all Saturday contests, and collected only a handful of delegates.

"It's probably time," Trump said, claiming he wanted to face Cruz "one on one."

But Rubio will not fade quietly into the night. Following rousing speeches at the Conservative Political Action Conference in Washington, DC, and later in Jacksonville, Florida, he boarded a flight to San Juan, Puerto Rico, desperately seeking delegates to buoy his flagging campaign. Rubio seeks to pull off a win in Florida, thus depriving Trump of delegates and reinjecting himself into the top tier after having won only two major contests so far—Minnesota, and Puerto Rico, which he won on Sunday.

Trump aides quickly and forcefully sought to downplay Cruz's Saturday victories, noting The Waffle King (The Donald's description) may have won Maine due to its proximity to Canada, where Cruz was born. This week, the candidates have slung enough mud to cover the windshields of pickups throughout several states, and the past two GOP debates have included numerous hostile personal exchanges and personality bickering.

Rubio's firewall is Florida. Cruz aides and allies, however, are presently attempting to block Rubio from winning his home state, which might clear the way for a two-man race for the Republican crown. This in direct contravention of former Presidential candidate Mitt Romney's call for a cohesive, unified plan for the strategic starvation of Trump—Rubio campaigning alone in Florida, Kasich alone in Ohio and Michigan, Cruz alone in border states and evangelical country. But for the Cruz camp, such a magnanimous and coordinated approach to Trump seems pointless, since they believe that the real race has already morphed into a two-person battle.

"Florida's a burning dumpster fire for Marco Rubio," said Cruz spokesman Ron Nehring. "If he doesn't win his own state, it's hard to rationalize going forward."

Cruz's strong showing Saturday slowed Trump's momentum, because he'd previously won seven states en route to expanding his delegate lead over Cruz, Rubio and Ohio Gov. John Kasich. Trump looked tired but unbowed as he discussed his "amazing" night and predicted his team would secure the nomination.

Rivals have steadily placed Trump under a microscope, scrutinizing his business record and temperament, while Arizona Sen. John McCain and Governor Mitt Romney called him unfit for the presidency. Romney, the 2012 Republican nominee, ripped into Trump in a speech Thursday, calling The Donald a "phony" and beseeching GOP voters to block his nomination. Interesting tack considering Romney sought and received Trump's endorsement just four years ago, a fact which Trump readily touted in his comments later the same day as Romney's blistering attack.

The newly-minted "Never Trump" cause is being pushed by establishment Republicans and super-PACs seeking a convention fight, and Romney might financially back that movement as others have. Plenty of party regulars might also sign on to such an approach, and aside from McCain, other party elders like Bob Dole and George W. Bush might consider the approach an acceptable alternative to a party turned over entirely to Trump.

In theory, if enough Republicans back the plan for "strategic starvation," Trump might still win some states, but he would fail to reach the magic number required to secure nomination on the first round of balloting in Cleveland this summer. And (again in theory) if Trump fails to secure consensus on that first ballot, GOP rules will allow for delegates to be "freed" to negotiate and vote their conscience, though such rules have not been dusted off or put to use since 1964, when Barry Goldwater's insurgents fought bitterly with Nelson Rockefeller and others for control of the nomination process. The last time there was any real drama going into a Republican convention was in 1976, when President Gerald Ford and challenger Ronald Reagan fought intensely for every delegate right up to the doors of the convention in Kansas City. Ford, however, prevailed by the time of the first gavel, and secured nomination on the first round—barely.

Romney's suggestion would be to defer the infighting among the anti-Trump forces at least until the convention—starve Trump for now, and then settle differences between the remaining combatants inside the convention hall. But this plan is complex in the extreme, and may require more discipline and less self-interest than either Cruz or Rubio are willing to deploy. It will also requires piles of cash: advertising in states like Ohio, New York and California will be costly—and all of it would have to be directed toward one goal: picking the one person best suited to topple Trump in each state.

When Saturday's results came in, Trump urged party members to unite behind his banner, claiming he brought millions of new supporters to the GOP.

"As a party, we should come together and stop this foolishness," Trump said.

And Rubio, despite gathering endorsements from several key Republicans in Kansas, including Gov. Sam Brownback and former Sen. Bob Dole, watched his campaign hit several speed bumps. Finishing third in Louisiana, Kentucky and Kansas, he posted an ugly fourth-place finish in Maine, almost missing the threshold for delegates. With Minnesota his only true win, he now trails Trump and Cruz in his quest for delegates.

But Rubio spokesman Alex Conant told Fox News that Rubio refused to cede ground to anyone, claiming "the map moving forward" favors the junior Florida senator. Rubio pulled off a win in Puerto Rico on Sunday, netting another valuable batch of delegates.

"Ted Cruz has shown that he can win his home state and neighboring state, Oklahoma and small rural caucuses, like Iowa and Alaska, and now Kansas," Conant said. "Unfortunately, there are only two states left that have caucuses, Utah and Hawaii. After that, it is all primaries. Marco has done well in primaries so far." Never mind that Minnesota was, technically, a caucus.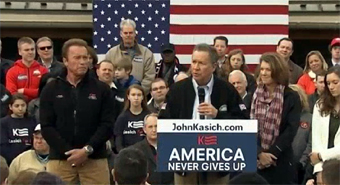 John Kasich with Arnold Schwarzenegger at a campaign event in
Ohio on Sunday/Image courtesy C-Span
John Kasich has also gained some additional support and financial backing even as he struggles to win in the primaries and caucuses. Kasich remaisn relevant to some within the GOP framework for not only his policy chops and hands-on experience, a great counter-weight to Clinton's resume, but also because he has managed to stay out of the mud and the food fights. Kasich campaigned most of Saturday in Michigan and Ohio, and then spent much of Sunday in his home state with former California Governor Arnold Schwarzenegger at his side. Kasich would like to make a clean sweep of several Midwest states, including Ohio, Pennesylvania and Michigan.

Florida's winner-take-all contest could mean do-or-die for Rubio in the next week and a half, as Cruz pledged to open 10 new campaign offices and spend significant time stumping the state. Early polls show Trump leading Rubio, and the businessman will campaign there heavily this week. As Cruz widens his efforts in the Sunshine State, some see Rubio's options shrinking even more. Polls show that in a race without a heavy Cruz presence, most Florida voters see the race as being between Trump and Rubio—a narrative which at least gives Rubio the running room he needs. But with Cruz muscling in, Rubio loses still more turf, and could see a significant loss of support to Cruz in many counties.

Speaking in Jacksonville on Saturday, Rubio tried to concentrate much of his firepower on Trump, as well as his Democratic rivals Hillary Clinton and Bernie Sanders. But it was clear that Rubio, his voice hoarse and raspy from intensive, continuous campaigning, must also look over his shoulder at Cruz. Florida votes on March 15.

Voters in four other states pull the lever this Tuesday, and Cruz could possibly be widening his appeal with his victory in Maine, coupled with earlier triumphs in Kansas and Oklahoma where his core backers were evangelicals and ultraconservative party members.

"What we're seeing is the public coming together, libertarians coming together, men and women who love the Constitution coming together and uniting and standing as one behind this campaign," Cruz told supporters at a rally in Idaho. Cruz also cited his "breadth of support," and again—as he did after his wins in Texas and Oklahoma on Super Tuesday—urged Rubio and Kasich to immediately exit the race.

"We'll continue to amass delegates, but what needs to happen is the field needs to continue to narrow," Cruz said, according to the New York Times. "As long as the field remains divided, it gives Donald an advantage."

Meanwhile, at an election night gathering at his golf club in Florida, Trump relished the thought of battling Cruz for the GOP nomination.

"That would be so much fun," Trump said. "Oh, do I just want to run against Ted! That would be so easy."

[Additional reporting on this piece came from R. Alan Clanton, Thursday Review.]
Related Thursday Review articles:

Rubio Wants Floridians to Vote for a Floridian; R. Alan Clanton; Thursday Review; March 5, 2016.

Mitt Romney Offers Blistering Repudiation of Donald Trump; R. Alan Clanton; Thursday Review; March 3, 2016.