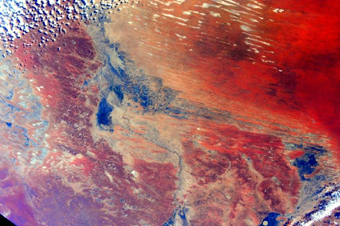 Image courtesy of NASA/Scott Kelly
Australia, Seen From Space
| published April 8, 2015 |
By Thursday Review staff
In this striking and colorful NASA photograph taken by astronaut Scott Kelly, part of Australia can be seen from the International Space Station as it passed overhead in early April. Kelly posted the image on Instagram and other social media on April 6, writing "Australia. You are very beautiful. Thank you for being there to brighten our day!"

American astronaut Kelly and Russian cosmonaut Mikhail Kornienko are at the start of their one-year mission in space. Kornienko and Kelly will remain on board the space station continuously through the end of March or early April 2016. Once completed, the pair will have set the all-time record for long duration space missions. Among other things, their extended stay in space will be a test run for the challenges space voyagers will face on longer trips, such as the planned missions to Mars in the next decades. Scientists hope to gain a fuller, more comprehensive understanding of how the human body will adapt to long periods spent in outer space.

Related Thursday Review articles:

Gemini's 50th Anniversary; Thursday Review staff; Thursday Review; March 23, 2015.

Typhoon Maysak, Seen From Space; Thursday Review staff; Thursday Review; April 1, 2015.