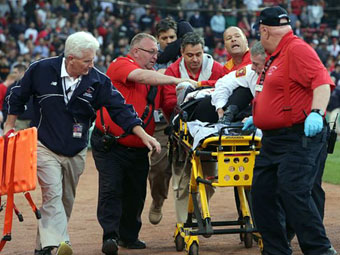 Photo courtesy of Reuters
Baseball Park Intimacy: Risk Vs Reward for Fans
| published July 2, 2015 |
By Kevin Robbie Thursday Review contributor
As of June 10, 2015, the Boston Red Sox have drawn 1,060,000 fans to their home field, historic Fenway Park. That attendance figure is the second highest in the American League. Since 1985, the Red Sox have drawn under 2,000,000 fans only once and they have cracked the 3,000,000 mark in five different seasons in that same time span. Red Sox fans are among the most loyal, passionate and vocal fans in the country and they flock to century-old Fenway Park in droves to watch their beloved team play baseball.

Part of the attraction for the games is Fenway itself. Opened in April, 1912, Fenway is known as the "Cathedral of Boston." It is one of the most venerated venues in all of sports. Fenway has been upgraded on numerous occasions and is impeccably maintained. What it might lack in some modern amenities, it makes up for with sheer charm. Its size and oddball dimensions also give the stadium a cozy quality and allow fans to feel close to the action on the field.

Many modern sports stadiums, lacking the intimate feel of a Fenway Park or Wrigley Field, are built with an eye toward the overall experience of the fans in order to enhance their enjoyment and motivate them to return in the future. Baseball, especially, keeps this in mind with expanded fan-friendly events, scoreboard pyrotechnic displays and interactive social media contact at numerous stadiums, all done in an effort to help fans feel closer to the game. Many of these venues also feature seating very close to the field. It is a strategy which appears to be successful and Major League Baseball (MLB) doesn't want fans to feel as if they are being taken for granted.

However, there is a flip-side to this coin. One fan-related issue which has been in the news recently is that of fan safety due to an incident which occurred at Fenway, on June 5, 2015. The Red Sox were hosting the Oakland Athletics in front of 35,000 fans, a near-capacity crowd, even though the Sox were in last place as of the day before.

In the top of the second inning, the A's took their turn at bat. Boston pitcher Wade Miley faced Oakland third-baseman Brett Lawrie. Sitting in the stands between the backstop and the Oakland dugout was Tonya Carpenter, a local fan attending the game with her son and a friend. According to another friend, Carpenter felt fortunate to get tickets for seats so close to the field. She had even posted a photo from her seats on her Facebook page. There she was in the midst of 35,000 rabid Red Sox fans, cheering on the home team.

Certainly, Ms. Carpenter did not expect what happened next. On a retaining wall a few rows in front of her, a sign reads "Be alert. Foul balls and bats can hurt." The sign serves as a reminder that errant balls and—less frequently bats—can end up in the stands with the potential for serious injury.

Boston pitcher Wade Miley delivered his next pitch to Brett Lawrie, who took a heavy, powerhouse swing and connected, hitting a hard grounder to second base. It appeared to be a routine play for the Red Sox infield. However, Lawrie's bat had shattered upon impact with the ball. A large piece of the splintered bat hurtled in the direction of the stands near the A's dugout, in the vicinity of Tonya Carpenter.

Fans sitting nearby stated that the bat shard struck an unsuspecting Carpenter in the head. The impact knocked her temporarily unconscious and caused extensive bleeding on her face and skull. Within seconds, fans reported seeing her face and head swell dramatically. Numerous photos taken by both fans and sports photographers show her swollen face covered with blood. The game was halted and the stadium grew silent as emergency medical workers rushed to help Ms. Carpenter. She was placed on a stretcher and rushed to Beth Israel hospital with serious injuries. Her crying and wailing could be heard throughout the venue. Shortly thereafter, the game resumed and ended in a 4-2 A's victory.

According to a Bloomberg study released in 2014, more than 1,700 fans are hit by foul balls every year during the MLB season. That is more than the average number of batters hit by pitches during the season, implying that it is more dangerous to be in the stands than to be on the field. Even so, that's 1,700 fans hit by balls out of a total MLB attendance of 74,000,000 in 2014. The number of fans hit by bats is unknown and believed to be much smaller, but data is very scarce regarding bat-related injuries. The website Foulballs.com estimates that approximately 73,000 foul balls are hit every season with around 73% of them reaching the seats. Although fans are generally aware of the potential for being struck by an errant ball or bat, they also view the incidence of foul balls as opportunities for potential free souvenirs. Some foul balls also fall harmlessly into the empty seating areas in those stadiums not filled to capacity, but many fans—racing across seats or sprinting up or down steps—injure themselves in frantic attempts to capture even the most stray of foul balls.

Over the last several years, foul ball injuries have become more severe. New or renovated stadiums feature seats closer to the field, players are stronger (meaning ball or bat impact with fans could be more violent) and fans are often distracted by loud music, scoreboard video displays and mobile phones. Fans in newer stadiums sit seven percent closer to fair territory than at older venues, according to Foulballs.com.

MLB never commented on the Bloomberg study and has never extensively investigated the incidence of foul-ball or broken bat injuries. The main reason for this is the fact that, per MLB rules, each team is responsible for fan safety in its home stadium. For over one hundred years, baseball has been protected by the Baseball Rule, a canon which states that teams have a limited duty to warn fans of potential danger from batted balls, but that those same teams are under no absolute obligation to protect them from every possible form of harm. It is a corollary of the legal concept known as "assumption of risk."

The Baseball Rule (hereinafter "Rule") immunizes stadium operators and baseball teams from liability for most game-related spectator injuries. The Rule is based on the concept that sports events carry an inherent risk of spectator injury but that risk is offset by the spectators' opportunity to experience the thrill of the game, including flying balls and bats. Such dangers are not unique to baseball. Think of recent injuries to fans at NASCAR events, where errant tires and car parts have been known to become dangerous projectiles, in some cases hurtling even over the steel and iron fences designed to serve as a buffer between racing fans and those powerful cars travelling at speeds approaching 200 mph. In February 2013, scores of fans were injured when a nine-car accident sent shrapnel, burning engine parts, and wheels flying into the stands at Daytona International Speedway.

Though the incidents are rare, ice hockey, too, poses a risk to fans when errant pucks occasionally transcend the tall Plexiglas barriers meant to protect fans from injury. In a March 2002 NHL game a 13-year-old girl was hit in the face by a slap shot-driven hockey puck which was deflected off a defensive player's stick. The girl died two days later from her head injuries. Analysis of video of that hockey game shows that the puck was travelling in excess of 110 mph. According to the New York Times, most NHL tickets contain legal warnings and fine print caveats on the back of the ticket advising fans of the dangers and urging them to be alert during game play.

Baseball fans attend games and choose seats at their own risk and should be aware that they could be injured by objects flying into the stands, primarily balls and bats which are considered open and obvious risks. For their part, the teams owe fans a "reasonable duty of care." Traditionally, this duty of care has been loosely interpreted to mean that teams and stadium owners are obligated to provide reasonable precautions regarding flying balls and bats. Stadiums today post signs to that effect, and they also have netting installed to protect fans sitting directly behind home plate, the area with the greatest risk of being struck by a ball. Some facilities also issue warnings over their public address systems before and during games.

When the Baseball Rule was first recognized early in the twentieth century, baseball stadiums were more spacious and fans were further from the action on the field. In addition, the balls were not as lively and the players were not as strong. Today, the dimensions of the stadiums are smaller, placing fans closer to the field, enhancing the "cozy" effect but putting some seats in the line of fire from foul balls and broken bats. The modern baseball is livelier, travels farther when hit and the players are stronger than their predecessors from a century ago. As in most professional sports, players have become substantially stronger over the last decades: pitches are much faster and batted balls frequently reach speeds exceeding 100 miles per hour. However, MLB enacted changes in bat regulations in 2009 because of a rash of flying broken bats during the 2008 season. Since then, bat failures (breaking, splintering, etc.) are down around 50% from previous seasons.

Whenever injured fans have sued to seek legal damages for injuries suffered by errant balls and bats, the courts have typically upheld the Baseball Rule. In one 2012 case in New Mexico, a young boy was injured by a batted ball while sitting with his family in the picnic area of the stadium used by the Albuquerque Isotopes, the city's AAA minor league team. The family argued that the picnic area represented an unnecessary risk to spectators and the team should have undertaken extraordinary precautions to protect fans. The team, and the city of Albuquerque which owns the stadium, asserted that the Rule protected them from liability. Ultimately, the New Mexico Supreme Court ruled that the promoter and spectator have equal responsibility for safety: "The spectator must exercise ordinary care to protect himself from the inherent risk of being hit by a projectile…and the (event promoter) must exercise ordinary care not to increase that risk." The case was then referred back to the trial court but was settled out of court in July, 2012. Thus, the New Mexico court established a narrow exception to the Rule but the Rule itself was not overturned.

Foul balls and flying bat splinters are simply an inherent element in any baseball game and as such they cannot be prevented from occurring. Major League Baseball is planning a study on fan safety in light of the recent incident at Fenway Park. Depending on the results of the study, MLB may or may not determine that additional precautions should be taken to protect fans from injury caused by errant balls and bats. However, there could be a public relations backlash if, in insulating fans from injury, the fans were so physically isolated from the action on the field that a psychological or emotional barrier developed between fans and the game they love.

Tonya Carpenter was released from the hospital on June 13 in good condition.

Related Thursday Review articles:

Baseball's Shifting Future; Kevin Robbie; Thursday Review; April 20, 2015.

Cuba Relations & Baseball: Just Let 'Em Play; Kevin Robbie; Thursday Review; January 28, 2015.