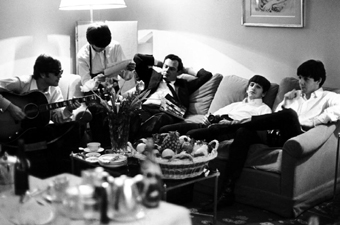 Photo courtesy Capitol Records/EMI
The Best of Cellars: The Beatles & Brian Epstein
| published November 28, 2014 |
By Kevin Robbie
Thursday Review contributor

Liverpool, England was the epicenter of a vibrant music scene in 1961. At many venues around the city, groups and solo acts played to lunchtime crowds as well as late-night audiences. The performances were noted for the eager musicianship and the wide variety of musical sources, though nearly all of them were all-out rock-and-roll oriented.

Rock had become the music de jure in Liverpool after the passing of the skiffle craze. Skiffle was popular for a few years because in order to play it, a group did not need formal instruments. Because England was still under wartime rationing, money was in short supply as well. Skiffle music could be produced with washboards, buckets and homemade guitars which cost little or nothing to make, utilizing materials laying around one's house. Liverpool was one of England's major port cities and the crews of foreign ships which took cargo in and out of the port brought with them various cultural influences. American ships brought in music, largely in the form of LP record albums which the merchant seamen often sold at record shops throughout the city. The records brought the music of Little Richard, Buddy Holly, Elvis Presley, Eddie Cochran as well as blues and jazz. As rock replaced skiffle, budding groups began incorporating all these influences into their repertoires. Some, of course, did this more successfully than others.

There were approximately 300 rock bands in Liverpool in the autumn of 1961. One of the most popular groups was called The Beatles. The group had gone through different names and identities (The Quarrymen, The Beat Brothers) while trying to establish itself as a major force on the local music scene. The Beatles played all over Liverpool and once performed in front of an audience of under ten people. They were becoming well-known in the city for their frenetic style as well as their volume and sheer energy. People were recognizing that the group possessed an undefined "it" factor that was setting them apart from other groups. Although they were the most popular band in Liverpool by late 1961, they were still unknown outside of their home city. Their ambition, talent—and lunchtime encounter—would soon propel them into the stratosphere.

During their early years, the Beatles performed and developed as musicians without the aid of proper management. At various times they had been managed, loosely, by Mona Best, the mother of their original drummer, Pete Best. Allan Williams, the owner of two Liverpool dance clubs, also booked performance dates for the Beatles. Williams' business interests kept him from full-time management but he also considered the group unreliable because of their chronic tardiness to gigs. Their career depended on a dedicated, full-time manager.

One venue at which the Beatles frequently played was the Cavern Club, located at 10 Mathew Street. The Cavern opened as a jazz club in 1957 but was purchased by Ray McFall in 1959. Under McFall's ownership, Bob Wooler was hired as the compere and the cavern became a rock-and-roll venue. Wooler began booking more prominent acts and he raised the Cavern's profile. The club also became known for its raucous lunchtime sessions. Wooler welcomed the crowd by announcing "Welcome Cavern dwellers. Welcome to the best of cellars!" The space occupied by the Cavern had been an old cellar.

One of the groups booked at the Cavern was the Beatles. John Lennon and Paul McCartney had played at the Cavern in 1958 as the Quarrymen, when the venue was still a jazz club with a limited rock program. The Beatles first appearance at the Cavern was February 9, 1961. They had returned from three months in Hamburg, Germany, honing their craft and developing their stage presence. They were building a reputation as great live performers and regularly packed the Cavern's lunchtime sessions. Standing room only became the norm.

On November 9, 1961, Wooler announced the presence of a visitor to the Cavern. Many in the young crowd recognized Brian Epstein, the operator of NEMS (North End Music Stores), a family-owned business in Liverpool, on Great Charlotte Street. The young people who frequented the Cavern also liked to hang out in the NEMS store, listening to the latest records, many of which were by American artists. Epstein took pride in being able to acquire records considered difficult to find, or obscure, so his store was popular with music fans.

Brian Epstein was 27 years old when he met the Beatles. He had worked successfully for several years in the family business but had become bored and restless. Epstein was looking for something different in his life and he had just crossed paths with the Beatles. According to Beatles lore, Epstein first heard of the Beatles when a teen-ager named Raymond Jones walked into NEMS and requested a record—"My Bonnie," by Tony Sheridan, featuring a backup band called the Beatles. Sheridan was a musician and guitarist from Norwich, England, who had gained popularity in Hamburg, Germany. Sheridan had been offered a contract by German bandleader Bert Kaempfert. "My Bonnie" was recorded in June, 1961, and on the record's label the Beatles were identified as the "Beat Brothers." However, the Jones story may not be entirely true. The Beatles were already creating a buzz among Liverpool youth by the fall of 1961, so it's reasonable to assume Epstein had heard other conversations about them in his store.

Like other aspiring groups, the Beatles were seeking fame and fortune. In the early 1960's, that meant securing a record contract. However, the British music scene was dominated by acts signed out of London. Although the Beatles were well known among Liverpool youth, they were unknown in the rest of Britain. They believed their career would stagnate, and they would never break out of Liverpool, unless they secured proper management.

Brian Epstein had seen NEMS business grow to the point that his father, Harry, was considering expanding it and opening additional stores. NEMS' record departments were booming, largely due to Brian's hard work and business acumen. The Epsteins were sitting on a potential retail empire. Brian worked diligently at NEMS largely out of family loyalty and expectations and could be called a successful, up-and-coming businessman. Nevertheless, Brian felt that his life was stagnating. He had grown up beset with insecurity and struggled with his identity. As an adolescent, Brian had begun struggling with the fact that he was attracted to boys. By the time he was twenty, Brian had admitted to himself that he was homosexual. By throwing himself into the family business, he tried to please his parents and find a way to be "normal." Success at NEMS failed to alleviate Brian's inner conflicts or unhappiness. He was looking for something else to do with his life. Once Brian met the Beatles and saw them perform, he decided to take a gigantic leap of faith.

Brian was attracted to the impulsive, restless nature of the performances he witnessed at the Cavern, as well as the reckless spontaneity he witnessed in the onstage presence of the Beatles. It was an image wholly opposite his own buttoned-down life and Brian was mesmerized. By early December, 1961, Brian decided to offer himself to the group as their manager.

The first formal meeting occurred on December 3 in Brian's office. Bob Wooler had accompanied the Beatles as a friend and unofficial advisor. The Beatles were nervous but anxious to hear what Brian had to say. At first, they engaged in small talk, with Brian telling the group how much he enjoyed their performances and complimenting them on the local interest in "My Bonnie." Eventually, Brian got to the point and offered to manage the group. He gave the appearance of being noncommittal and encouraged the Beatles to think about his offer, which contained nothing specific as of yet. The Beatles were highly flattered that someone successful and well-connected like Brian Epstein took an interest in them. They realized this might be the break they needed.

When Brian informed his parents of his decision to dive into management of a pop group, they were not only skeptical, but also upset, especially his father. Harry Epstein regarded it as a harebrained scheme that would ultimately come to naught. Brian's mother was more optimistic, but she also realized that the young Brian probably could not be talked out of it. Brian told his father that he would continue to work at the store while acting as the Beatles manager on a part-time basis. It was largely through Brian's efforts that NEMS had grown to become one of the biggest musical retail outlets in England.

Further meetings between Brian and the group occurred on December 6 and 10. The Beatles decided as a group to accept Brian's offer of management. They had already begun to trust him and they were confident that Brian could open the necessary doors to ignite their career. But there was a slight hitch in the plan; three of the group's members—Paul McCartney, George Harrison and Pete Best—were underage, so any management contract they entered into needed the consent of parents. Pete's mother, Mona Best and George's parents, Harry and Louise Harrison, were enthusiastic from the beginning and gave their consent quickly. Paul's father, Jim McCartney, was skeptical, but eventually gave in to Paul's pleadings. Having always harbored misgivings about her nephew's chosen career as a musician, John's aunt, Mimi Smith, was also deeply skeptical. As his guardian, her biggest fear was that Brian Epstein would eventually lose interest in the Beatles, and John would be cut adrift. However, John had turned 21 in October, so he could legally sign a contract on his own—without permission of his aunt.

The Beatles signed a management contract with Brian Epstein on January 24, 1962. According to the document's terms, Brian would receive 10-15% of the group's income, depending on how much they earned. Brian would undertake to manage their business and financial affairs, as well as their tour schedule. His primary goal was to land the group a proper recording contract, but as a secondary task he had to free them from a few constraints left in place by a contract they had signed with Bert Kaempfert back in Hamburg during the brief period when the Beatles with associated with Tony Sheridan. Once those legal issues were resolved, Epstein began promoting the group aggressively, and he soon secured an audition for the group with Decca Records at their West Hampstead Studios on January 1, 1962.

Members of the group were thrilled, but they were also nervous and filled with self-doubt; would their presence, infectious energy, and natural charisma onstage transfer to acetate? Nevertheless, the group performed fifteen songs during a one-hour "artist test." The numbers were a representative cross-section of the upbeat songs the group played during live performances.

But, upon conclusion of the audition session, Decca's immediate response was "we'll get back to you…." Decca offered what would become one of the most famous rejections of all time by intoning that "guitar bands are on the way out." The incident seemed to pose the question: Where would the Beatles go from here?

Still, Epstein remained tireless, and in February—only a few months after the Decca rejection—Epstein brokered a meeting with producer George Martin, and the boys were soon signed to EMI's Parlophone Records. Martin sensed something special in the band, and in June 1962 put them into a recording studio—where the first order of business became replacing drummer Pete Best with the more accomplished Ringo Starr, at that time a member of Rory Storm & the Hurricanes. If Pete Best was the weak link musically, Ringo was that missing bit of chemistry that rounded out the group's energetic sound and stage personality. New drummer in place, the Beatles recorded "Love Me Do" on September 4, 1962. Two months later, at EMI's Abbey Road recording studio in London, the Beatles recorded "Please Please Me," a song Martin predicted with uncanny accuracy would rocket to number one.

"Please Please Me" became the title of their first album—a collection of songs released in spring 1963. Among those tunes was the catchy "She Loves You," a song which would move quickly to number one in the U.S. and the U.K., and would set an all-time sales record by selling an astonishing 765,000 copies in only four weeks. Weeks later, it would become the Beatles first million seller, the first of more than a dozen chart-toppers in those early years, and the start of a run of number one hits that would break every record in musical history.

Epstein's lunchtime encounter with the Beatles—in that former wine cellar—changed the trajectory not only for a young, ambitious band manager and an up-and-coming rock and roll group, but redefined the concept of the "guitar band" so easily dismissed by the music executives at Decca.


Related Thursday Review articles:

The Early Beatles: Great Freedom, Tony Sheridan, and the Beat Brothers; Kevin Robbie; Thursday Review.

"I Believe That Rock Can Do Anything"; Book review, Who I Am; Pete Townshend; July 28, 2013; Thursday Review.