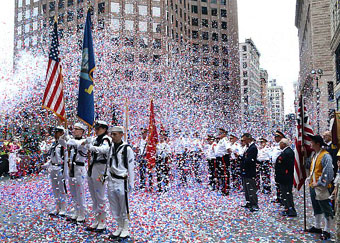 Photo courtesy of U.S. Navy
Bicentennial Plus 39 in Boston
| published July 9, 2015 |
By Thursday Review staff
July 4, 2015 marks 239 years since the signing of the Declaration of Independence, and the moment when the United States declared its independence from the United Kingdom. In Boston, Massachusetts last weekend, sailors assigned to the USS Constitution participate in Fourth of July celebrations by a presentation of the colors in downtown Boston, near the Boston Massacre Memorial.

The site serves as a historical reminder of the so-called Boston Massacre of 1770 (sometimes referred to as the "Incident on King Street") when British troops opened fire on a large group of Americans, killing five and injuring a dozen others in front of the Old State House. Among those killed was Crispus Attucks, a black citizen who later became a hero of the abolitionist movement.

The street dispute broke out after angry colonists taunted the British soldiers by throwing snowballs, stones, and hurling verbal insults at the troops. The incident escalated into pushing, shoving and fights, and soon turned into a general riot, including colonists with clubs and soldiers using bayonets. Soon, British reinforcements arrived on foot, and as the fighting intensified, British soldiers opened fire on the crowd.

Samuel Adams and other revolutionary activists and propagandists of the day used the incident as fodder to spark a wider revolution within the colonies.

This U.S. Navy photograph was taken by mass communications specialist Matthew R. Fairchild.

Related Thursday Review articles:

Doolittle's Raiders to Receive Congressional Honors; Thursday Review staff; March 26, 2015.

Unbroken: The Story of Louis Zamperini; Earl Perkins; Thursday Review; November 8, 2014.