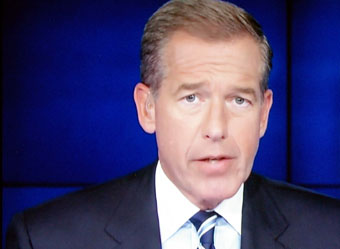 Image courtesy of NBC News
Tom Brokaw Weighs-In on Brian Williams
| published April 15, 2015 |
By Thursday Review staff
NBC News anchorman Brian Williams is approaching the halfway point in his suspension from that iconic anchor desk in New York's Rockefeller Center. Whether he returns to full time news anchoring or not remains to be seen, as neither NBC nor parent company Comcast have said much about the matter since Williams left the show earlier this year amidst a scandal involving false or embellished recollections from his time as a war reporter in Iraq more than ten years ago.

In the meantime, Lester Holt—generally Williams backup during vacations or illness—has been filling in at NBC News as the news program's anchor. Rumors have already begun circulating (and these are strictly rumors) that NBC is weighing its options in the event that Williams does not, or cannot, return to the news, and that either Holt or David Alexander are among those being considered to take over the job full time.

Still, there is that chance that Williams will return after his suspension and after a well-crafted acknowledgement of his mistakes. Williams was a ratings powerhouse for NBC News, effectively solidifying its position as the number one news show for the evening time slot each day, and helping it to retain that position even in its sometimes nip-and-tuck battles with ABC's World News Tonight, now anchored by David Muir.

But former colleague and industry giant Tom Brokaw, who anchored NBC Nightly News for decades, says that everyone—from viewers to reporters to media analysts—need to step back and let the process work itself out in due course.

Speaking at a symposium hosted by Politico in Chicago this week, Brokaw responded to questions about Williams' conduct, as well as Williams' future in television news. Brokaw described his relationship with Williams as "tricky" but also cordial and professional. Brokaw also said that reporters and fans should allow things to move organically from one step to the next.

"There's a process underway," Brokaw told those at the conference, "and the important thing is that the process is very carefully constructed. We owe it to everybody, including Brian and his family, and certainly the people at NBC News who risk their lives every day, and to the integrity of what NBC News has stood for all these years, to let that process play out…to hear what the final conclusions are and then deal with it at that point."

In other words, Brokaw says we should wait until June to find out what has been decided, and whether Williams can be expected to return to the anchor desk this summer as tentatively planned.

Williams' departure came after weeks of controversy over comments and recollections he has made about being in a military helicopter in Iraq more than ten years ago. Williams has recounted the harrowing tale, telling some that his chopper took ground fire from an RPG, and that the chopper was struck, forcing it to make an emergency landing. The story was oft repeated, except that some years later soldiers and marines who were part of the operation in which Williams was embedded say that the NBC News reporter was not in the helicopter which took the ground fire. Williams was in a separate chopper which arrived on the scene between 10 to 20 minutes later.

Williams later apologized for his mismanaged memories, but after weeks of controversy agreed to take a six month suspension (without pay), during which time NBC and parent company Comcast would investigate the matter, and possibly allow Williams to return to the air in late June.

Related Thursday Review articles:

Did Brian Williams Seek Entertainment Options?; Thursday Review; March 11, 2015.

Williams Resigns From Congressional Medal Board; Thursday Review; February 20, 2015.