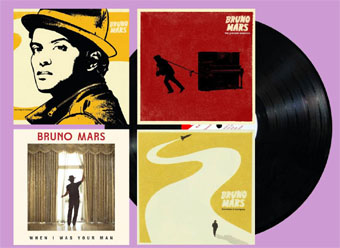 If You Don't Believe Me, Just Watch:
Keep An Eye on Bruno Mars
| published February 23, 2015 |
By Stuart Boggess
Thursday Review contributor
Peter Gene Hernandez, better known as Bruno Mars, has been destined for greatness since his childhood in Hawaii. From an early age he sang, danced, and impressed crowds of all ages. This young musician has been on the rise for several years, and has touched the hearts of many. Though he wasn't born until 1985, Mars takes inspiration from several decades and is one of the few musicians who can respectably pay homage to some of the musical greats of the 50s, 60s, 70s, and 80s. Even his videos cultivate nostalgia – some are shot with vintage cameras and lenses, and others are edited to evoke period styles and glamour. For some videos and tunes he goes as far as to wear bell bottoms and sport afros, and dance with enough funk to make you believe that you're back in the past.

Mars not only stands on the shoulders of the great soul, R&B, and funk masters of the past—James Brown, Jimi Hendrix, Elvis Presley, Prince, and Michael Jackson—he is building on their legacy and creating original and legendary music of his own. His hit "Treasure" was released in 2013, and the video features Bruno in a snazzy red suit and partial Afro, with a brass band and early 80s-style choreography behind him. It feels like an obvious take on a Michael Jackson video, but somehow, Bruno stands out and makes the tune his own. Vintage musical and visual styles are infused into his more recent hits as well. Just to name a few, "Locked out of Heaven," "Just the Way You Are," "When I was Your Man," and "Young Girls," all have a professional, untainted quality that is hard to find in today's world.

In 2010, his debut solo album "Doo-Wops & Hooligans" became one of the Billboard 100 chart toppers. He has won many awards including two Grammys. He has been named one of Time Magazine's 100 Most Influential People and one of Forbes 30 Under 30 list members. In 2014, he was named Artist of the Year by Billboard. In total, his sales have topped 11 million albums, 68 million singles, and 130 million singles if you count which ones he guest starred in (but nearly always steals the show). This all makes him one of the best-selling artists of all time, and he's only 29.

Bruno Mars brings his swagger to a new level with every performance and every album he produces. His voice is made of gold and coated with suede, and if he continues at his current pace, he will not be soon forgotten. His tour of 2014-2015 will end in Las Vegas in May of this year. He has visited cities internationally, and is just getting started with his success. Outside of his musical career, he is an active philanthropist. He pays for scholarships for up-and-coming musicians for the GRAMMY Foundation. That's a good thing; the money will keep coming for him.

Bruno Mars is on his way to being the greatest of the current generation's pop, rock, soul, R&B, and hip-hop fusion. His concerts are full of fans of all ages, and he continues to inspire people daily, if you don't love his music, you can't deny the fact that he is a classic comeback of lasting talent in today's world of made-for-TV artists. If he couldn't live up the hype, you might be inclined to hate him—but you can't. This guy is good. His 2014 smash hit, "Uptown Funk," with Mark Ronson, seems to be everywhere. Like he says …if you don't believe me, just watch!

Related Thursday Review articles:

A Fresh Look at Taylor Swift; Garrett Heisler; Thursday Review; February 11, 2015.

Jack White: The Lazaretto Tour; Martin Boggess; Thursday Review; February 9, 2015.