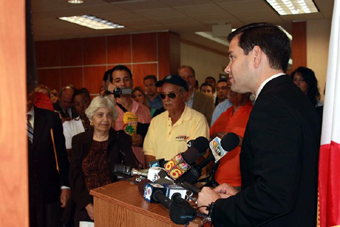 Photo courtesy of Marco Rubio, U.S. Senate website
Will Florida Produce Two Presidential Candidates?
| published March 7, 2015 |
By R. Alan Clanton
Thursday Review contributor
Though not unprecedented in U.S. history, it is still rare for a state to produce two major contenders for the Presidency. Especially in the early stages—in the months before candidates feel compelled to commit for legal or financial reasons—political planets and stars may align in such a way that potential candidates from within the same neighborhood receive early scrutiny and consideration. And neither the Republican Party nor the Democratic Party is immune from these circumstances.

But such is the state of the race for 2016 that the Republican Party, flush from its success in the 2014 midterms and certain it has caught the scent of blood in the water amidst the wide wake of presumed Democratic candidate Hillary Clinton, has already experienced three such geographic alignments just this past year.

For a stretch of several months, Wisconsin was on the verge of producing two major contenders for the Republican nomination: U.S. Representative Paul Ryan, who was Mitt Romney's running mate in 2012; and current governor Scott Walker. Both are Tea Party favorites, and both are fiscal conservatives. Each has their own unique appeal to younger Republicans as the GOP attempts to make the electoral shift from past generations to what will surely be a key transition if the party hopes to survive through the next decades.

But earlier this year, and after much speculation, Ryan announced without fanfare that he did not consider himself a candidate, nor was he particularly interested in running in 2016. This clearly opened a wider path for Walker, who is now campaigning in every way short of announcing his candidacy (Walker has formed a political action committee, is already in the process of raising cash, and has been making appearances at all the major pre-primary events and beauty pageants).

Like Wisconsin, Texas may yet produce two active candidates: current Lone Star State Governor Rick Perry, a seasoned candidate from the 2012 battle; and Senator Ted Cruz, another Tea Party favorite, and a leader of the GOP's insurgent wing. Cruz's anti-establishment, anti-status quo credentials make him one of the most likely challengers to what party chief Reince Priebus hopes will be an orderly process in 2016. Perry was at one time Mitt Romney's most obvious foil, though his pratfall-prone debate performances proved to be his undoing. But in the intervening years, Perry has being putting on political muscle mass, beefing up on economics, border security, and immigration reform. If he becomes a candidate, he can be expected to make a better showing in GOP debates. Neither Cruz nor Perry has made their candidacies official, but both have made frequent appearances at all the right events.

Then there is the thorniest of all the geographic conundrums for the GOP: Florida.

The Sunshine State now boasts not one, but two top-tier potential candidates: former Governor Jeb Bush (brother of George W. and son of George Herbert Walker Bush); and current U.S. Senator Marco Rubio. Bush is now a fully-fledged candidate in every way, save the actual announcement that he is running. He has disconnected himself from a dozen business ventures and directorships, has disclosed almost all of his financial records, formed political action committees, and has made scores of major appearances. His fundraising machine has gone from zero to 70 in less than two months, and he is now within striking distance of his original goal of raising $100 million by the end of this month.

That Bush is a candidate is no longer a question for anyone—indeed he may have already slipped gently into the lead position among the other heavyweights. His fundraising efforts have already propelled him to the top in terms of cash. This makes him a target, of course, but the Bush strategy is a smart one: absorb all the incoming fire now, not later. That incoming ordnance will come not just from Democrats—whose progressive wing has already attacked Jeb Bush as being Romney Part Two, a rich guy from an elite background who built more fortune through mergers, acquisitions, and venture capitalism—but also from some of his fellow Republicans. Bush is facing all the predictable skepticism from Tea Partier's and true believers who frown upon some of his more moderate approaches to immigration and education. Further, some strategists and party savants worry that the name Bush—pitted as it would be against the name Clinton—will undermine the GOP's strongest card, that Hillary Clinton is a creature of a divisive past.

Marco Rubio is perhaps the GOP's fastest rising star. His 2010 Senate victory came when he famously bested former Florida Governor Charlie Crist—then a Republican—in the GOP primary, eventually overtaking Crist in polling and spurring Crist into an independent candidacy. Rubio then ran in a three-way race which included the non-party-affiliated Crist and Democrat Kendrick Meek. Rubio has been embraced by the GOP as just the sort of attractive candidate essential for the future of the party: young, Latino, inspirational in his speech-making, and with a resonating personal and family story. Rubio also appeals to social and religious conservatives (like Bush, Rubio is Roman Catholic, as well as opposed to abortion)—but unlike Bush, Rubio gets higher marks among fiscal hawks who disdain government spending and increased taxes. An indication of Rubio's fidelity to conservatism by its most fundamental measures: based on his votes in the U.S. Senate in 2011 and 2012, he scored a perfect 100.00% rating from the American Conservative Union.

Foreign policy, military responses to terror, management of rogue states, ISIS, Iran, Iraq, etc., are likely to be more far more important issues in 2016 than they have been in any election since 2004. Some conservatives have pointed out that where both Rubio and Bush are strong on foreign policy—giving them an edge over domestic policy experts like Chris Christie, Mike Pence, Scott Walker, and others—only Rubio walks the walk. Advocates for Rubio say that he would, by far, make the best candidate when it comes time to stand on the debate stage across from Hillary Clinton for a conversation about Pakistan, Syria, Iran or Cuba. Mona Charen, writing in National Review, says that as President Rubio's "foreign policy would be assertively Reaganite."

But the GOP has deep concerns that if Rubio runs for President, which he has repeatedly said he is considering, his absence from the Senate would jeopardize the Republican Party's majority in Congress. Rubio has said that he would almost certainly not seek re-election in Florida in 2016 if he begins a costly, time-consuming Presidential campaign during the same election cycle. Though legally he can run both campaigns simultaneously, the downsides would be enormous, and would put the GOP's lock on a safe seat at risk. Even though there are plenty of highly qualified Florida Republicans waiting in the wings to run for the Senate seat if Rubio should opt out of re-election, nationally the GOP leadership sees much risk in a wide open race.

As a result, high stakes lobbying efforts are in play, with top Republicans urging Rubio to be patient and stick with the U.S. Senate, at least for another term.

More obvious for the Republican Party: two heavyweight presidential contenders running as hometown favorites in the Sunshine State, each pulling heavily from the other's column of support and voters. Assuming that both Bush and Rubio perform well in Iowa, New Hampshire and South Carolina, the resulting dogfight in Florida's crucial early primary could be disastrous. A loss for Bush or Rubio in Florida would likely mean a loss for both—embarrassing to be sure—but opening up a longer primary and caucus season at the very point when GOP strategists would hope to be bringing the process to an orderly conclusion. Priebus has made no secret that he believes Romney was damaged mortally in 2012 by an overly-lengthy debate season, followed by an arduous battle for the nomination. A battle royal in which Rubio and Bush attempt to clobber each other in the weeks leading down to Florida would set precisely the kind of tone and tenor which Priebus was hoping to avoid.

All of this assumes, of course, that Bush and Rubio each perform well in the earliest of the televised debates. Those TV events can have a powerful effect on how the early voters in Iowa and New Hampshire respond, which in turn skews the media narrative as the race turns south to the Palmetto State and the Sunshine State. Bush's fundraising power will certainly be enough to buy him valuable airtime in Iowa and New Hampshire, but will it guarantee him a solid debate performance? (Again, think of Rick Perry).

Bush is way ahead of Rubio in terms of the money. The former Florida Governor has already received commitments from many of the same bundlers and heavy-hitters who four years ago were solidly in Romney's column. Bush appeared just this week at events in Iowa, and he has made it clear that he does not intend—as some GOP candidates have done in past years—to skip the Buckeye State and its quirky mix of social conservatism and rural economic factors.

But despite the pressure from some GOP quarters, Rubio remains insistent that he will make the decision himself, regardless of worries about the Republican Party's majority in the Senate. Like the GOP leadership in Florida—Rubio too says that the crop of highly qualified Republicans means the party should have little trouble replacing him in the Senate, if in fact he decides to run for President.

In the meantime, many in the GOP figure the odds and the clock—for now—work against Rubio and in favor of Bush. Top Republicans figure that Rubio is young enough that his day will surely come, perhaps not in 2016, but at some point in the not-too-distant future. Bush will still face a powerful line-up of competitors: Chris Christie of New Jersey, Rand Paul of Kentucky, Scott Walker of Wisconsin, Lindsay Graham of South Carolina, Ted Cruz of Texas, just to name a few. If Rubio decides to run, the question for Republicans becomes one based on the outcome of the Sunshine State—where one, or perhaps both, favorite sons may perish in the political fight.

Related Thursday Review articles:

Likely Democratic Party Attack: Bush is Romney, Part 2; Thursday Review; February 9, 2015.

Will Income Inequality Become a Major GOP Theme?; R. Alan Clanton; Thursday Review; January 26, 2015.