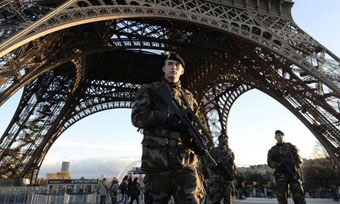 Photo courtesy of Getty Images
Charlie Hebdo, 3.2 Million Copies Sold Out
| published January 15, 2015 |
By R. Alan Clanton
Thursday Review editor
If it was the intention of the al Qaeda-inspired terrorists to quash freedom of speech and freedom of expression in France—the nation which more-or-less invented democracy—then those militants have failed in their terrible act.

Charlie Hebdo, the satirical and irreverent weekly magazine which normally has a press run of about 30 thousand, this week worked with its publisher to print more than 3.1 million copies starting Tuesday night and throughout the day Wednesday. All 3 million copies sold out within hours, with many people asking if more copies can be purchased later. The publisher announced on Wednesday that an additional 2 million would be printed before the end of the week, with presses rolling through much of Thursday. Special editions are also being prepared in as many as 30 other languages.

In Paris, some bookstores opened early to accommodate the long lines, and many newsstands reported selling out of copies within ten minutes. Standing in the dark before sunrise, many citizens of Paris were willing even to buy damaged or creased copies—those which were crushed or cut by the nylon bands which are typically used to bind a stack of newspapers or magazines, or those copies which were scuffed by the concrete of sidewalks or the steel loading gates of delivery trucks.

So many copies of Charlie Hebdo sold within a 12 hour period, that it has shattered all publishing records in France. This week's edition has officially become the biggest selling newspaper in French history.

Surely this was not the goal of the heavily-armed militants who stormed into the magazine's Paris offices last week and opened fire with automatic weapons. When the terror rampage had ended, 14 people were dead, including the magazine's editor, two cartoonists, and two police officers who were working the sidewalks outside.

In Yemen, al Qaeda claimed responsibility, posting a video in which al Qaeda militants explained how they directed the attack which led the brothers Said Kouachi and Cherif Kouachi to lay siege to the offices and commit the murders. The terror attacks sparked four days of violence, including a hostage standoff at a kosher market where more people died, and a massive manhunt for the others who may have been involved. Even now, French authorities and others in European law enforcement say that others may have been involved in the planning and execution of the attacks. While an additional 10,000 French soldiers and reservists now blanket streets, boulevards and crowded spaces—including additional protection around Jewish schools, synagogues, and community centers—French investigators are searching for as many as six other people who may have been instrumental in the terror attacks, one of whom may have fled to Bulgaria.

Police and some European investigators also believe that the Paris terrorists received substantial funding from several sources, both inside France and in other countries. Contrary to the original thinking widely disseminated in the media in the hours and days after the attacks, police—and the U.S. FBI—say it is highly unlikely that the Kouachi brothers and their accomplice Amedy Coulibaly acted without the assistance and support of others.

For many people in France, the chance to purchase of copy of this week's Charlie Hebdo was a way to pay respect to the dead, to show solidarity with those who engage in free expression and a free press, and also as a protest against those who would use fear and violence to suppress free thought and free speech.

But in the legislative chambers of France, the greater issue was national security. French Prime Minister Manuel Valls stood before Parliament and declared that France is still at great risk of violence and terror, and asked for the nation to become vigilant.

"We must not lower our guard, at any time," Valls told legislators. Comparing last week's brutal attacks to the other transformative terror attacks of the past, including 9/11, Valls said that France was at war. But Valls stressed that the fight was not against Muslims, millions of which live in France.

"France is at war against terrorism, jihadism, and radical Islamism; France is not at war against Islam." At issue within French intelligence agencies and French police may be the still unresolved but thorny question of why the terrorist slipped off the radar of French police. All three had been under surveillance for some time, and may have been flagged for closer scrutiny as recently as two months ago. Many French politicians are calling for better intelligence-sharing with other countries, and some are calling for much tougher domestic laws against terror, or activities which might promote or encourage terror.

But to some French progressives, there is a danger that France could easily turned into a police state, and the very freedoms—expression, press, religion, assembly—that the terrorists found so offensive, may be in graver danger from stringent new laws and a formidable, heavily-armed police presence across the country.

Meanwhile, the surviving staff of Charlie Hebdo showed defiance and resolve this week with cover art which depicts the Prophet Muhammad on the cover, and in the cartoon image he is shown shedding a tear, and telling readers "All is forgiven."

Related Thursday Review articles:

Charlie Hebdo Strong; R. Alan Clanton; Thursday Review; January 13, 2015.

More Than a Million March in Paris; R. Alan Clanton; Thursday Review; January 12, 2015.