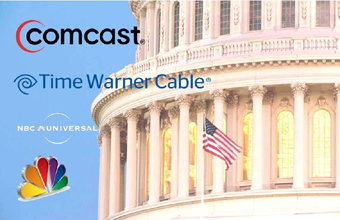 Comcast Time Warner Merger Scrapped
| published April 24, 2015 |
By Thursday Review staff writers
It was the granddaddy of all mergers, the mother of all corporate acquisitions. And it would have created the world's biggest media company, an entity so large that many consumer advocates—and apparently numerous members of Congress and a host of Federal regulators—suggested that the deal would have effectively created a monopoly.

But that deal is now on the brink of collapse, as Comcast is strongly considering nixing its $45.2 billion merger with cable TV rival Time Warner.

According to Bloomberg Businessweek and other media sources, public pressure and Congressional resistance translated into strong opposition by the U.S. Justice Department, the Federal Communications Commission, and other regulators, and opposition was tightening the screws on the architects of a deal already stressed by more than one year of pending approval and complex regulatory negotiation.

The merger was first announced in February of 2014. At that time, Comcast CEO Brian Roberts sought to convince regulators and members of Congress that the merger would be in the best interests of the tens of millions of customers who would have been impacted by the marriage of the nation's biggest cable and internet provider with the country's second-biggest. There was also a laundry list of concerns—many being raised loudly in Washington—that Comcast had failed to comply with the letter and the spirit of its agreements with regulators back in 2009-2011, when after a great struggle it concluded its buyout of NBC Universal.

As recently as last week, FCC regulators were insisting that more hearings and discussions would be required before Comcast and Time Warner could proceed with the merger, a move which would have effectively stalled the merger for months, if not longer.

The merger was to have been Comcast's biggest achievement since its cable TV subscriber count began to stall a few years ago. Once fully integrated, the newly merged Comcast Time Warner would have controlled the customer footprint of roughly 60% of North America, providing television, phone service, and internet. The merger would have also given Comcast greater suasion over the still unresolved matter of net neutrality—the hotly contested issue of how internet speeds are controlled, and who controls them.

Through much of early 2014, Roberts spoke of the improvements when the two company's technologies were combined, and he touted the economies of scale gained when it came time for the newly merged giant to negotiate for lower costs from its hundreds of content providers and vendors. Comcast representatives also told Congress that mergers were inevitable—and, as it happens, beneficial—in a marketplace beset by dizzying changes in technology and a rapidly fragmenting entertainment world in which companies like Amazon, Apple and Google put content and internet access into customers hands without the traditional coaxial cable.

But now, according to sources close to the boards of both Comcast and Time Warner, the Philadelphia-based Comcast may scrap the merger and turn its attention elsewhere, using that cash instead for other acquisitions and for other projects and its ongoing challenge to halt the decline of its customer base—a measurable percentage of which are migrating toward other forms of streaming and delivery for their movies and TV programming.

It is bad news for Comcast's Brian Roberts, who had carefully crafted the deal to forge what he envisioned as a company able to survive the dazzling tech changes and shifting sands of consumer preference. But though Comcast will survive the collapse of merger talks, Time Warner may face a more difficult challenge. One option for Time Warner stockholders would be to turn to Charter Communications, a company which had previously bid for Time Warner. Charter CEO Thomas Rutledge and principle investor John Malone have made it clear that Charter still has designs on Time Warner. Industry experts says that it may only be a matter of weeks—even days—before other offers are on the table for Time Warner and its massive cable and internet footprint.

In the meantime, the enormous effects of the corporate plate tectonics will be felt in dozens of other businesses.

An immediate side-effect of the failure of the Comcast and Time Warner merger: under the terms of the complex agreement, Charter would have absorbed nearly 4 million previous Comcast customers, sheared off by Comcast as a step toward satisfying wary regulators. Another sidebar issue: a third, eventually independent company, tentatively dubbed SpinCo, which would have split away from the newly merged company to meet requirements in some markets where Comcast and Time Warner already had an overlap. Furthermore, Comcast's decision to walk away from the Time Warner deal threatens an entirely unrelated merger between Charter and Bright House Communications, because in the complex arrangements regarding content and vendor negotiations, Time Warner has been given substantial leverage in making deals with programmers which effect Bright House's millions of cable TV subscribers.

The collapse of Comcast's buyout of Time Warner will also have a huge ripple effect into other areas, and will strengthen the hands of other content providers and technology companies, such as Amazon, Google and Netflix. With Comcast effectively held in check by the crack-up of the merger, Amazon and Google—and especially Netflix—gain new leverage in the increasingly competitive battle for control of the attention of TV viewers and internet users.

Though neither Comcast nor Time Warner have officially announced the termination of the merger talks (as of this writing), announcements may come as early as Friday or Monday.

Related Thursday Review articles:

The FCC Rules of Net Neutrality; R. Alan Clanton; Thursday Review; March 5, 2015.

Comcast: Don't Worry, Be Happy; R. Alan Clanton; Thursday Review; April 9, 2014.