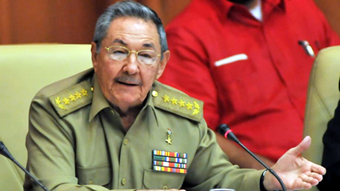 Photo courtesy of Librered.com/Reuters
Castro to U.S.: We Will Remain Marxist-Leninists
| published December 21, 2014 |
By R. Alan Clanton
Thursday Review editor

Plenty of conservatives—and almost all old school anti-communists—are saying I told you so, and the response didn't require waiting months or even years.

President Barack Obama's decision to begin the process of normalization of the relations between the United States and Cuba sparked a firestorm of debate—much of predictable, and almost all of it breaking along generational lines.

After 50 years of not speaking to each other, the two countries agreed to implement a thaw, starting with a prisoner exchange in two Americans were sent home, and three men accused of spying in the U.S. were returned to Cuba amidst a heroic welcome. In addition, the United States said it would ease travel and visa restrictions, allow for tourism, begin to open up trade and commerce, and in general allow Cuba to slide out from its isolation—a forced quarantine in place by the U.S. and its allies for half a century.

President Obama said that the time had come to move on from a foreign policy template that was not working.

Cuba has been stuck in time—a communist dictatorship with a harshly limited economy, no freedom of press or assembly, no freedom of religion, and no political freedom. Cuba has only one political party, and dissidents and reformers are jailed—usually for life. Cuba has also suffered under heavy restrictions and embargoes: it has little access to the internet, no cell phone service or modernized telecommunications, and crumbling infrastructure. Its people live in relative poverty when compared to almost all the other countries in the Caribbean Basin and Central America.

Thus it was that among great fanfare the White House announced a change in the winds last week. The prisoner exchange was just the start: the United States would begin a détente with Cuba, long overdue, explained the President, and timed to allow Cuba to walk comfortably into the 21st century. With new trade, newly invigorated access to the internet, access to social media and telecommunications—so the theory went—a sort of Cuban Spring might emerge from the barren landscape of 50 years of isolation and exile. Democracy might take root, and even flourish, as a younger generation of Cubans came of age with cell phones, iPads, Facebook, Twitter and You Tube.

But this past weekend, Cuban President Raoul Castro sent a bleakly-worded message in response to all the excitement swelling in the United States: the exchange of a few prisoners and a thaw in our relations does not equal the imminent dismantling of the Marxist-Leninist model.

"We must not expect that in order for relations with the United States to improve, Cuba must abandon the ideas that it has struggled for," Castro said in a speech in Havana.

Castro's declaration worries some in the White House, who had previously hoped that the new thaw might build a path toward political and economic rapprochement. Among many younger Americans, including a decisive majority of Cuban descent, there has been widespread support for the President's policy shift toward Cuba, and most had believed that economic ties and travel openness might trigger a shift toward full political modernization and freedoms.

But among the virulent anti-Castro members of the Cuban-American community, especially in Florida, the policy shift represented nothing less than betrayal. Heated debates broke out in many Latino communities over the significance of the change, and in Miami—where a large segment of the population can trace its roots to Cuba or to other nations of Latin America—the arguments were almost always split along generational lines.

Republicans in Congress were generally unsupportive of the President's initiative. U.S. Senator Marco Rubio, in a blistering rebuttal to the new White House policy, called it a disaster. Rubio, who is Cuban-American, as well as a potential candidate for President or vice-President in 2016 and beyond, said he would use every tool at his disposal to reverse Obama's policy shift. Rubio will take the helm of the Senate Foreign Relations Committee in January, where he will have the added advantage of one of the largest Republican majorities in Congress in generations. He and other Republicans vowed to fight the White House on the issue.

"This entire policy shift announced [this week] is an illusion, and based on a lie," Rubio told reporters in a Capitol Hill press conference on Wednesday, "The White House has conceded everything, and gained little."

Jeb Bush, a former governor of Florida and also a potential presidential candidate for 2016, also blasted the President's new policy.

"Cuba is a dictatorship with a disastrous human rights record," Bush said last week, "and now President Obama has rewarded those dictators. The benefactors of President Obama's ill-advised move will be the heinous Castro Brothers, who have oppressed the Cuban people for decades."

Bush, who has for the last two years been careful to avoid committing to a run for the presidency in 2016, told reporters and journalists last week that he was exploring his options. Rumors have swirled for more than two weeks that Bush was considering testing the waters, and some analysts believe that he will make some sort of announcement within the next few weeks. Bush, some keen political observers have noted, may use the new Cuba initiative as an opening salvo in any campaign discussions of foreign policy.

In the meantime, many within the GOP and among conservative circles worry that the U.S. has achieved little by normalizing relations with Cuba, especially if the immediate response from Raoul Castro is to announce that little will change within the Cuban political structure. Some question whether access to the internet and social media will be enough to persuade Castro and other top communists to consider genuine moves toward democracy, such as free and open elections, opposition parties, freedom of press and media, and freedom for political dissent.

Raoul Castro is the brother to Fidel Castro. The older brother stepped down a few years ago amid health concerns, but has remained an active symbol of the country's government. Fidel Castro has not been seen in public in several months, leading to renewed concerns about his health.

In a celebratory assembly on Saturday, Raoul Castro and hundreds of members of the Cuban parliament cheered for the returning prisoners, who were welcomed as heroes. It was during this meeting—broadcast on radio and television across Cuba—that Castro warned his people that it is not Cuba's intention to change its political system simply because of a thaw in the relationship with its old antagonist, the United States.

"We won the war," Castro said near the end of his speech, ringing a celebratory tone and implying that in its long Cold War with the U.S. it had prevailed. Castro also indicated that renewed trade and commerce should be directed only toward creating "prosperous and sustainable communism," another indication that the leader does not intend to dismantle the socialist system which has been in place in Cuba since the overthrow of the Batista regime more than 50 years ago.

Some analysts familiar with Cuban politics suggest that Castro's missive is not to be taken as the absolute gospel for policy change, but rather reflects the need internally to appease certain high-profile members of the communist party. It may also merely suggest that Castro intends to take on any social and domestic change at a careful pace, determined by the Cuban leadership, and not by an agenda set by the White House or U.S. politics.

In his speech Castro frequently praised President Obama, but also stated several times that the new relationship—if it develops—will not include discussions of replacing Cuba's Marxist-Leninist economic and governing principles with capitalism, nor will it usher in radical social change.


Related Thursday Review articles:

Cuba Normalization May Spark Bush, Rubio Campaigns; R. Alan Clanton; Thursday Review; December 20, 2014.

Jeb Bush: Business, Politics, or Both; R. Alan Clanton; Thursday Review; July 18, 2014.