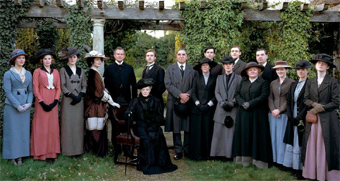 Image courtesy of Downton Abbey, ITV
The End of the Abbey
| published April 2, 2015 |
By Earl Perkins
Thursday Review features editor

Millions of fans worldwide could be forced to have a stiff upper lip, or perhaps breathe a huge sigh, knowing that even wonderful things must eventually come to an end.

Despite incredible ratings for ITV's Downton Abbey, upcoming Season 6 will be the British period drama's swan song. The highest-rated show ever on America's PBS, the Crawley family drama drew 10.1 million viewers for its Season 5 premiere and showed no flagging interest from an enthusiastic audience.

However, rumors have long circulated concerning the show's eventual demise, and the decision was primarily made by the cast. A majority of the actors have evidently been searching for work, mostly in the United States, if you can believe the British rumor mill. The bad news came in the form of a statement from Executive Producer Gareth Neame, which was obtained by the BBC on Thursday.

"Millions of people around the world have followed the journey of the Crawley family and those who served them for the last five years," Neame said. "Inevitably there comes a time when all shows should end and Downton is no exception. We wanted to close the doors of Downton Abbey when it felt right and natural for the storylines to come together and when the show was still being enjoyed so much by its fans. We can promise a final season full of all the usual drama and intrigue, but with the added excitement of discovering how and where they all end up..."

Allen Leech, who plays Tom Branson, announced last November that the show might be winding down.

"In my heart of hearts, I can't see it going more than two [seasons] more," Leech told E! Online. "I think the period of time we want to tell, we're coming to the end that us as actors we can keep playing these characters."

Dame Maggie Smith had generated controversy recently when she said that next season would be her last.

"I mean, I certainly can't keep going," she told the Sunday Times (via Radio Times) regarding her character, Lady Violet. "To my knowledge, I must be 110 by now. We're into the late 1920s."

The series, created by Lord Julian Fellowes, began in the aftermath of the Titanic's sinking in 1912 and extended through the mid-1920s, following an aristocratic family's fortunes. Hugh Bonneville and Elizabeth McGovern played the Earl and Countess of Grantham since its premier in September 2010. The drama has won numerous awards, including two Baftas, three Golden Globes and 11 primetime Emmys.

Ratings at home and abroad were also not damaged when the Duchess of Cambridge went to see it being filmed at Ealing Studios in West London. Fellowes was quite forthcoming about the show and his future plans. The Lord's next project will be The Gilded Age, a period drama set in New York City.

"People ask if we knew what was going to happen when we started to make the first series and the answer is that, of course, we had no idea," he said. "Exactly why the series had such an impact and reached so many people around the world, all nationalities, all ages, all types, I cannot begin to explain.

"But I do know how grateful we are to have been allowed this unique experience."

Michelle Dockery and Jim Carter are among other regulars on the show, which has followed the lives of masters and servants at the titular stately home—actually Highclere Castle in Hampshire. Peter Fincham, ITV's director of television, said the nine-episode Season 6 would finish with a "concluding special" on Christmas Day.

The show's producers have announced the final season begins airing in the United Kingdom through ITV in September, and January 2016 in the U.S. via PBS.

Of course, rumors have also been flying about potential spinoffs, including Allen Leach and Laura Carmichael. Numerous scenarios that have been floated are highlighted by Tom Branson in Boston, Lady Rose in America, Edith the Editor, Daisy the Dreamer and The Carson Inn. You'll have to dig up your own rumor mill to discover which show might actually see the light of day.

Related Thursday Review articles:

Revenge of the Nerds: Science Guys on the Big Screen; Thursday Review; January 20, 2015.

China Hammers Big Bang Theory; Thursday Review staff; Thursday Review; February 20, 2015.