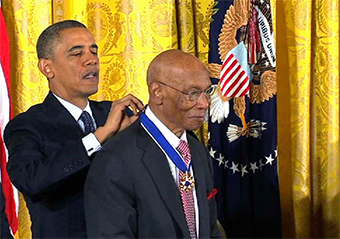 Photo courtesy of Major League Baseball
Ernie Banks, Rest in Peace
| published January 27, 2015 |
By Earl Perkins
Thursday Review features editor
"There's sunshine, fresh air, and the team's behind us. Let's play two."

That's what Ernie Banks would often say before taking the field at the "Friendly Confines" of Chicago's Wrigley Field, showing unbridled enthusiasm for baseball and his beloved Cubs. Call him Mr. Cub or Mr. Sunshine, but 83 years wasn't enough time for his adoring fans to show their appreciation, as the Hall of Famer passed away Friday, according to USA Today.

Born in 1931, in Dallas, Texas, the hardworking Banks witnessed incredible benchmarks in history and set numerous records himself, becoming one of baseball's finest ambassadors.

Banks was a natural, all-around athelete. Swimming, basketball and football were his chosen sports as a youngster, but his father bought him a glove at a five-and-dime store, bribing the boy with nickels and dimes to play catch. Playing softball at Dallas's Booker T. Washington High School, he lettered in basketball, football and track. The school did not field a baseball team.

Negro League veteran Bill Blair and the Legendary Cool Papa Bell recommended Banks to the Kansas City Monarchs, following a brief stint in semi-pro baseball with the barnstorming Amarillo Colts. Manager Buck O'Neill signed Banks, and the shortstop left for Kansas City the day after high school graduation. His rookie season of 1950 was a fair one, hitting .255 with one home run in 53 games.

"Young man, you made a fine start," O'Neil told Banks following a game when he was obviously nervous. "You hit the ball well three different times. Just speed up your swing a little bit and the ball will start falling in. Stay loose, forget the tension and you'll be all right."

The manager became Banks' mentor, and his potential would begin to blossom.

"(Buck) always had the right answers to cure everything from homesickness to hitting slumps," he said.

Following a two-year Army stint in Germany during the Korean War years, Banks was anxious to return to the Monarchs and O'Neill. Debuting in 1953, six years after Jackie Robinson broke the color barrier, he hit .347 in 1953, before signing with the storied Cubs as their first black player.

Playing almost entirely at shortstop and first base, Banks spent his entire 19-year major-league career with the Cubs. The 11-time All-Star was a first-ballot Hall of Famer, hitting 512 homers while winning consecutive National League MVP awards in 1958-59. He had a lifetime .500 slugging percentage, along with 2,583 hits.

Alas, the Cubs have been cellar-dwellers or just above that station in life through much of their existence, so Banks never appeared in a postseason game. His 277 homers at shortstop rank second to Cal Ripken Jr.

His 1977 enshrinement at Cooperstown during his first year of eligibility was almost dwarfed by what he meant to the Second City and the World. In 2013, he would receive the Presidential Medal of Freedom from President Barack Obama, alongside former President Bill Clinton, Oprah Winfrey and others.

"That's Mr. Cub—the man who came up through the Negro Leagues, making $7 a day, and became the first black player to suit up for the Cubs and one of the greatest hitters of all time," Obama said that November day. "In the process, Ernie became known as much for his 512 home runs as for his cheer and his optimism, and his eternal faith that someday the Cubs would go all the way."

Banks was known for class and dignity throughout his life, even as race relations flared in the 1960s. Labeled as a pacifist and Uncle Tom because he refused to raise his voice in protest while many Black celebrities did.

"My philosophy about race relations is that I'm the man and I'll set my own patterns in life. I don't rely on anyone else's opinions. I look at a man as a human being; I don't care about his color," he said. "Some people feel that because you are black you will never be treated fairly, and that you should voice your opinions, be militant about them. I don't feel this way. You can't convince a fool against his own will. If a man doesn't like me because I'm black, that's fine. I'll just go elsewhere, but I'm not going to let him change my life."

Oh, the history Banks witnessed at Wrigley Field while the Cubs stood as the last bastion of daytime baseball. Last year the stadium hosted its 100th season of baseball, predating all other Major League venues except Boston's Fenway Park.

Retiring at 40 in 1977, he always dreamed of seeing a World Series pennant raised above the ivy-covered walls looking toward Waveland Avenue where he hit so many homers decades ago. But that was not to be. The 1908 pennant was the last flag raised, and watching the Cubs became a pilgrimage for millions since then—buy a hot dog and a beer, and relax in the sun.