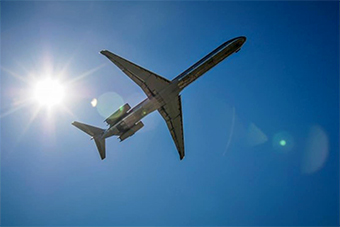 photo courtesy of Fotalia.
Expedia Will Buy Orbitz
| published February 13, 2015 |
By Thursday Review staff

As is often the case as new technologies and buying preferences reshape our world, sometimes in disruptive and dramatic ways, there is irony. Radio Shack's collapse and bankruptcy is in part because of its inability to cope with the rapid advance of cell phone and smart phone technologies, an arena in which it was once a prominent retailer and a primary account vendor; it now plans to sell more than half its retail storefronts to Sprint, and perhaps 15% of those locations to Amazon.

So it is with the online travel booking and hospitality websites. Once numerous, the ticketing and room reservation companies are now engaged in much the same systematic coupling, strategic regrouping, and megalithic merger processes as cable television companies.

Twenty-five years ago there were more than one thousand cable TV companies in the United States, and Comcast ranked down around the 17th or 18th largest (well behind TCI, Media One, and Adelphia, companies that don't even exist now. Within the next few months, with Comcast's merger with Time Warne nearing its completion, Comcast will be the sole provider of cable and internet to as much as 60% of the American population.

When it comes to making travel plans, Americans may soon see a similar lack of choice. Only a few years ago, when you wanted to book a flight, set up a voyage on a cruise ship, reserve a hotel room, or rent a car, you would have had scores of options in a highly competitive sector (already known for its confusing and often irrational pricing). Within the next year, there may be only one giant of online booking left standing: Expedia.

Expedia is buying Orbitz, shelling out a cool $1.6 billion (yes, that billion with a "B") to absorb all of Orbitz's operations under it wings. Only 30 days ago, Expedia bought Travelocity for $280 million.

But it's buyout of Orbitz is the ironic part: Orbitz was developed as a strategic partnership by a bunch of major airlines and travel vendors as a way to compete, more or less, with the rise of Expedia and other web-based travel services. The airlines didn't like Expedia's ticketing processes, and had threatened legal action for its meddling in seating and pricing; Expedia called Orbitz little more than collusion and price-fixing, and initiated an anti-trust complaint against the big airlines that owned it. In the end, they became pals.

So much for competition, some business analysts argue. Expedia will soon own or control the following online services: Trivago, Hotwire, CheapTickets.com, Hotel Club, eBookers, and the aforementioned Orbitz and Travelocity. Once all fierce competitors for the clicks and eyeballs of people making their travel plans online, all have been successfully folded into a single megalith of web-based ticketing.

Expedia is left with only one major competitor in the jungle: Priceline, which also already owns Kayak, the restaurant reservation service Open Table, and several of its previous competitors. Like the cable companies, web-based reservations and booking will soon be a quasi-monopolistic process—two mega companies with a dozen "brands" to maintain the illusion of competitiveness and diversity.

CEO's of both Expedia and Orbitz say the merger will be great for stockholders, but will also provide economies of scale for its millions of users. Expedia says the acquisition is a great fit, and Orbitz praised Expedia for its innovative tools and marketing. All in all, something to make everyone happy. But some consumer advocates aren't so sure. They point to similar sectors affected by waves of consolidation—like cable television—and worry that all aspects of the process will suffer, from pricing to choices, from customer service to customer satisfaction. Consumer groups also say that once you set aside all the happy talk from those who benefit from the merger, the reality is that customers will have less choice.

The merger will shore-up Expedia's already solid position as the largest online booking site in the world, while also poising itself for even bigger shake-ups of the airline and hotel industries. The deal will also create two mega companies out of the happy chaos that once boasted scores of players.

The merger will also improve the already lucrative mechanism by which hotels and motels pay services like Expedia for priority placement within their search engine results. Expedia (and Priceline) may now have the leverage to increase those fees, or at least provide better traffic flow to hotels and hotel chains willing to negotiate a better partnership with Expedia. In that sense, the new dynamics may resemble the desire by companies like Netflix to pay Comcast for faster, wider broadband lanes.

Katherine Lugar, CEO of the American Hotel and Lodging Association, said that her group "will be watching this development closely as the process moves forward."

Related Thursday Review articles:

Taxis, Drivers & Digital Disruptors; R. Alan Clanton; Thursday Review; June 23, 2014.

Do Recent Cable Mergers Signal Worse Customer Satisfaction?; Thursday Review; May 20, 2014.