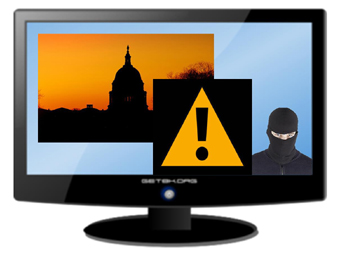 Photo composition by Thursday Review
Be Wary of Fake Government Websites
| published April 7, 2015 |
By Thursday Review staff
According to the FBI, criminals have created slick-looking high tech "government" websites which can sometimes draw lure more online traffic than the real government websites.

The problem has become so costly and so serious that the FBI issued a widely disseminated warning to Americans this week to use extreme caution when looking at emails or message from "the government," or when attempting to navigate to official Federal or state websites to pay taxes or fees. The problem can even be found in many counties and cities where criminals have set up shadow websites to collect money ranging from driver's license renewals to unpaid property taxes.

To make matters even worse, many of the fake websites ask users and participants to log in or register by providing full names, address, Social Security number, date of birth, mother's maiden name, and cell phone numbers. When "overdue fees" or "taxes" are paid by the customer using credit cards or debit cards, the criminals have effective control over all personal information, enabling cyber-thieves to assume control over someone's identity.

In some cases, after filling in the data, the customer is sent a confirmation email and told to wait for a response—typically from four days to ten days—during which time criminals can apply for credit cards, change account information, transfer funds from bank accounts, and even use debit card numbers to clean out bank accounts. Cyber-crooks can also file false tax returns and use phony addresses and alternate bank accounts for refund checks—a problem which has already reached epidemic proportions this year. The IRS and the FBI estimate that hundreds of millions of tax refunds this year have already been directly-deposited into the accounts of criminals who have managed to create parallel or fake identities, and the IRS says that the number could reach more than $1 billion by the end of tax season this year.

The FBI stresses that consumers need to be vigilant and double check all websites for validity. One reliable and easy method to make sure you are providing information to a genuine government website is to watch for the ".gov" suffix in the address. Be wary of any "government" website which uses .com or .net in its address.

The FBI also advises internet users to be suspicious of any email which appears to have originated in another country, and if in doubt double check the website's reliability be looking for other users' feedback. The FBI also recommends that anyone using a government website print hard copies of all completed transactions, including confirmation emails and receipts.

One more tip: watch for websites which appear to be set up using overseas accounts or overseas web hosting. Fake websites have been crafted in numerous foreign countries to look like genuine U.S. government websites, including those of the IRS and Healthcare.gov, and such websites are designed to instantly steal personal data often willingly provided by customers.

The FBI has a special website to file a complaint if you feel you have been the victim of this type of scam: www.IC3.gov.

Related Thursday Review articles:

Biggest Bank Heist in History?; Thursday Review staff; Thursday Review; February 17, 2015.

China May Be Behind Anthem Cyber Attack; Thursday Review staff; Thursday Review; February 6, 2015.