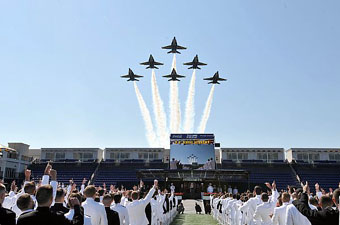 Photo courtesy of U.S. Navy
Graduation Day, Annapolis
| published May 22, 2015 |
By Thursday Review staff
Six members of the Blue Angels, the U.S. Navy's flight demonstration squadron, perform a flyover at graduation and commissioning ceremonies at the U.S. Naval Academy in Annapolis, Maryland on Friday, May 22, 2015. The spring 2015 class of graduates includes 1070 men and women (roughly 800 are Navy ensigns, and 264 are now Marine second lieutenants.

For flight demonstrations, the Blue Angels squadron flies Boeing F/A-18 Hornets. The Hornet is 56 feet in length, with a 40 foot wingspan. It can fly at speeds up to Mach 1.7 (depending on altitude and conditions, more than 1200 miles per hour) and has a combat ceiling of about 50,000 feet.

This photo was taken by chief mass communications specialist Anthony Koch.

Related Thursday Review articles:

Seabee in the Mud; Thursday Review staff; Thursday Review; April 29, 2015.

Friendly Football Fire; Thursday Review staff; Thursday Review; March 22, 2015.