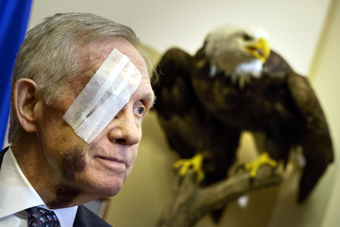 Photo courtesy of NBC News
Reid to Retire From Senate; Urges Schumer for Top Spot
| published March 27, 2015 |
By Thursday Review staff

Harry Reid, United States Senator from Nevada since 1987 and the Democratic Party's leader in the Senate for more than a decade, has said he wants to retire from the Senate. His departure is sure to shake up the Democratic Party's structure, and may spur a rebellion in the ranks of the party which once dominated the Senate, but which now faces a Republican party in command of both houses of Congress.

In an effort to bring about a swift and bloodless transition, Reid has already endorsed his handpicked successor, Senator Charles Schumer of New York. In a statement, Reid said that Schumer "has earned" the support of fellow Democrats for the top post. And though not binding, Reid's nod toward Schumer may defuse any chance that the party would engage in a bitter fight for the leadership job.

Reid, now 75, has been in ill health for months. On a chilly New Year's Day, Reid fell during exercise, suffering bruises, bumps to the head, muscle sprains, and deep lacerations to his right eye and eyelid. Doctors have said the injuries to his eye may take years to fully heal (the bruises are visible even now, three months after his fall). Reid has also lost a large percentage of his vision as a result of the fall.

Reid also faced the likelihood of a tough fight for re-election next year. Based on Reid's poor poll numbers and falling job approval ratings by Nevadans—not to mention recent demographic shifts in the Silver State—GOP strategists and independent political groups had placed Reid at the top of the list of targeted Senate seats. If Reid were to run and lose to a Republican in 2016, the loss of his Senate spot would have serious effects for Democrats who hope to avoid losing further ground to the GOP in Congress next year. Some Democratic strategists are privately relieved that Reid plans to retire: an open Senate race in Nevada might give the party a better opportunity to retain one seat in the U.S. Senate.

Reid has endured tough political fights before, surviving political challenges which looked—to the odds-makers—long shots at best. In 2010, Reid faced a brutal fight for re-election when he was challenged by Republican Sharron Angle. Only days before the election, polls showed Reid and Angle in a virtual dead heat. Both major parties spent millions in the battle, but in the end Reid benefitted by a last-minute shift away from Angle—a Tea Party favorite prone to gaffes and overstatement. Republicans were not planning to make that mistake again, and there was a sense—on both side of the aisle—that Reid was in serious political danger in 2016.

Reid told reporters that he did not want his own re-election to become a center stage attraction when the goal of Democrats should be retaking control of Congress.

Reid may prefer to see Schumer elected without a fight, but it will still be up to Senate Democrats to choose Reid's successor. Though many Democrats see Schumer as a reliable, safe choice to lead the Senate, some younger Democrats may lobby hard for a successor who represents a younger generation of voters.

For many Democrats in Congress, Reid will be a hard act to follow. He was known for being a tough negotiator and a stubborn political player, often winning key skirmishes and key battles with Republicans even when his own party was in the minority position. Reid was also a key ally of President Barack Obama.

Meanwhile, Republicans have mixed emotions on the announcement that Reid is leaving the Senate. Reid has been seen as an easy target in 2016, but an open seat in Nevada may also work to the advantage of the GOP. Some Republican strategists also think that Reid's departure will help the GOP solidify its majority in the Senate come 2016, as recent demographic shifts may make it easier for a Republican candidate to win over a relatively unknown Democrat in Nevada. Former attorney general Catherine Cortez Masto is, so far, the only name mentioned by Democrats as a potential successor for Reid in Nevada.

Related Thursday Review articles:

Likely Democratic Attack: Bush is Romney Part 2; Thursday Review; February 9, 2015.

Hamlet's Passing: Mario Cuomo, Rest in Peace; R. Alan Clanton; Thursday Review; January 7, 2015.