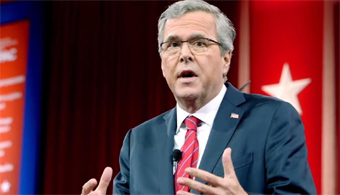 Photo courtesy of Right to Rise/CPAC
Jeb Bush's Alternate Email
| published March 25, 2015 |
By Thursday Review staff

Republican lawmakers in Washington are on the warpath regarding Hillary Clinton's use of a private email account and a homebrew server during the time when she served as U.S. Secretary of State. Clinton used the email account interchangeably for both personal and official business, a violation—GOP lawmakers say—of not only State Department guidelines and White House policies regarding openness, but also of Federal laws regarding how government correspondence should be recorded and saved.

Clinton has asked that the State Department release roughly 32,500 emails, but she has told reporters that another 31,000 emails have been deleted because they contained primarily personal correspondence. Some in Congress want to know if among those 31,000 deleted emails—which Clinton and her staff admit to deleting—were any critical exchanges regarding the foreign policy meltdowns during and after the Arab Spring, or the viscous terror attacks on the U.S. consulate in Benghazi, Libya.

Servergate, as it is sometimes referred to, has proven to be a major distraction for Clinton at an important moment before she officially launches her Presidential campaign for 2016. The scandal has also given fodder to Republicans, who see an opportunity in 2016 to reclaim the White House. Some potential GOP candidates point to that homebrew server, which was housed in the Clinton's private home in New York, as evidence that the Clinton's are engaged in some of their old anti-transparent habits. Republicans also say that the deliberate deleting of those emails shows Hillary Clinton to be at stark odds with the administration of President Barack Obama, who campaigned with promises to make the decision-making processes and the communications of the White House more open and accountable.

By contrast, Republican front-runner Jeb Bush has released tens of thousands of emails dating back from his earliest days as governor of Florida. Though critics had complained that—in some cases—he waited seven years to finally release those mountains of correspondence (and though his people may have foolishly exposed thousands of Floridians' social security numbers in hidden attachments and links embedded in several emails), on the whole Bush has benefitted from Clinton's recent imbroglio over her private email address and her homebrew server. Bush's people can point to the Governor's release of records and relevant correspondence as evidence of his intention to maintain transparency in all aspects of his public life and government service.

But as it turns out, Bush may have inadvertently had a back-up email address—infrequently used—which is now being called into question as the so-called Transparency Wars reach a fever pitch in the weeks in advance of both Bush and Clinton announcing their intentions officially to run for President in 2016.

The alternate Bush email was arranged through a local internet provider based in Tallahassee, Florida in the late 1990s and very early 2000s. The address in question, jeb@gencom.net, was used for about 400 pieces of correspondence—a tiny fraction of the emails sent of received from Bush's primary accounts at myflorida.com and jebbush.org. The Associated Press and other media organizations traced the address to a small company called Electro Net Broadband Communications; though the company still exists, it has apparently not responded to requests from reporters for more information.

Bush's staffers say that Jeb Bush never used the email address. Indeed, there is no evidence that the address was used for anything improper or illegal, nor is there any indication that it was even used by accident by Bush. When emails arrived to the gencom.net address, Bush would respond only from one of his two primary accounts. The account may have been set up as an automatic requirement of establishing internet or modem service, or for some other form of broadband access. A Bush staffer would have then set up the account to automatically forward incoming emails to the primary account. The AP reports that after an initial flurry of about two hundred emails in 1999, the account slowly went dormant, and the last email ever received came in 2004. Some email responses even included a request asking for people to respond only to the primary accounts.

Bush has said he knew nothing of the email account. Since there is no evidence that he originated any emails from the extra email account, the issue appears to be a cul-de-sac for some reporters who were expecting a trove of potentially damaging data or correspondence. But the problem of alternate email addresses—and homebrew servers and other digital equipment—belonging to candidates for public office will continue to resonate in an age when transparency and accountability are also expected to take center stage.

The Associated Press and reporters with other media organizations have found emails in which there is evidence that big Bush donors may have attempted to intervene in Bush's decisions about top political appointments in Florida. Clinton not only conducted State Department business from her private account using a server located in her private home, but linked that email account to the Clinton Foundation, which received/disseminated correspondence which included representatives and lobbyist for foreign countries, and correspondence from major U.S. and foreign companies seeking assistance with overseas contracts or complex multi-national business negotiations.

Related Thursday Review articles:

Bush Vs. Clinton: Transparency Wars; R. Alan Clanton; Thursday Review; March 19, 2015.

Hillary Clinton's Email Explanations; R. Alan Clanton; Thursday Review; March 11, 2015.