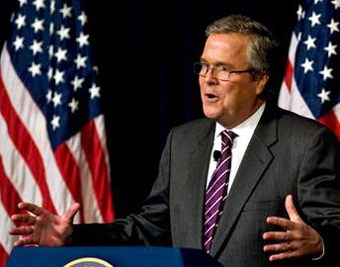 image courtesy of Foundation for Florida's Future
How Close is Jeb Bush to Making it Official?
| published January 3, 2015 |
By R. Alan Clanton
Thursday Review editor
Though he has been coy for many months—years, even—former Florida Governor Jeb Bush may be inching closer to making it official that he intends to seek the presidency in 2016.

Last week, Bush resigned from a variety of his directorships and memberships on the boards of directors of several for-profit companies, as well as resigning from his leadership or guidance roles in several non-profit organizations. The news came by way of the Washington Post on New Year's Eve, and was later confirmed by emails and statements from Bush family and corporate spokespersons. Bush may also be severing some of his immediate connections to various investments, and in several companies for which he owns a stake.

The move was greeted by many political analysts and scores of political reporters that the son of former President George H.W. Bush, and the brother of former President George W. Bush, is making last moment preparations before making an official announcement of his intentions. Speculation about a Jeb Bush candidacy has been brewing for months, in part due to cryptic—and sometimes not-so-cryptic—remarks by Bush family members and friends. Guesswork has also been fueled by the fact that no other potential GOP candidate has stepped forward to officially declare their candidacy—including possible rivals Chris Christie and Rand Paul, and fellow Floridian Marco Rubio.

Aside from Bush, Christie, Rubio and Paul, the list of possible Republican candidates for the 2016 race includes Ted Cruz, Rick Santorum, Paul Ryan (Wisconsin), Rick Perry (Texas), Scott Walker (Wisconsin), Mike Pence (Indiana), Nikki Haley (South Carolina), and Bobby Jindal (Louisiana). None have made a formal announcement that they intend to run, but none have ruled out considering a candidacy. Still more members of the GOP are waiting in the wings as longshot possibilities: John Kasich, governor of Ohio; Carly Fiorina, former CEO of Hewlitt-Packard and a top John McCain organizer in 2008; George Pataki, a popular three-term New York governor. A list recently posted by Fox News includes the name of Robert Ehrlich, a former governor of Maryland. Other news sources have opted to include Mitt Romney, a former presidential candidate, and the Republican who unsuccessfully challenged President Obama in 2012, and Mike Huckabee, a candidate from 2008.

And then there are those who could be described as waiting in the more distant wings to have a chance to wait in the nearer wings: Ben Carson, neurosurgeon, author and columnist; Michelle Bachmann, U.S. Representative from Minnesota; Lindsey Graham, popular U.S. Senator from South Carolina; and the always irascible businessman, financier, and TV personality Donald Trump.

Jeb Bush has been, in the words of one political analyst, the 500-pound gorilla in the room for more than a year. Some have suggested that with the scandals surrounding the George Washington Bridge—an incident which exploded onto the headlines one year ago, threatening to derail New Jersey Governor Chris Christie's campaign—the talk of a Bush candidacy would inevitably gain momentum. It did. But in the meantime, Christie has largely recovered from Bridgegate, having been cleared of wrongdoing by a special legislative investigation (though several other investigations remain unresolved). With each passing week, the bridge scandals seem more like a thing of the past.

Still, Bush has shed his evasiveness, and starting in December began to acknowledge that he is considering a presidential run—his strongest statement on the issue in more than 18 months. If he makes an announcement formally within the next few weeks, which is what most analysts think is likely, he would have the advantage of stepping in as the de facto front-runner. Even if the other top-tier Republicans like Christie, Paul and Ryan jump in soon, Bush may have a slight advantage when the GOP organizational people and the heavy-hitter donors begin to line-up.

If Bush makes it official in January (no later than February), he will be following the template publicly endorsed by GOP chairman Reince Priebus.

Priebus has stated many times that the 2012 candidate selection process was fatally flawed. Romney, the presumed front-runner, was forced to square off against a dozen other candidates in what became a kid of travelling Ultimate Fighting contest. With many of those candidates somewhere to Romney's right, the former Massachusetts governor became a stand-in for Barack Obama, and Romney was pummeled mercilessly—early and often—in more than 20 televised debates, some of which received extremely high viewership. The long term effect was devastating to Romney, forcing him to devote many months of resources on securing the nomination and battling the negative ads, and absorbing incoming ordnance from his own allies. The long battle also exacerbated divisions within the GOP and—in the analysis of many Republican strategists—damaged the brand name through exclusionary messages.

The result of that negative fight was mortal damage in the Electoral College math that November. The GOP was thought to be in its final dance of death.

But that was then, and this is now. The Republican Party's massive sweep of the midterm elections shows that it is now the Democratic Party—not the GOP—which could be facing long-term problems, at least in the House and Senate. Though Hillary Clinton now enjoys a lead within her own party which may be the biggest pre-convention advantage in more than 120 years (polling indicates that she leads her next closest competitor, Joe Biden, by more than 48%), it now seems far from certain that she would automatically carry that same powerhouse edge into a general election in 2016. President Obama's low popularity numbers proved toxic to many Democrats, even at the statehouse and local levels. The GOP scored such impressive inroads that it now enjoys its biggest legislative majority in generations—but, it does not yet have the keys to the Oval Office.

Jeb Bush senses an opportunity. Recent headlines have also given the former Florida Governor an opening to challenge President Obama on a range of issues, most notably the recent move by the White House to normalize relations with Cuba, and the Marxist-Leninist regime which has controlled the island since the overthrow of the Batista regime in the late 1950s. Bush, already active on the speaking circuit, quickly weighed-in on Obama's decision, criticizing the President for what he suggested was a hasty, ill-conceived policy shift. In a press statement hours after the White House announcement on Cuba, Bush blasted the decision.

"Cuba is a dictatorship with a disastrous human rights record," Bush said in the statement, "and now President Obama has rewarded those dictators. The benefactors of President Obama's ill-advised move will be the heinous Castro Brothers, who have oppressed the Cuban people for decades." Bush's retort to the policy shift was meant, among other things, as a rallying cry for foreign policy hawks and old school Cold War conservatives. Indeed, the outreach went far beyond the predictable positive play within Miami's large and outspoken Cuban-American community. Bush was making a deliberate distinction between his views and the foreign policy of Obama, a president whose job approval numbers have suffered mightily as a direct result of international challenges.

One can also expect Bush to begin public exchanges on a variety of issues, including those which have been a staple of his speeches and his writings over the last two years: immigration reform, and education—two areas of concern which he argues are economic issues, first and foremost.

The New Year's Eve actions by Bush to disconnect himself from both for-profit and non-profit boards precede what may be his next steps—stepping away from some of his business partnerships, and divesting himself of ownership (partial or otherwise) of several business ventures, including Jeb Bush & Associates, described on its Linked-In page as a management consulting firm, and Britton Hill Holdings, a Carol Gables, Florida-based firm which invests in oil, gas and energy-related products and services, as well as energy delivery and infrastructure.

Bush no doubt expects close scrutiny of his business activities—both by his potential Democratic opponent in 2016 (it may be safe to assume that the opponent will be Hillary Clinton), and by his numerous Republican rivals. Bush also wants to avoid the same fate which befell Mitt Romney in 2012, as hundreds of reporters pored-over business records, files and correspondence in search of the origins of Romney's wealth. Romney was famously thrashed for his direct associations with private equity and venture capital, and his perceived economic disconnect from voters. Though Romney often campaigned with speeches that touted his jobs-creation while he was a businessman and investor, alternate narratives emerged which portrayed the former governor as being a part of "vulture capitalism," along with evidence of the number of jobs killed under his management watch.

Bush will surely seek to avoid this same fate, and those with close associations with the former Florida governor say he and his advisors have been scrupulous to a fault. If he decides to run for President, they say, he will be able to disclose with comfort copious records of his financial dealings over the years since he last served as governor.

Bush severed recent dealings with the British bank Barclays, for he was paid a large sum each year, and he also resigned from the board of the educational foundation which he founded after serving as governor. But cutting the cords to such firms, business dealings and associations, Bush is clearing the path of distractions, and by disclosing all the numbers, he is hoping to diffuse potential financial and wealth stink-bombs before they can explode.

But the most looming problem for Jeb Bush may be—ironically—the very thing that keeps his name afloat in any discussion about 2016: are Americans ready for a rematch between a Clinton and a Bush?

Clinton has said she will make a decision early this year, though in reality—with virtually no intra-party rivals—she is under no pressure. In fact, some Democratic strategists suggest publicly that by waiting, she can continue to own the field. If she announces early, Republicans can begin immediately to make her the target of unified attacks; by waiting, she holds both her potential Democratic rivals in check, and deftly enables Republicans to pelt each other instead.

Meanwhile, if the GOP chief Priebus has his way, the Republican field will be kept lean, on message, and clutter-free. Republican strategists hope to avoid a replay the meltdown of 2012, and some in the GOP see the arrival of Jeb Bush as a first step in the right direction.

Related Thursday Review articles:

Cuba Normalization May Spark Bush, Rubio Campaigns; R. Alan Clanton; Thursday Review; December 20, 2014.

Have the Midterms Damaged the Clinton Franchise?; R. Alan Clanton; Thursday Review; November 5, 2014.