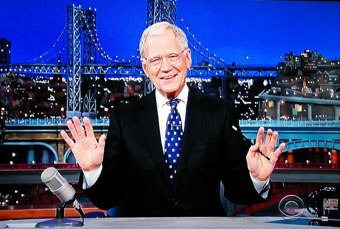 Image courtesy of CBS
Letterman Signs Off After 33 Years
| published May 21, 2015 |
By Keith H. Roberts,Thursday Review contributor
David Letterman, arguably the king of late night comedy and talk in the post-Johnny Carson age, retired this week after more than 33 continuous years of hosting a variety show, and more than 6000 back-to-back shows.

Letterman signed-off having shattered all records for late night talk shows, exceeding the number of shows of Carson, Jay Leno, Dick Cavett, Jack Paar, and scores of contemporary competitors in the increasingly crowded arena that begins each night in the United States and Britain.

Letterman's final show included live—but brief—appearances by Alec Baldwin, Tina Fey, Steve Martin, Barbara Walters, Jim Carey, Bill Murray, Chris Rock, Peyton Manning, Jerry Seinfeld, and Julia Louise Dreyfus, and the program also included special videotaped cameos by Presidents Barack Obama, George W. Bush, Bill Clinton, and George H.W. Bush. After a clip of archival film footage showed then-President Gerald Ford telling a Watergate-Vietnam era nation "our long national nightmare is over," words spoken to the country on the day after Richard Nixon resigned the Presidency in 1974, each subsequent ex-President spoke the same words in an ironic reference to Letterman's last performance.

Clearly holding his emotions in check, the Indiana-born Letterman thanked his mother, as well as his wife and young son (they were present in the studio audience), along with the hundreds of producers, camera operators, control room technicians, sound techs, and writers who have worked with him over the decades. The show also included more than 500 video and audio clips stretching back to the early 1980s, and featured images and words of Tom Hanks, Andy Kaufman, Sharon Stone, Joachim Phoenix, George Burns, Drew Barrymore, George Clooney, Robin Williams, Billy Crystal, and hundreds of other actors, politicians, musicians, TV personalities and sports figures.

The build-up to Letterman's impending retirement, which he announced last year, slowly drove ratings for his show upwards over the last months, culminating in a spike in viewership which pushed his Late Night show slightly ahead of The Tonight Show with Jimmy Fallon, Letterman's closest late night rival in an intensely competitive niche which eventually drove Jay Leno from NBC's late night slot. Ratings for Letterman's final show were expected to be so high, that on NBC's Tonight Show, Fallon quipped to the audience that he was thanking those watching on DVR. Jimmy Kimmel and ABC agreed to make no attempt to compete with The Late Show on the same evening as Letterman's last appearance.

Leno and Letterman were head-to-head rivals for the job of host of The Tonight Show in the long two year stretch between Johnny Carson's announcement of retirement and Carson's last show. NBC agonized and waffled over the decision for many months, creating a famous high stakes competition between the two Carson protégés. When NBC finally made the decision to pick Leno for the Tonight Show, Letterman and his entourage walked out of NBC and made their pitch to CBS, where Letterman was given his own prime spot in late night. Letterman remained at CBS throughout ownership and management changes, and carved out his own loyal audience of late night viewers attuned to his sometimes sarcastic, thorny sense of humor and his deadpan sense of irony. Though his show was enormously popular, not all celebrities appreciated his tone and style. Cher once infamously called him "a f***ing jerk" during an appearance on his show.

Along with several short musical performances by Paul Shaffer and the CBS Orchestra, Letterman's longstanding house band, the finale included an intense and high-powered performance by Foo Fighters. The alt band played "Everlong," one of David Letterman's favorites, and the song which the same band played upon Letterman's return to the show after his heart surgery back in 2000.

Near the beginning of the finale, Letterman joked that physicist and mathematician Stephen Hawking has called in to congratulate him for his 33 years of late night comedy, and that Hawking has calculated that all told, those 6028 Late Show episodes has produced "about eight minutes of laughter."

CBS plans to replace Letterman with Stephen Colbert in early September.

Related Thursday Review articles:

Back in New York: Tonight Show Debuts With Jimmy Fallon; Thursday Review; February 18, 2014.

The Most Famous Voice of Saturday Night; R. Alan Clanton; Thursday Review; August 20, 2014.