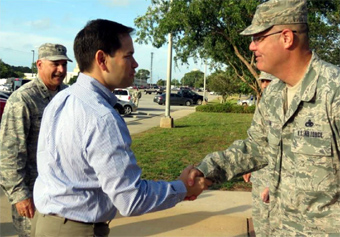 Marco Rubio at Eglin Air Force Base, 2012; photo courtesy Marco Rubio
Marco Rubio to Enter GOP Contest
| published March 30, 2015 |
By Thursday Review staff
The already crowded 2016 Presidential race could get more crowded, and very soon. Within the next few weeks at least three Republican hopefuls will formally announce their candidacies. Two of those potential candidates are from Florida.

Jeb Bush is the de facto front-runner in some polls, but not all of them. Bush is also the leader in fundraising, attracting total donations which very nearly exceed those of all the other candidates and would-be candidates combined. Bush, a popular former Florida Governor and brother to former President George W. Bush, hopes to convert that fundraising power into an early lead which will force other top-tier candidates—New Jersey Governor Chris Christie, Kentucky Senator Rand Paul, Texas Senator Ted Cruz, and Wisconsin Governor Scott Walker—into a long, protracted game of catch-up.

Bush's ability to convert wavering GOP big-spenders and rainmakers into immediate supporters has already pushed former Massachusetts Governor Mitt Romney from the race, and has nudged Christie into second-place.

But this week, Marco Rubio, the junior Senator from Florida, will announce his intentions after months of calculation, and two years of media speculation. Rumors have been building for weeks that Rubio was giving a Presidential run serious consideration, and polls show him settled-in at about the midway point of all potential GOP candidates. But following a report last week in the Tampa Bay Times, staffers and supporters of Rubio have confirmed that he will make a "major announcement" within a week. Though last week some newspapers were telling readers that Rubio was targeting April 13 as his rollout date, media in Orlando, Miami and Jacksonville are reporting that Rubio could say something as early as this week.

If Rubio enters the fray as expected, it could shake up an already complicated GOP battle for supremacy in both polling and fundraising.

Rubio, whose conservative appeal overlaps neatly with the GOP's desire to lure Latinos back into the Republican fold, will almost certainly present a problem for Jeb Bush. Both men come from a key Electoral swing state, and an important early primary state. Historically the GOP prefers to have the issue of its nominee comfortably settled by the end of the day of voting in the Sunshine State, which follows Iowa, New Hampshire and South Carolina in early caucusing and primary voting.

But what happens when two major candidate hail from that same state? In theory, the worst-case for GOP chairman Reince Priebus, who would prefer an orderly process (as opposed to the grueling, sometime bitter sweepstakes that took place in 2011-12), is that the Republican contest drags on for several more weeks, perhaps pushing into late March or early April. On the other hand, those who watch fundraising as the key bellwether in the contemporary primary and caucus battle suggest that Bush will gain the upper hand quickly, outspending his opponents—Rubio included—and seeking to secure early, solid victories in Iowa, New Hampshire and South Carolina. Bush may easily reach the $100 million mark within a few days, and by the time he makes his own announcement later in April, Bush may well have amassed more than $130 million—enough, some analysts believe—to lock things up before the campaign arrives in Florida.

But Bush, who has already formed a political action committee and severed most of his ties to his business interests and investments, has wavered on making his candidacy "official," suggesting to reporters and audiences that he may wait until May or June. Such a delay won't prevent him from maintaining the brisk pace of his fundraising, nor will it stop him from making appearances in Iowa, New Hampshire and South Carolina, but it may give Rubio a chance to open up his own flanking maneuver—especially in Florida.

Officially, only a few candidates are in the running. Senator Ted Cruz made his candidacy official in mid-March at an event at Liberty University in Virginia. Pediatric neurosurgeon Dr. Ben Carson also says he is a candidate, and weeks ago businessman and investor Donald Trump said he was entering the fray. Other potential candidates are expected to announce their intentions in April, including Rand Paul. Chris Christie and Scott Walker are candidates in every way save for the official statement; each has formed a political action committee, each has begun fundraising and the deployment of cash; each has paid staff in place; and each has been making frequent appearances at events across the country. Among those also considering the race for the White House are Texas Governor Rick Perry, Louisiana Governor Bobby Jindal, Indiana Governor Mike Pence, and South Carolina Senator Lindsey Graham.

But it is the Bush versus Rubio dynamic that most intrigues political analysts, and most concerns top GOP strategists. Bush and Rubio consider themselves close friends and close political allies. The two men live about one mile apart in Miami. Both speak fluent Spanish. Both are popular among Florida's generally conservative anti-Castro Cuban-American community. Both are expected to offer significant outreach to U.S. Latinos, a group which found little in common with Republicans in 2012, and may have migrated toward the Democratic Party in such powerful numbers that it assured Barack Obama a victory over Mitt Romney that year.

Both Rubio and Bush would offer some degree of moderation on a subject which raises blood pressures among many GOP conservatives, but which both men see as primarily as an issue of economics and global competitiveness. Both Bush and Rubio have made education a cornerstone of any economic reform, and both say that income inequality could be the issue which helps the Republican Party regain the White House in 2016.

There are stylistic differences too. Bush is a policy wonk and a consummate workaholic whose speeches tend to be process-oriented and results driven. Rubio is eloquent and charismatic, and is known for his powerful engagement of groups both small and large. For different reasons, both men are expected to perform well on their feet in the generally small-town, town hall venues found across Iowa and New Hampshire—Bush appealing to the results-driven members of the audience, Rubio drawing the attention of those looking for generational change. Politically, as measured on the spectrum of conservatism, Bush is the more moderate—even pragmatic—while Rubio is the true believer, often earning virtually perfect scores among conservative lobbying and public interest groups.

At age 43, Rubio would be one of the youngest candidates ever to campaign for the Presidency.

Related Thursday Review articles:

Texas Senator Ted Cruz Enters GOP Race; Thursday Review staff; Thursday Review; March 23, 2015.

Ben Carson Enters GOP Contest for 2016; R. Alan Clanton; Thursday Review; March 14, 2015.