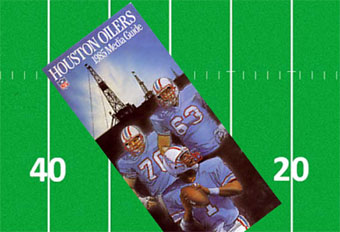 The Joy of an Old Media Guide
| published May 20, 2015 |
By Earl Perkins Thursday Review features editor
I really enjoy reading through old media guides, because you can just taste the hopes and dreams of the teams, the players, and the fans. Although they're public relations tools, I also consider them a goldmine of fascinating facts, inspiring readers toward further research. Not only do the good ones have massive amounts of information—they're also like a snapshot in time.

Take the 1985 NFL Houston Oilers Media Guide. Owner Bud Adams Jr. played football at the University of Kansas, but his real talent lay in the business world.

After serving in the US Naval Reserves during World War II, the gregarious and hardworking Adams acquired a fortune in the oil and gas business, farming, ranching, real estate, travel, banking, car sales and leasing, executive charter aircrafts, equestrian centers and art galleries.

The Bartlesville, Oklahoma, native always dreamed of owning a pro football team, and that's where his fortune came in handy. Along with Lamar Hunt, he co-founded the American Football League in 1959. Among other things, Hunt created the Kansas City Chiefs (after moving them from Dallas) and he is generally credited with coining the phrase "Super Bowl" in reference to the first match-up between the AFL-NFL.

But it was Adams' Oilers that dominated the league in its early years.

Then there was 39-year-old Ladd Herzeg, executive vice president and general manager. The Cleveland native did a 12-month tour of duty in Vietnam while in the US Army, but also sported a degree in Administrative Studies from Ohio State University.

His resume was highlighted by signing NFL Hall of Famers Warren Moon, Mike Munchak and Bruce Matthews. A former CFL star, Moon's highly-productive NFL career was highlighted by stints with the Oilers, Vikings, Seahawks and Chiefs, before he embarked on a high-profile broadcasting career. Matthews, an offensive guard/center, was a 14-time Pro Bowler for the Oilers and Tennessee Titans.

Munchak, a nine-time Pro Bowler who had a 31-year association with Houston/Tennessee, was unceremoniously fired following the 2013 season. He presently serves as offensive line coach for the Pittsburgh Steelers.

Tennessee's 22-26 record in his three-year stint as head coach hit a sour note in Nashville, but three decades is a fairly sizable chunk of your life to sacrifice for any organization. And Munchak could have retained his job and received a contract extension, but management demanded he revamp his staff, according to The Tennessean.

"I can't fire someone when I don't believe they should be fired," he said. "Firing someone is awful. Too many people were going to be affected. For me to maintain a job and a lot of guys lose jobs on a plan I didn't think was right, I couldn't do that. I'll make tough decisions, but not if they're not right."

But getting back to the Houston franchise, which is a walk down memory lane for football fans. The coaching staff included Hugh Campbell, Jerry Glanville and Ken Houston, but '85 proved to be a year of struggles. Campbell was fired after 14 games, with Glanville coaching the final two tilts, leaving the Oilers with a 5-11 record. But several player names jumped off the pages at me.

Oliver Luck. That's right, father of Indianapolis Colts quarterback Andrew Luck, who may eventually be enshrined in the Hall of Fame in Canton, Ohio. Then there's former Nebraska superstar Mike Rozier, who had two Pro Bowl years for Houston, but never really carried the franchise like they'd hoped.

Three other names you might remember are wide receiver/gunner Steve Tasker, defensive lineman Mike Golic and linebacker Ted Thompson.

Tasker is a broadcaster for CBS Sports, while Golic is best known for co-hosting ESPN's Mike and Mike in the Morning, and as a football analyst for the four-letter network. Back then he was a svelte 6-5, 265 pounds, and a 10th-round draft pick out of Notre Dame.

Thompson had a cheesy grin in the media guide—kind of like someone switched on the lights before taking his picture. He's now general manager of the Green Bay Packers, and arguably responsible for helping construct Super Bowl champion teams in Green Bay and Seattle.

The Oilers/Titans have actually reached the playoffs almost a couple dozen times, but they always struck me like Charlie Brown and Lucy with the football. Flashes of greatness shined through the years but something always seemed to go wrong.

The 1994 Oilers blew a 13-7 fourth-quarter lead to Kansas City in the AFC Divisional Playoff, but 1993 featured possibly the greatest sports collapse of all time. Houston was up 35-3 over Buffalo in an AFC Wild Card matchup, but somehow surrendered 35 consecutive points before falling 41-38 and being ran out of town on a rail.

The biggest insult of all for the franchise may have concerned the 1983 draft. Statistics from the strike-shortened 1982 season show Baltimore finishing 0-8-1, followed by the Oilers at 1-8. Houston's lone victory was a 23-21 win over Seattle at the Astrodome, but the Oilers were 'victimized' by a referee's blown call, thus denying them first choice in the draft. Herzeg, Houston's general manager at the time, had hoped to draft John Elway, and the Broncos legend says he would have played for the Oilers. But Elway forced a trade from Baltimore, and finished with a Hall of Fame career calling signals for Denver.

The Oilers didn't exactly end up with bupkis, but Elway is proudly showing off two Super Bowl rings.

Related Thursday Review articles:

Grayson Allen, Championship X-Factor; Earl Perkins; Thursday Review; April 20, 2015.

Miracle 1980: Cold War on Ice; Kevin Robbie; Thursday Review; February 22, 2015.