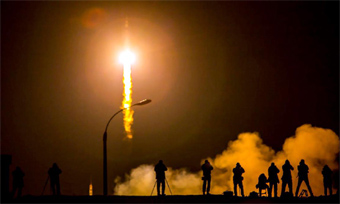 Photo courtesy of NASA/Bill Ingalls
Expedition 43: One Year in Space
| published March 29, 2015 |
By Thursday Review staff
In this dramatic NASA photo, the Soyuz TMA-16M spacecraft launches from its massive pad at the Baikonur Cosmodrome in Kazakhstan, while videographers, photographers and film crews are silhouetted in the foreground, at a safe distance from the rocket. The Soyuz will take Expedition 43 crew members—including astronaut Scott Kelly, cosmonaut Mikhail Kornienko, and cosmonaut Gennady Padalka—to the International Space Station. If all goes well, the three men will spend the next 12 months in space as part of international testing of long-duration space voyages.

Among the things being tested: sleep patterns and exercise routines; microbial changes; emotional and mental stability; physical stamina and dexterity.

Furthermore, Astronaut Scott Kelly will be monitored extremely closely, and in tandem with twin brother Mark Kelly back on Earth; the brothers' every physical change will be measured and calibrated to see how extended stays in space adversely or positively affect the human body. Even genetic comparisons will be made upon Scott Kelly's return to Earth.

The Expedition 42 crew is scheduled to return to Earth in late March of 2016.

Related Thursday Review articles:

Gemini's 50th Anniversary; Thursday Review staff; Thursday Review; March 23, 2015.

NASA's 22 Million Horsepower Test; Thursday Review staff; Thursday Review; March 11, 2015.