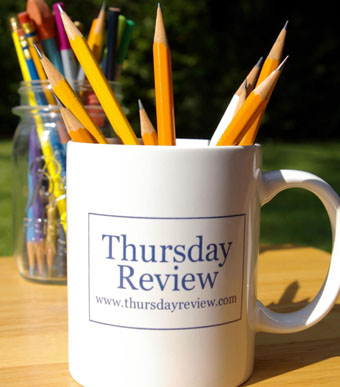 Thursday Review Readers Respond
| published January 9, 2015 |
By Thursday Review editors
In response to some of our recent articles and review, here are some selected comments, rants and raves by regular Thursday Review website readers, and by those who follow us on social media (the title of the article is followed by the reader comments):

Interstellar: Science, Sci-Fi, and the Humanity Thing:

Carolyn with Yahoo: Nice movie review, but in the theater I was bored to tears with this monstrosity within the first hour. It had a few moments of excitement, and I had no complaints in the special effects department, but it all seemed kinda pointless and depressing plot-wise.

Tarnish on the Golden Arches:

Gary Madden, Orlando, FL: I used to be a huge McDonald's fan; hamburgers, French fries, milkshakes, you name it. Now I limit it to the two things they still do well and without confusion: coffee, and ice cream.

Sandra with Gmail, Augusta, GA: I gave up on McD's twenty years ago or more, when they gave up on trying to maintain decent customer service, and they began to no longer care that their employees were rude and slow. Once my kids were old enough, we moved on to other restaurant options.

Tony in Baltimore, MD: Proof that the inertia of some business models just keeps rolling forward despite horrible food, a confusing menu, poor pricing, a dicey service, and low paid morons for employees. What was once a game-changing business is now a joke, yet I see people lined-up at that drive-through every day (is it the coffee?).

The Sony Pictures Cyber Attack (various articles):

Roger in Denver: Not the first to say it, but this attack was a huge wake-up call for American businesses and public institutions, not to mention government agencies. This, ladies and gentlemen, is the new face of war. Arrows, horses, bullets, bombs—irrelevant when the real war can be found in all that digital code.

Marie with Gmail in Philadelphia: First, Sony wasn't going to cave-in, then they caved, along with most theater owners. Finally, they agreed to release it only to those theaters willing to take the risk. Sad that it has come to this: freedom of speech and freedom of assembly, but only at the behest of foreign powers and terrorists. What happens when someone decides they are offended by something more important, or less important?

Francis Ford Coppola's Best Year (Godfather Part II Anniversary):

Pete in Los Angeles: A truly remarkable, classic movie, and possibly the only example of a sequel which exceeded its predecessor. Wonderful article with lots of fun information.

Art Corrigan, Lakeland, FL: Nice article with lots of relevant observations. Always my opinion that Parts One and Two should be viewed as a package deal…watch one, then watch the other. Though not necessarily on the same day unless you have time to kill. Part Three is passable, but barely.

Jeanette (with Comcast) in Fort Lee, N.J.: My husband's and my favorite movie of all time. Excellent write-up, and fun trivia. Please do more like this!

Ronnie on Facebook: OMG, has it already been 40 years since this movie came out? Either I'm getting old, or time is flying by, or both. Great movie and a nice re-visit to a classic.

Silent Night, Christmas 1914; Kevin Robbie:

Amanda in Jacksonville, FL: Wonderful article about a remarkable moment in human history. Makes you wonder, if it is possible to take a break from war on one night and one day, why can't we resolve to take a break from the fighting forever?

David in Oklahoma City: Fascinating, often overlooked incident from World War I; endless fields of carnage, and absurdly effective tools for killing by the thousands, yet these men found the enjoyment of Christmas carols and sharing family photos more important than war—at least for a few dozen hours.

Megan on Facebook: Did a report on this in school last year; what an interesting piece of history. And makes you wonder what the fighting was about in the first place?

Syria: A Complex, Dangerous Puzzle:

Michael, San Diego, CA: Too little too late for Syria. If the U.S. had a window of opportunity in which to act, that window closed three years ago, in the final months of the Arab Spring. ISIS can't be stopped with bombing, and we don't have the capacity for on-the-ground military action. A definite example of where we missed the chance to be proactive.

Gerald with Yahoo: Best stay clear of Syria until it resembles a wasteland. Nothing good will come of direct intervention, even from the Turks, who clearly have reason to fear what is happening just across the border. ISIS will burn itself out, or eventually the local people will rise up and kick them out once they've had a belly full of the bullying.

Viktor on Google+: Idiots with guns and a license to kill. Most of these ISIS guys buy copies of "Islam for Dummies" in train station bookstores, read them on the ride to Turkey, then hitch rides or walk into Syria. The troubled youth of London, Paris and Copenhagen and an army that wants them to join.

Send us your comments, responses and reactions--to any content at Thursday Review--and, if appropriate in length and style, we'll print it here. We welcome your comments. Email us at ThursdayReview@ThursdayReview.com, or find us on Word Press, Facebook, Google+ and Linked-In.