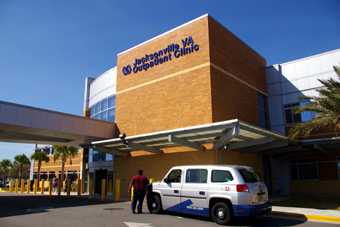 Photo by Thursday Review
Which VA Wait is the Worst?
| published March 9, 2015 |
By Earl Perkins
Thursday Review features editor
Weak leadership and a corrosive culture continue to plague the Veterans Administration, and Jacksonville, Florida, could be the epicenter for extended wait times for patients in the United States, according to the Florida Times-Union.

Veterans have been thrust into dangerous situations worldwide for generations, and those who are lucky enough to survive and have the audacity to actually seek promised medical attention are continually shunted aside and forced to wait for badly-needed appointments.

More patients have been forced to wait 30 days or longer at the Jacksonville VA Outpatient Clinic than at any other major facility in the nation. In November, the VA began releasing reports delineating patient backlogs and extended wait times, following a scandal at the Phoenix VA, where at least 40 patients died awaiting care. Following a major investigation and congressional hearings, numerous other shortcomings were discovered, including the fact that records which tracked those waiting times were falsified, which conveniently led to hefty bonuses for supervisors. You can imagine what that revelation did for morale in the VA ranks, which number more than 300,000 employees nationwide.

One of the primary problems is that the VA is a massive, bloated bureaucracy, with people schmoozing their way to the top and punishing those who get in their way—all of it creating a culture of fear and intimidation. After much media attention, a national scandal, and a lot of digging by legislators, the VA's answer was to force the resignation of Secretary Eric Shinseki. After Shinseki's dismissal, there followed a massive public relations push extolling the virtues of the newly-accountable Veterans Administration.

But have things improved that much at the VA's 970 facilities since Shinseki was ousted and replaced with Robert McDonald last year?

McDonald has implemented many programs meant to close the vast gap between veterans awaiting care and those who have seen an actual doctor. Among other things, McDonald has tried to establish a program whereby veterans who have waited 30 days or more can have their healthcare services performed by medical centers outside of the VA's system. But out of some 8.5 million vouchers allegedly sent to Veterans, only about 28,000 have responded at all. This has triggered more questions in Congress about the VA's commitment to serving veterans in a more timely manner: have all 8.6 million so-called Choice Cards really been mailed? Or has a new backlog already been created, with millions of veterans responding to the card but being place right back on new waiting lists?

McDonald has also made it less difficult for bad employees of the VA to get fired, another step in the right direction. But some of the problems are still there.

At any given time, the Jacksonville facility has a pending appointment load of more than 30,000, with roughly more than a quarter of its patients waiting more than 30 days after a "preferred date," and hundreds for more than four months. According to the VA, a preferred date is a date the doctor deems medically necessary for a patient to receive an appointment, but if a date isn't chosen, then it falls to the veteran to decide. Backlogs can be devastating to veterans, because many waiting the longest need appointments with specialists and suffer from complex or long-standing issues.

Nine months after Shinseki's "resignation," 23.29 percent of veterans needing appointments in Jacksonville must wait more than 30 days, which is almost double that of Phoenix (12.43), and the figure compares poorly with numerous other facilities. The national average is 5.92 percent, with patients averaging 7.58 days awaiting specialty appointments. In Boston, 2.4 percent wait more than 30 days, while the average for specialty appointments is 4.55 days.

Meanwhile, administrators are forced to paint pretty pictures of a non-existent world. Baghdad Bob would be a perfect pitchman for explaining the VA's position, but locally that job has fallen to Tom Wisnieski, director of the VA's North Florida/South Georgia Health System.

"I think that we're doing very well," he said. "We have opportunities to improve, but we've made a number of initiatives to increase our performance."

Limited space, increasing patient loads and a lack of staff have contributed to Jacksonville's struggles in meeting goals, according to Nick Ross, who oversees the North Florida/South Georgia system's outpatient clinics. Warm weather and low taxes, which attract lots of veterans and military retirees, and large area military bases compound the problem.

"What that's done for Jacksonville is that it's generated, the last two years, about 25 new patients every day coming through the doors," he said. "No one else has that kind of growth."

The Jacksonville clinic's growth is approximately 8 percent per year over the last two years, compared with 3 percent for the clinic at The Villages, a retirement area in Central Florida.

"That's one of the problems, trying to deal with that growth," Ross said.

But clinics at The Villages and New Port Richey suffer from similar maladies encountered in Jacksonville, and their ability to handle patients in a timely manner is much better. Doctors at those facilities see way more patients than those in The River City, and they are seen almost immediately.

And the complaints from veterans seeking healthcare continues, as it has for numerous years. Cancelled appointments and delays in care have become the routine for many veterans needing medical care in Jacksonville.

"I was supposed to see my back doctor in September," said Tony D'Aleo, president of the Jacksonville chapter of the Vietnam Veterans of America. "Then they pushed it back to December and then it got moved to March."

"I've had times when I showed up for an appointment and the appointment had been canceled by the VA and I was never notified," he said. "Sometimes you go to the VA appointment and they'll say your appointment has been canceled, you have to come back on another day. I would never cancel them." D'Aleo, a Marine Corps veteran, fought at Hue City and Khe Sanh, receiving three Purple Hearts during his service in Vietnam.

There are 306 other cases like D'Aleo's, where veterans have been forced to wait more than 120 days. There's the man who waited six months for an MRI, and another waited five months for the same procedure, but they didn't want to be quoted for fear that their care might be compromised.

At any rate, Jacksonville continues to lead the nation when it comes to wait times at major facilities nationwide. U.S. Rep. Ander Crenshaw, a Florida Republican, says his office averages 24 requests per month from Fourth District constituents seeking help dealing with the VA.

"Northeast Florida veterans have put their lives on the line so that we may live in freedom," Crenshaw said. "Bottom line: they deserve timely access to the benefits that they have earned and deserve."

"Poor performance and unwarranted delays in receiving care and these accessing benefits are unacceptable."

The VA figures have only been made publicly available for the past five months, but Jacksonville by far leads the nation in its backlog of appointments. When asked whether there might be any changes in the Jacksonville administration, the VA's Wisnieski had a succinct answer.

"No."

Related Thursday Review articles:

VA Accountability in Central Alabama; Earl Perkins; Thursday Review; September 8, 2014.

Changes at the VA in Alabama; Earl Perkins; Thursday Review; August 28, 2014.