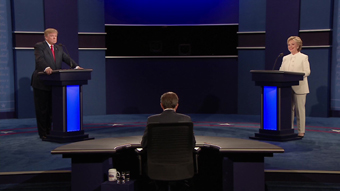 Image courtesy of Fox News
ABC News/Washington Post
Poll Shows Clinton's Lead Widening
| published October 24, 2016 |
By Thursday Review staff writers
Though some polls in recent weeks have shown a still extremely tight race for U.S. president between former Secretary of State Hillary Clinton and businessman billionaire Donald Trump, with Clinton maintaining a slight edge, a new poll conducted by ABC News/Washington Post now shows Clinton with her biggest lead yet.

The results of the new ABC News/WP survey show Clinton leading Trump by 50% to Trump's 38%, a wider lead than Clinton has been able to achieve all year. The new data also shows a remarkable number of voters, some 12%, either undecided or leaning toward third party candidates such as Gary Johnson (Libertarian) or Jill Stein (Green Party)—indicating a wide degree of dissatisfaction with either the Democrat or the Republican candidates running for the highest office. Johnson pulls in about 5.5% support in the new poll; Stein 2%.

Analysts commissioned to conduct the poll suggest that much of the erosion in support for Trump has come as a result of recent imbroglios over his treatment of women and his recorded conversations in which he apparently brags of his license as a celebrity to engage in uninvited sexual contact with women.

The dip in support for Trump may also indicate an erosion in support by some mainstream Republicans—especially among evangelicals and social conservatives—to back Trump in the context of the recently-disclosed recordings and the recent rash of complaints by women, some of whom say they were the victim of Trump's past sexual advances or indiscretions.

The recent ABC News poll also corresponds—some experts suggest—to data recently culled in a survey conducted by Ipsos Public Affairs which show a massive erosion in support for Trump by younger voters, defined by the poll as those between the ages of 18 and 34.

Though Trump's latest debate performance was, by most measures, his strongest, both polls indicate that many voters have soured on Trump for his recent refusals to acknowledge that the upcoming election results will be fair, including his comments during the debate when he was asked twice by moderator Chris Wallace whether he would accept the results.

Even though the poll numbers should be good news for both Johnson and Stein, neither of the two significant third party candidates have seen much growth in recent weeks. Some polls as recently as late September showed Johnson pulling in as much as 11%.

The ABC News/Washington Post data also shows Clinton pulling ahead of Trump among women of all ages; Clinton now leads Trump among women by more than 20 points, a potentially fatal political deficit for Trump who—in order to win in November—must close that gap significantly.

The new polls were conducted in the days immediately after the last presidential debate, and take into account voter attitudes after the candidates faced each other at the forum in Las Vegas. The ABC News/Washington Post poll has a margin of error of 3.5%. The Ipsos poll of younger voters was conducted by surveying 1024 adults between the ages of 18 and 34.

Trump has scored a small battlefield victory of sorts through his receipt of an endorsement by the Las Vegas Review-Journal over the weekend. The Las Vegas newspaper is one of the largest traditional daily newspapers to officially endorse Trump. The Clinton campaign has been touting the fact that their candidate has received endorsements from upwards of 80 major newspapers. Many dailies, however, have refused to endorse either Clinton or Trump.

Independent candidate Evan McMullin, a conservative from Utah on the ballot in only 12 states, also hopes to have an impact on the election. McMullin, who in some polls leads Trump by a small percentage in Utah, hopes to win all of Utah's electoral votes, possibly spurring a deadlock in the Electoral College. Such a deadlock would toss the decision over the presidency into the U.S. House of Representatives.

Related Thursday Review articles:

What Happens in Vegas: Final Debate May Change Few Minds; R. Alan Clanton; Thursday Review; October 20, 2016.

Wild Town Hall Debate Changes Few Minds; R. Alan Clanton; Thursday Review; October 10, 2016.