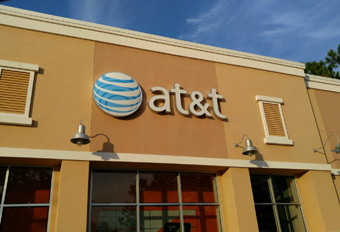 photo by Thursday Review
AT&T Bid For Time Warner Already Facing Problems
| published October 25, 2016 |
By R. Alan Clanton, Thursday Review editor
The mega merger is facing tough opposition these days. In 2015 and after almost year of negotiations, Comcast was forced to drop its now infamous bid to buy Time Warner after it was clear that federal and state regulators—as well as elected officials in Washington and in nearly every state—thought the merger was a bridge too far.

When AT&T announced its planned buyout of Time Warner this weekend, the chorus of skepticism and complaint began almost immediately, with presidential candidates, Senators and Congressmen, regulators, newspapers and editors, and consumer advocates bellowing loudly. Political opposition was truly bipartisan, with both Democrats and Republicans expressing concern.

And that was just the weekend's storm. By the end of the day Monday even investors were balking, apparently now dubious of yet another mega merger involving Time Warner and its long line of failed suitors: Time Warner stock fell sharply, and business analysts and Wall Street experts were in seemingly unanimous agreement that the merger poses risks on both sides of the deal, and for consumers. The value of stock in both companies fell sharply on Monday, with Time Warner shares dropping the deepest—down some 3.1%.

Barely 60 hours old, the $84.5 billion deal is off to a rocky and rough start, with neither Wall Street, nor Main Street, nor Washington particularly enthusiastic about the giant marriage between a telecommunications behemoth and a cable, internet and content titan.

Even presidential candidate Donald Trump, the Republican nominee, and Democratic Tim Kaine were in agreement on this one; both candidates decried the merger as bad for consumers and worse for the economy. Other consumer analysts and watchdog groups have said flatly that—like several previous Comcast mergers—this deal will concentrate too much control of information in the hands of one already quasi-monopolistic corporation.

But AT&T wants Time Warner's content rich ecosystem and diverse tapestry of entertainment options. And like all the remaining communications behemoths, it wants profitable integration of products and services now worth still uncharted billions of dollars in an age in which mobile content is growing faster than any other business sector. Bundling is king—the more, the better.

The top brass at AT&T have said bluntly that the merger is crafted to marry two widely unrelated industries: the content range and content creation power of Time Warner, and the wired, wireless and target-specific platforms long favored by AT&T—phone, internet, TV delivery. AT&T's chief executive, Randall Stephenson, also suggests that he and his negotiators are game for any form of compromise needed to make the deal palatable to regulators and elected officials.

"We're convinced," Stephenson told reporters on Monday, "that these types of issues can be handled with conditions." Stephenson is also convinced that the marriage will speed up both companies' ability to adapt to technological changes moving far too quickly for the arduous, slow motion process of negotiating stand-alone deals with third and fourth party vendors every time either company wish to take their services to the next logical step.

The merger will also bypass all those wasted hours negotiating over channels and content, and—Stephenson says—it will help AT&T strengthen its flanks against competition from the out-of-the-box delivery systems of Amazon, Google, Apple and others.

But lawmakers on both sides of the aisle have already made so much noise against the merger that it seems unlikely AT&T and Time Warner can proceed with the deal without a major political fight and a long battle with dubious regulators, already burned by previous monster deals with communications giants like Comcast, Verizon, Sprint and Charter.

Some business experts and economists are also openly skeptical of AT&T's embrace of vertical integration, which—in this case—will take the template simply too far. Stephenson's basic thinking, they say, seems tempting: merge the two giants, put all the platform inventors and app builders and content developers and latte sipping futurists in the same room, where they can work together on fast-tracking…well…everything…in a world in which content is going mobile and new technologies spring up daily. But such forms of utopian integration rarely work effectively. Just ask IBM or Blockbuster. Many business analysts suggest that over the long haul the intense push-pull, give and take of separate companies and developers makes for better, faster innovation.

As for what Stephenson sees as time wasted haggling over the value and price of content, economists and consumer groups say "get over it"; those negotiations generally produce better results and better options for consumers.

Timing may also be a problem: announced over the weekend, perhaps to blunt media buzz and soften controversy, the deal also comes with just a scant two weeks before Americans go to the polls to choose a president. This represents either madness on Stephenson's part, or brilliance, depending on one's take. With the elections making the immediate future unclear, some have said that the deal's timing makes the merger DOA. Others have argued that the timing could not be better, as writers and reporters and politicians focus instead on the bigger fish in the frying pan—November 8 and those elections.

Related Thursday Review articles:

DuPont Dow Merger May Produce Three Companies; Keith H. Roberts; Thursday Review; December 11, 2015.

Alaska Will Buy Virgin America; Thursday Review staff; Thursday Review; April 4, 2016.