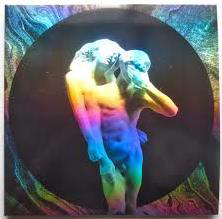 Arcade Fire, Reflektor
By Maggie Nichols | published Sunday, December 22, 2013 |
Thursday Review Contributor
Arcade Fire is one of those experimental bands which transcends the connotation one usually associates with "experimental." Always cutting edge and innovative with their sound, this Canadian band has plenty of awards (numerous Grammy's, including Best International Group and Album of the Year in 2011 for The Suburbs) on their mantle for their albums over the last few years, but they also have something else to show for it—album sales. And they don't just move those CDs or MP3 tunes north of the border—they also sell big here in the 50 States.

Their new album, Reflektor, is an example of why I will not likely tire of these musicians any time soon. Reflektor, which was released this fall on Merge Records, contains two discs and is also available on vinyl. The reason for the two discs? Well, some of the songs are quite long, frankly, unnecessarily so (at least six songs break the six minute mark, and one runs 11 minutes and 16 seconds, a production nod to classical music or perhaps the art rock band Yes back in the 1970s). But the long-running songs do not detract from the quality of their sound, which is always solid. Arcade Fire does not produce dud songs or throwaway tracks—every tune is something solid.

Highlights include the title and opening cut (which has a vaguely disco-dance feel to it), "We Exist," (which more closely resembles the Arcade Fire sound of past albums), "Normal Person," the catchy and irresistible "You Already Know," "Joan of Arc" and "Afterlife." This collection of songs is poised to help Arcade Fire sell plenty of tickets for their upcoming tour of Australia, New Zealand, Canada and the U.S. Their early North American stopovers include Toronto, Ottawa, Cleveland, Philadelphia, Houston, Austin and Denver.

Another factor to consider on this album: at first pass, the tunes do not necessarily strike the music listener as very impressive. But for whatever reason, I gave the songs a second listen, at which point they began to grow on me. By the third time I played the CD—on the second day—I came to the conclusion that this is (nearly) as good as The Suburbs. Who knows—by the fourth and fifth go round, I may rank it as even better than their Grammy-grabbing best work.