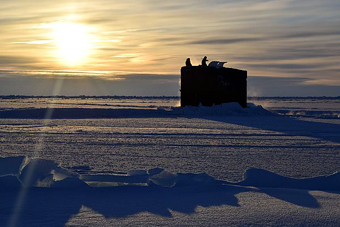 U.S. Navy photo by Adam Bell
Somewhere North of the Arctic Circle
| published March 29, 2016 |
By Keith H. Roberts, Thursday Review contributor
The USS Hampton, a Los Angeles-class submarine assigned to Ice Exercise (ICEX) 2016, is seen in this photo shortly after it surfaced near Camp Sargo, north of the Arctic Circle and some 200-plus miles north of Deadhorse, Alaska. Camp Sargo was constructed by the U.S. Navy and several U.S. military allies on a thick but moving sheet of ice, also called an ice floe, as part of ICEX 2016 operations.

The Navy camp—which is designed to shelter up to 70 people—is a component of a five-week training mission which includes research, as well as testing of equipment and operational readiness preparedness in the sub-freezing conditions and regions. Part of the research includes the collection of scientific data.

The USS Hampton (San Diego, CA) is being accompanied by another Navy submarine, the USS Hartford (Groton, CT) on the exercises this spring. The two subs will make multiple transits of the waters of the Arctic regions, conducts a variety of surfacing exercises, one of which will be at the North Pole.

A striking video of the USS Hampton's breaking the ice and rising to the surface can be found at the website The Aviationist along with an article by David Cenciotti, a blogger on military affairs and weapons.

In the meantime, just since this photo was taken, according to military sources and The Navy Times, the Navy has had to quickly disassemble Camp Sargo and shut down operations there due to a significant crack in the ice floe. Submariners returned to their boats and other personnel quickly rounded up their gear and returned to their aircraft to make a hasty departure. All personnel were evacuated, though some structures and material remained behind. The Navy plans to return to retrieve the remaining gear within a few days.

A large crack in the ice was first discovered more than a week ago, but it was being monitored closely for signs of expansion. However, only a few days ago, a second crack appeared, and within hours threatened to literally split the camp apart. That's when the operation was cancelled, the campsite demobilized, and the participants in ICEX 2016 went into high gear to break down Camp Sargo. The rapid deconstruction of Camp Sargo was a replay of a similar event two years ago, when Camp Nautilus had to be quickly shut down when major cracks threatened to destroy the camp's structures and command center.

Submarine components of the exercise will proceed as planned over the next few weeks, with the Hampton and the Hartford resuming their operations, according to the navy.

Related Thursday Review articles:

The Big Guns of the Future; Earl Perkins; Thursday Review; February 17, 2016.

USS Zumwalt Begins Sea Trials; R. Alan Clanton; Thursday Review; December 8, 2015.