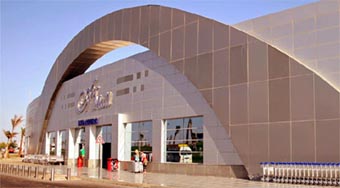 Photo courtesy of Sharm el-Sheikh Airport, Egypt Travel Ministry
Russian Investigators Confirm Bomb Theory
| published November 17, 2015 |
By Thursday Review staff
Officials with British and American intelligence already knew the answer, but Egyptians confirmed it today with the arrest of two employees of the airport in the Sinai where a Russian plane departed two weeks ago, only to have exploded in the skies above a remote area 25 minutes after takeoff. Egypt has also detained another two dozen people in connection with the bombing.

Egypt says that ISIS militants gained access to the airport through like-minded employees, and that those employees may have given direct access "to whoever planted the bomb on the plane at the Sharm al-Sheikh airport," according to law enforcement in Cairo, Egypt.

The Russian Metrojet passenger plane exploded in midair shortly after it had reached a cruising altitude of about 30,000 feet, its debris showering down across a 20-miles area. American and British intelligence had detected internet and cell phone "chatter" in the hours before the terrorist bombing, and minutes after the plane had crashed, the militant group ISIS claimed responsibility for the downing of the plane, claiming it was retaliation for Russian military intervention in Syria.

Though officials were quick to discount the possibility that ISIS militants shot down the plane with a surface-to-air missile or anti-aircraft weapon, early evidence suggested the very strong possibility that the plane exploded in midair. Russian and Egyptian officials were reluctant initially to call the plane's downing an act of terror, but soon came around to the inescapable conclusion that terrorism was behind the crash.

Analysis of the cockpit voice recorder and the black box indicates the high probability of an explosion in the cargo hold. British intelligence and U.S. officials say that initial intelligence shows the likelihood of a bomb being smuggled on board the plane by airport personnel or by someone who gained access to the airport service area—mechanics, food vendors, baggage crew, or clean-up crews.

The Russian security unit called FSB announced on Tuesday that it had concluded that the civilian passenger plane was destroyed by a bomb planted on board, and concurred with the British and U.S. view that it had been planted in the cargo area of the plane.

The plane left the Red Sea resort town, which is popular with Russian and Lithuanian vacationers, on route back to Saint Petersburg when it exploded 25 minutes into its flight. All 244 passengers and crew died in the explosion and subsequent crash.

ISIS, which co-opted or merged with smaller rebel groups in the region, now maintains a large and rapidly-growing footprint in the Sinai Peninsula—an area in which the Egyptian police and military have little or no direct control.

Egypt has been reticent to acknowledge that terrorism brought down the passenger plane, just as it has been reluctant to concede that the threat from ISIS militants has grown rapidly in the last year. Egypt's economy is heavily dependent upon tourism, which accounts for more than $7 billion per year. In the wide wake of an increasingly violent Middle East—and in the aftermath of the Arab Spring, which led to revolutions in Egypt, Libya and Tunisia—tourism has fallen off sharply. There are fears that Egypt's once robust travel business will suffer even more if airlines, travel services and individual travelers reconsider vacations in Egypt. Several major airlines have already suspended further service to the Sinai, and several others have cancelled all flights across the Sinai region.

The Islamic State, as recently as a year ago limited to a contiguous area of northern Syria and northern Iraq, has now spread its operations into more than a dozen countries, including Egypt, Libya, Sudan, Mail, Niger, Nigeria, Yemen, Afghanistan, Pakistan and Lebanon. ISIS is also battling for control of the narrative of radical Islam, fighting groups like Hezbollah in Lebanon, and exerting its influence to convert other radical groups—like Africa's Boko Haram—toward total allegiance to ISIS. During the last six months, militant groups in Algeria, Libya and Turkmenistan have pledged allegiance to ISIS.

Related Thursday Review articles:

U.S. & U.K. Intelligence: ISIS Chatter Prior to Russian Crash; Keith H. Roberts; Thursday Review; November 6, 2015.

Downed Passenger Plane May Spark Russian Escalation; Thursday Review staff; Thursday Review; November 5, 2015.