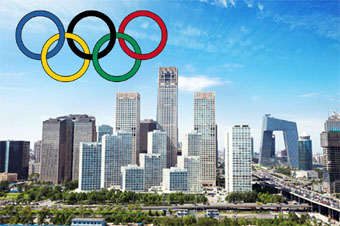 Beijing photo courtesy of UCLA\Olympic symbol courtesy IOC
Beijing to Host 2022 Winter Olympics
| published July 31, 2015 |
By Thursday Review staff
The vote was close—extremely close. But after much debate and discussion the International Olympic Committee selected Beijing to serve as host city for the 2022 Winter Olympic Games. Beijing will become the first city in modern Olympic history to host both summer and winter Olympic events.

Beijing's closest runner-up was Almaty, Kazakhstan, a location considered more logical to many Olympic insiders for its close proximity to heavy snow. But Beijing, not normally considered a city with large amount of snow, won out anyway—having gone into the balloting as the favorite for its economic strengths, its infrastructure, and its popularity as a travel destination.

Beijing also has the advantage of already existing Olympic venues and housing, built in the years and months leading up to the 2008 Summer Olympics. Officials in Beijing had also said that the Chinese capital's only major liability—its poor air quality—would not be an issue by 2022. China also plans to overcome the obvious issue of lack-of-snow through the use of man-made snow and other technologies, and says it will host some ski events in nearby Yangqing and Zhangjiakou where snow levels are usually high. Those cities are 40 miles and 90 miles away from Beijing, respectively, but several ultra-high speed rail lines—already under construction—will mean Olympic attendees can move rapidly from downtown Beijing to snow-laced Zhangjiakou in about 45 minutes.

Neither Almaty nor Beijing had been at the top of the list for the committee as it moved toward a decision. The original front runners were Stockholm, Sweden and Oslo, Norway. Each of those winter cities voluntarily withdrew from consideration for their own reasons. Almaty had promoted itself as a genuine winter venue—one with heavy snowfalls and close proximity to rugged mountain ranges only a few minutes by car or bus from the central city. Those mountain areas are also home to several sprawling national parks, crystalline high-altitude lakes, and numerous ski resorts and hotels.

Still, Beijing had become the strong favorite of the committee. The vote was closer than expected, 44 for Beijing and 40 for Almaty. Though Beijing was the ongoing front-runner after the Scandinavian cities backed out of contention, Almaty and its officials had waged a passionate, last minute appeal to consider the advantages of the mountain city.

Related Thursday Review articles:

Chinese Stocks Slump Across the Board; Thursday Review; July 27, 2015.

Safest City in the World: Tokyo; Thursday Review staff; Thursday Review; March 13, 2015.