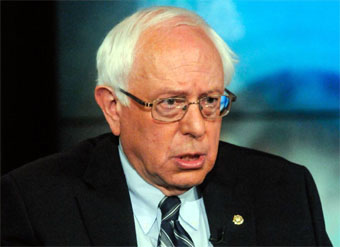 Image courtesy of Bernie Sanders campaign
Sanders Releases Medical Records
| published January 28, 2016 |
By Thursday Review staff
With the Iowa caucuses only days away—effectively the start of real voting as Americans choose the next President—one issue may weigh heavily on Democrats when they decide between Hillary Clinton, Bernie Sanders, and Martin O'Malley: Sanders' advanced age.

At 74, Sanders would be the oldest person ever elected President. Some groups supporting Clinton have in the past brought up the subject of Sanders' age, but so far Clinton has not—at least not directly.

Last week, after pro-Clinton PACs headed by David Brock considered lobbing advertising ordnance into the field to challenge the idea that Sanders is fit to serve as President, Sanders and his high command called such concerns absurd, not to mention unfair.

But to put voters' minds at ease this week, Sanders had his personal physician of more than 25 years release the Vermont Senator's medical records, including detailed medical notes and charts on the 74-year-old candidate's past issue with hernias, diverticulitis, acid reflux, and skin tumors.

The medical records show that Sanders is healthy for his age, and that the majority of his ailments are typical of American citizens over the age of 70, including mild cases of gout, hypothyroidism, lumbar strain, minor issues related to arthritis, and "esophageal reflux." Sanders' medical records also show that he takes prescription medications for several of the aforementioned conditions, including a anti-inflammatory drug and a hormone supplement (for his thyroid condition).

In the past, after Sanders has conceded in interviews and in discussions that questions about his age and his health are fair game, he and his staff have agreed to make his medical records a matter of public record by making them available to the media. But after Brock's pro-Clinton group developed anti-Sanders' ads calling into question the Vermont Senator's fitness to sit in the Oval Office, Sanders and his team decided to release those records now, only days ahead of when voters will go to their respective caucus sites in Iowa.

Sanders released the medical data along with a cover letter from his longtime physician, Dr. Brian Monahan. Monahan declared Sanders in "overall good health" and suggested that Sanders could perform his work "without limitation." The letter included a few basic numbers: Sanders weighs 179 pounds (only slightly more than he should at his height), has a blood pressure of 136/81 (moderately good), and has had recent physicals and exams including a colonoscopy, which showed no signs of trouble. Results from a recent electrocardiogram and recent blood tests showed he was in good health.

Dr. Monahan also pointed out that Sanders has a good diet, does not smoke, and limits his alcohol content to special occasions.

On the whole, all good news for a candidate which may eventually face even tougher questions about not only his ability to run the marathon-like process of a Presidential campaign, but must maintain good physical and mental health for at least four years as President.

Whether Brock and his organization run the ads questioning Sanders' health or not remains to be seen. Clinton and Sanders are locked in what has become an extremely close race for the Democratic nomination. Sanders and Clinton are in a dead heat in Iowa, which votes next week, and Sanders maintains a substantial lead over Clinton in New Hampshire. Clinton, however, still maintains a comfortable lead nationally, as well as in South Carolina—the next major state to hold a contest, and the first in the South.

Related Thursday Review articles:

Bernie Sanders: We Will Raise Taxes; R. Alan Clanton; Thursday Review; January 26, 2016.

Fox News Versus Donald Trump, Part XIV; Keith H. Roberts; Thursday Review; January 27, 2016.