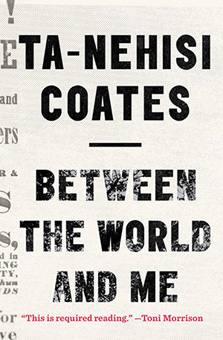 Between the World and Me; Ta-Nehisi Coates
| published December 7, 2015 |
By Kristy Webster, Thursday Review contributor
Like Claudia Rankine's Citizen, Coates' Between the World and Me is truly required reading, a modern classic.

In this epistolary memoir addressed to his teenage son, Coates gives readers the opportunity to put a stop to our knee jerk reactions and defensiveness and instead come to an understanding of how we can all become advocates and allies, rather than allowing the plundering of men and women of color. It is a lesson in empathy, a lesson in compassion, and lesson in some of our most disturbing recent history.

It's the unveiling of a reality, and experience that so many in our nation live with every day and that so many others carelessly take for granted. That is why this book is required reading, for everyone.

Related Thursday Review articles:

Citizen, An American Lyric; Claudia Rankine; book review by Kristy Webster;Thursday Review; February 22, 2015.

The Book of Unknown Americans; Cristina Henriquez; book review by Kristy Webster;Thursday Review; March 6, 2015.