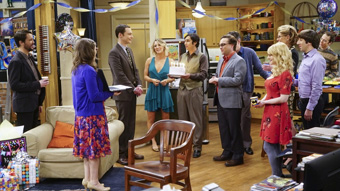 Image courtesy of CBS
Top Tier Big Bang Theory Stars
Agree to Pay Cuts
| published March 2, 2017 |
By Thursday Review staff writers
In order to expedite raises for two fellow cast members, the five original stars of CBS's Big Bang Theory have told their managers and studio executives that they will volunteer for a slight pay cut for the next two seasons of the popular primetime comedy.

Stars Jim Parsons, Johnny Galecki, Kaley Cuoco, Kunal Nayyar and Simon Helberg have reportedly agreed to let bean counters at CBS take an equal slice of each of the stars' $1 million per episode paycheck, and use that cash to give substantial raises to fellow stars Melissa Rauch and Miyam Bialik—an extremely rare case not only of camaraderie between TV show cast members, but also an indication of how valuable both Bialik and Rauch have become to the program's overall chemistry.

The top tier stars have commanded six and seven figure per episode paychecks for several years, long after the show reached its high water mark in 2014. Based on Nielsen ratings, Big Bang Theory is the number one show on television, and second only to NFL in terms of total ad dollar potential. CBS agreed in the past to keep the essential chemistry of the comedy intact when it agreed to bring all five of the original cast members' paychecks up to the $1 million per episode level, a step which made BBT stars among the highest paid in primetime TV history. Rauch and Bialik joined BBT in Season Three.

In 2015, CBS agreed to at least four more seasons of Big Bang Theory, though contracts were sealed and signed only to carry it forward to the end of 2017. Plans for an additional two seasons (2018-2019) are now contingent upon negotiations between representatives for Bialik and Rauch, whose characters have become integral to the overall comedic narrative.

According to multiple sources in New York and Hollywood, Parsons, Galecki, Cuoco, Helberg and Nayyar have all agreed to a roughly $100,000 per episode cut in pay in order to facilitate pay raises for their fellow cast members. That voluntary pay cut would free up a half million, and—if all parties agree to the new arrangement—Rauch and Bialik would see their per episode paychecks rise to more than $500,000. The deal would carry the show forward for at least two more years and a total of 48 more episodes.

Related Thursday Review articles:

Bill Paxton, star of Apollo 13 and Twister, Dead at 61; Thursday Review staff writers; Thursday Review; February 26, 2017.