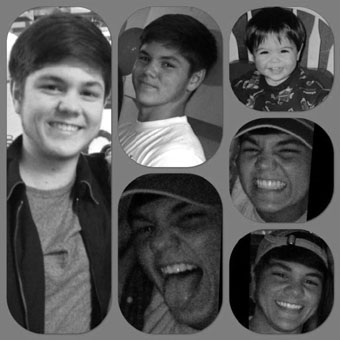 Dying to be Loved:
The Final Footprints of Blake Coatney
| published September 12, 2015 |
By Jennifer Walker-James
Thursday Review features writer
Words were spoken. A heart was crushed. A video was made. A trigger was pulled. A young person's life was ended. July 21, 2014 was as mundane as any other summer day in the sleepy southern town of Ashford, Alabama. Grey clouds veiled the afternoon sky with empty threats of rain. Their presence—a welcome sigh of relief keeping temperatures from soaring to into the triple digits. Conversations at the local businesses were periodically interrupted by the screaming whistle of the daily CSX train roaring through downtown with its thunderous cadence. It had been less than six weeks since the community lost one of its own—a seventeen year old to leukemia. Still riveted with grief from the tragic loss of Cody Hayes, residents trudged forward with their daily lives on that bleak Monday afternoon. Not one of them ever suspected that by day's end, this town of 2,159 would yet again suffer the loss of another young life—least of all to suicide.

At only 18 years of age, Blake Michael Coatney had just graduated high school and was looking at a promising future with the Air National Guard. Known by many for his winsome smile and his enduring generosity, Blake was a beacon of happiness and light to those around him. But only on the outside, that is. Behind his contagious smile was a painful secret. Internally, he was suffering—a darkened truth that even those closest to him could not fully realize until it was too late. The question of what triggered this vivacious teenager to take his own life will forever remain a mystery. There will always be speculations, opinions, and rumors. But Blake's life can't be summed up by the circumstances by which it was ended. Like so many others that are lost at the hands of suicide, Blake's life was worth more than that.

The week of September 7th through 11th marked National Suicide Awareness Week, a part of Suicide Prevention Month, according to the U.S Surgeon General. It is designated to promote understanding and bring attention to this tragic epidemic that is sweeping the nation. Blake's mother, Catherine Coatney, has come forward to share her son's tragic story, to shed light on what was once a taboo subject and, hopefully, save lives.

We'll begin by first, getting acquainted with the boy whose untimely death spurred irreversible change in the social climate of Ashford, Alabama.

Thursday Review: Tell us a little bit about Blake. What were his hobbies and interests?

Catherine Coatney: He enjoyed fishing and football—Alabama football (Roll Tide!). And we went walking at least three to four times a week in Cowarts at the walking trail…and he would always share what was going on in his life with me. And he loved basketball.

TR: What kind of music did he listen to?

CC: He listened to country music and rap. "Cruise," by Nelly and "Cop Car," by Keith Urban were among his favorites.

TR: What kind of student was he?

CC: Blake was very well liked and known in high school. He had lots of friends—especially girls. They always enjoyed sharing their problems with him. Blake did not like to study. He always did enough to get by. He enjoyed the social aspect of school, and Blake was a people person (smiling). His teachers adored him. I can't tell you how many essays and research papers I did for him and could not wait for our grade to come back! His senior year, however, he took more serious. He was maturing and growing up. He started doing all his papers and projects on his own. He was president of Skills USA! His team worked hard on their project and they won 2nd in the state! I was so proud of him. Oh I remember that beautiful smile of his when they won… God, I miss him! (crying) He made all A's his senior year and he studied for his A.C.T. and scored a 21. And that may not be something you brag about because that's just an average score, but for Blake that was very impressive and he was very happy and we were very proud! He joined the Air National Guard and planned on attending Enterprise Aviation Center in Ozark, Alabama.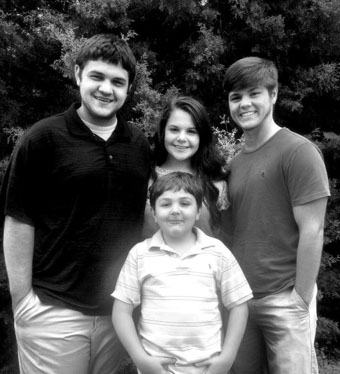 Blake with brothers and sister

TR: How many siblings did he have? Who was he closest to?

CC: He had two brothers and one sister—Spencer, Brooke, and Trent. He was the middle child. He was closest to his bigger brother, Spencer. Blake was brought up in church and was saved and knew God. He got baptized in 2012. We watched him be baptized. Before they baptized him, they played a video of him beforehand. He said it was because of his brother, Spencer—that he wanted what his brother had. He saw the relationship he had with God and wanted one too. Spencer was his role model.

TR: What was your favorite memory of Blake?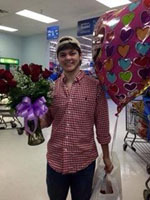 CC: My favorite memory of Blake would be our last Valentine's Day together—February 14, 2014. He brought me red roses and a big balloon to my work with gifts in a bag. And he wrote me a beautiful letter which I now have framed.

TR: What three words describe him?

CC: Blake was handsome, loving, and outgoing. He was my detective; he always had to know what was going on with everyone! He was my social butterfly. On Easter, he texted everyone on his contact list and told them that he was thinking about them and wanted to wish them a happy Easter. He was very thoughtful and caring. He also had an edge to him—a very smart mouth that he used when you hurt people he cared about.

TR: What was something unique about your son?

CC: Blake was unique because he seemed like this tough guy, but in reality, he had a really tender heart. He was always going out of his way to make people feel special. One of the saddest things Blake shared with me before he left us was that he felt sad after graduation—because he was always keeping up with his friends and when he stopped, no one was ever keeping up with him. It broke my heart.

TR: What would Blake usually be found doing on weekends?

CC: On the weekends, Blake could be found hanging out with his friends, fishing, running the roads in his truck, hanging out with the guys. They played a lot of basketball.

TR: Can you tell us, in your own words, what happened on July 21, 2014?

CC: Brooke and I were on our way to visit family in Tennessee. After talking to Blake that Sunday, I knew he was really down so I called his dad to go check on him. When his dad talked to him, his reaction was "Oh you know Mom; she's just overreacting…" Then, the day of, he and I talked off and on throughout the day. He seemed fine. Our last conversation was around 2:30 that afternoon. He said he had just left his ex-girlfriend's house. She had come over to our house several times that day and the last time she came, they were fighting so bad. Blake hated conflict and didn't want to leave things on a bad foot—that's how he was. So he went over to her house to smooth things over. Of course, I asked him what did that mean? Why was he there? What was going on? He told me to call her or her mom later—that some hurtful things were said—he never would go into detail. Looking back, he sounded okay, but he was really anxious to get off the phone. He told me he was about to go fishing so I let him go. He said, "Love you, Mom. Bye…" (crying) His brother, Spencer, called him again around 3:00. He said Blake sounded really down about his friend betraying him and all. Other than that, nothing seemed amiss. Certainly no indication that he would ever harm himself. We would later find out that he was actually at Walmart, buying the ammo to take his own life during that same time frame.

We went walking that afternoon and I left my phone on the charger. At 4:24 p.m., he sent me a text that said:

"There's a video on my phone I want you to watch and show everyone. I love you and everyone else. My password is 8816. God bless, Momma."

I didn't see the message until we got back around 5:30 p.m. Immediately, I called his best friends and his dad and told them to go looking for him. And then, my daughter, Brooke, and I hit our knees and started praying, but I knew deep down that my baby was gone…



An hour and a half later, Catherine's phone rang and her worst fears were realized when she answered only to hear Blake's best friend screaming on the other end.

CC: He said, "Miss Cat! Miss Cat! Blake's dead! He's dead!" (crying) I called his ex-girlfriend and I asked her, "What did you say to my son? He's dead!"



Blake's friends found him, dead and unrecognizable, having suffered a self-inflicted gunshot wound to the head. His lifeless body lay slumped over the grave of his best friend, Cody, who had died of cancer less than six weeks prior.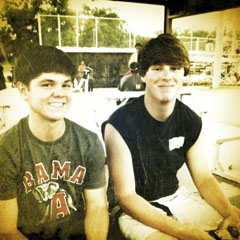 Blake with friend Cody
A shockwave of sadness echoed through the already grief-stricken community that dreary Monday. In its wake, another pang of tragedy and guilt from which those who knew Blake will never recover. And of course, there amidst the pandemonium a question arises: "Why?" Why would such a handsome boy with the world at his feet, want to give up on the beautiful life that lay ahead of him?



TR: Why do you think he did this?

CC: I don't know. Something happened that day. Something had to have gone on. He went to a party that weekend and heard a rumor about his ex-girlfriend and a close friend of his. He broke up with her in March, 2014—they'd been together almost a year and a half. He still loved her, but….he was so torn up about his friend betraying him. She was already seeing someone else at that point, so it didn't matter to him if it was true or not, but it still hurt. And I know that they had seen each other that day…he even went to her house. I guess they were trying to clear the air or set the record straight. He loved her, but he didn't want this gossip to hurt her current relationship. But gossip broke his heart. And with Cody being gone and me being out of town, he must've felt like he had no one to talk to…



At 4:21 p.m., Blake left a voicemail on his ex-girlfriend's phone. His voice, uneven with grief, offered her these last words: "Hey…I just wanted to tell you that I love you and I hope I'll see around someday…." His call would never be returned.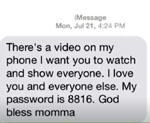 At 4:24 p.m., he sent his mom that final text. Sources close to the investigation speculate that Coatney's life ended only minutes later, between 4:30 and 5:00 p.m. His final moments were documented in an 8 minute and 31 second video on his cell phone—the video mentioned in his final text to his mom. In what would be his last farewell to family and friends, Blake sobbingly offers a tragic glimpse at the pain he was suffering. He weeps inconsolably as he describes the torture of losing his best friend to cancer, the disloyalty of people in today's society, lost love, and other painful circumstances contributing to his fateful decision.

Like so many others, Blake's death was something that even his family and closest friends never saw coming—a tragic commonality existing among suicides across the nation. By bringing awareness to suicide and its prevention, advocates and survivors like Blake's mom, Catherine, are sharing their story in hopes to reach others before it is too late.

The American Foundation for Suicide Prevention was developed with people like Blake and his family in mind. Its mission: to educate the public on this once-taboo subject. By understanding more about its causes, signs, and ways to offer help, suicide can be prevented and more lives can be saved. Their website, www.afsp.org, lists the following three categories to search for typical red flags indicating that someone might be at risk for suicide:

Talk: If a person talks about killing themselves, having no reason to live, being a burden to others, feeling trapped, or suffering unbearable pain.

Behavioral Changes: If a person's behavior is new or increased in relation to a painful event, loss, or change. These behaviors might include substance abuse, reckless behavior, isolation, sleeping too much or too little, visiting or calling people to say goodbye, giving away prized possessions, aggression, and fascination with death, including researching suicide methods online.

Mood: People who are contemplating suicide often exhibit moods of depression, loss of interest, rage, irritability, humiliation, and anxiety.

TR: Did Blake exhibit any of these signs?

CC: No, not really. He did go through a tough breakup the March before—something that was his decision. And he did go through a tough time in April, but after that, he seemed fine. He was a normal, happy, 18 year old kid. He'd just graduated high school, he had friends, he just joined the Air National Guard. He had his whole life ahead of him…

TR: Do you feel there is something you wish you could've done different in Blake's life?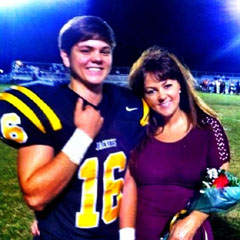 Blake with Mom, Catherine

CC: There's one thing that stood out to me recently in Sunday school; it was said that teenagers should not be allowed to spend a lot of time alone in their rooms. And that's one thing I did—I let Blake stay in his room a lot instead of having him come watch TV with us. Because being alone gives kids too much time to think and dwell on things going on in their lives…

TR: What message do you think Blake would have for anyone out there?

CC: Just…what he said in his video. There's no loyalty among people anymore…



Catherine, a native of Michigan, and her son, Trent, have since moved back to her home state to be closer to family. But no matter where she resides, she carries Blake's message to promote suicide awareness. Her advocacy efforts not only keep his memory alive, but they continue to give his story a more hopeful ending by prompting others to get the help they need.

On July 21, 2014, Blake Coatney's winsome smile and charismatic charm were wiped clean from existence, but will never be erased from the memory of those who knew and loved him. For more on his story and how you can get involved in the movement, go to www.blakecoatney.com.

Suicide is the 10th leading cause of death in the U.S. for all ages. Every day, approximately 105 Americans die by suicide, according to the CDC. There is one suicide for every 25 suicide attempts. Only half of all Americans experiencing an episode of major depression receive treatment. If you or someone you know is struggling with depression and thoughts of suicide, there is help available at www.suicidepreventionlifeline.org. You can also call their hotline at 1-800-273-8255 where a counselor is ready to assist any time of day, seven days a week. One life lost to suicide is one too many.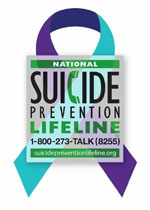 Related Thursday Review articles:

Breaking Their Silence: Sisters & Family Talk About Two Unsolved Murders; Jennifer Walker-James; Thursday Review; August 21, 2015.

Bittersweet 16: The Harrowing Story of an Unsolved Murder; Jennifer Walker-James; Thursday Review; August 1, 2015.