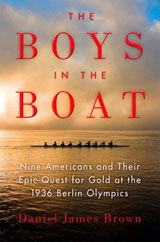 The Boys in the Boat; Daniel James Brown
| published July 28, 2015 |
By Karen Franklin Thursday Review contributor
Although a bit repetitive at times—perhaps emulating the mind-numbing and physical act of rowing—this true life story of a group of American college men overcoming incredible odds to win the 1936 Olympic Crew Gold Medal (yes, beating Hitler's vaunted team) was quite engaging. These fellows were "Depression-age" children and young adults—some abandoned by their families, some still able to live "high on the hog." How they came to mingle and then to gel into a first class rowing team for the University of Washington is still a tale worthy of the term "epic." Excellent read.

Related Thursday Review articles:

Unbroken; Laura Hillenbrand; book review by Earl Perkins; Thursday Review; November 8, 2014.

Orphan Train; Christina Baker Kline; book review by Karen Franklin; Thursday Review; July 26, 2015.