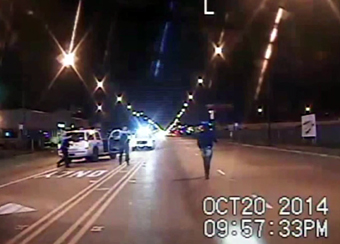 Still frame from dash camera in Chicago police car one second before
Laquan McDonald was shot by police
Did Mayoral Election Prompt Chicago Police Conspiracy?
| published December 2, 2015 |
By R. Alan Clanton, Thursday Review editor
The radioactive political fallout in Chicago continues to increase amid accusations that Chicago police officers may have tampered with—or more likely deliberately erased—some 85-plus minutes of surveillance video of the October 2014 shooting of Laquan McDonald.

McDonald was shot by Chicago police officer Jason Van Dyke, who fired 16 rounds into McDonald. Van Dyke's attorneys and prosecutors say that the 17-year-old McDonald had a knife with a three-inch blade in his hand when Van Dyke opened fire as other officers stood nearby. Van Dyke told investigators he feared for his life during the altercation.

Van Dyke is now charged with murder, and the United States Attorney's Office is actively investigating the case.

Activists and civil rights advocates in Chicago and elsewhere want to know why it took the city a full year to come to the conclusion that Van Dyke acted with unwarranted, lethal aggression, firing his weapon 16 times at McDonald, including a dozen or more shots apparently fired after McDonald was already on the ground.

The first police statements to the media last year—and continuing early this year—suggested flatly that McDonald was killed by a single shot to the chest, and only after he lunged aggressively toward the police with a knife. But the videos tell a different tale entirely.

Dash camera video of the incident was only recently released to the public, and then only after a pitched legal battle between journalists and the Chicago police department. Activists also want to know why much of the police video is also missing, and why no audio exists on any of the recordings captured from various dash cameras. Chicago police say that have no explanation for the missing audio.

With top Chicago cops now under intense scrutiny for how the shooting has been handled, and with forensic examinations now showing strong evidence that police deliberately erased the video footage captured at the nearby Burger King, Chicago Mayor Rahm Emanuel is facing a withering storm of criticism for how the case has been handled from the start. Accusations of incompetence and bungling have now shifted toward an even darker possibility: Chicago police conspired to cover up the manner of McDonald's death, and that the conspiracy may go all the way to the top.

The U.S. Justice Department is now looking into a case which is gaining national attention, and which may ultimately upend the political structure of Chicago—a city already plagued with what is the highest murder rate in the nation.

On Tuesday, only 90 minutes after police superintendent Garry McCarthy confidently told television reporters that the department had nothing to hide, and that he did not feel pressure from City Hall to relinquish his post as top cop, mayor Emanuel fired McCarthy. The mayor told the media that McCarthy had become too much a part of the issue, "rather than dealing with the issue," to remain effective in his post. Emanuel stressed that he maintains respect and personal loyalty for McCarthy, but the need of the city must come first, adding "the public trust in the leadership of the department has been shaken and eroded."

For Emanuel, the pressure has become intense and unyielding, and a distraction for a man with arguably one of the most complex urban areas under his stewardship.

The scandal now unfolding in the Chicago police department may also carry with it dangerous political blowback for Emanuel. Critics—who now number many among Democrats, Republicans and independents—say that the timeline after the shooting carries with the distinct and unmistakable scent of political conspiracy.

At issue is whether the mayor and his top people deliberately sought to delay the conclusions of several investigations into Laquan McDonald's death in order to avoid negative political fallout during Emanuel's tough reelection battle, in which he faced considerable opposition from another Democrat in the primary. Emanuel won that primary fight, but only barely. Reporters have been looking into the backchannel communications and correspondence between the mayor and the police department, some of which may have indicated a tacit official agreement to stall on the internal review until after Emanuel had safely secured reelection. Such conspiracy talk was frequent earlier this year, but largely dismissed. Now, after the release of the dash camera video—along with its explosive implications—and after word came that someone deliberately tampered with both dash cam audio and nearly 90 minutes of security camera footage from the Burger King, the mayor's office has been in crisis mode.

Many community leaders and politicians in Chicago and in Illinois are calling for Emanuel's resignation. Illinois Attorney General Lisa Madigan last week officially asked the Justice Department for its intervention, and some Democrats and Republicans in Springfield suggest that McCarthy was not the only top figure at fault in what is beginning to look a lot like a conspiracy to suppress political blowback during an election.

McCarthy was hired in part to help fix a police department whose bad rep goes back more than 30 years. McCarthy, who worked as deputy police chief in New York for more than 25 years, was brought to the Windy City to help clean up the town's reputation as a murder and gang capital. But on McCarthy's watch things got worse, not better. This year alone there have been more than 2,700 shootings, with at least 430 fatalities. The 2015 rate of gun violence and gun death has climbed past last year's benchmark for Chicago, a city which just can't seem to break the pattern of gang violence and death by guns.

Add to that mix a rising chorus of complaints about the brutality of Chicago cops, and numerous instances of officers using deadly force to subdue suspects. So much attention has been paid this year to Chicago police—coupled with so many people using smartphone cameras to record the behavior of cops during altercations—that even the mayor commented upon the chilling effect during an October meeting in Washington, calling his own police officers gun shy and "fetal." That caused blowback of a different kind; police union chieftains called the mayor's remarks unwarranted and inaccurate, suggesting that Chicago cops aren't backing down one bit in their pursuit of criminals.

Either way, there is now widespread public dismay—and mounting outrage—that it took more than a year for the dash camera video to be made public, and then only after an intense legal fight waged by journalists. Activists and civil rights leaders are also frustrated by the apparent attempt to buy off McDonald's family with a lump sum settlement some months ago. There are also calls for the resignation of Anita Alvarez, the Cook County state attorney who announced charges against Van Dyke.

And also at issue: the Chicago PD's longstanding policy of not releasing footage of police officers shooting suspects, widely deemed by some constitutional experts as an illegal official policy, and an internally-developed rule which critics say allowed a police department to dodge accountability on a grand scale.

Meanwhile, investigative journalists are looking more closely into the timeline involving Emanuel's tough fight to gain reelection in the runoff, especially as it played out against the aftermath of the shooting of McDonald and the resulting settlement payout to McDonald's family. Emanuel brushes aside the implication that he squelched or muffled facts about the McDonald case to avoid troubles in his closely-contested runoff election. Still, pressure may build as people in Chicago question a political system which may have enabled a troubled police department to conceal the facts about disturbing encounter between police and a suspect.

Related Thursday Review articles:

Communications Professor at Missouri Challenges Freedom of Press; R. Alan Clanton; Thursday Review; December 2, 2015.