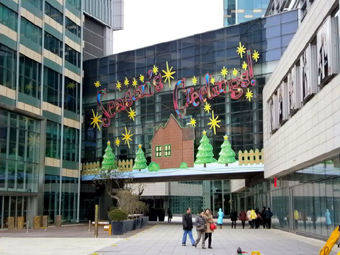 photos courtesy of Michael Bush
Enjoying Christmas in China: It's Up To You!
| published Date December 19, 2015|
By Michael Bush, Thursday Review writer
It's Christmas time, y'all. No matter where you are around the world, if you grew up celebrating this holiday then you're probably excited about this time of year and all that it entails; decorating the tree, singing carols, pepperminty stuff, gifts (both giving and receiving), etc. As an expat living abroad, I like to embrace the local culture of wherever I am at any given time, which means celebrating local holidays with local customs. But when it comes to Christmas, I want it like I remember it when I lived in Alabama. I want all that good stuff from when I was a kid, and I don't care how hard it is to get it.

The real truth is that Christmas stuff is available almost everywhere in the world. It just might not look exactly how you want it to look, or it may be more expensive than you think it should be, or you may have to go far out of your way to get it. But it is out there and it is up to you to find it. Once you do, just bargain hard and accept the fact that you may have to adapt to the locally available Christmas decorations, customs and activities.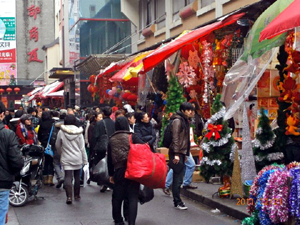 Shanghai is a very international city, as far as China goes. The Middle Kingdom is not exactly known for tolerance, or for endorsing foreign cultural influences—especially religious. But compared to the rest of China, Shanghai is a beacon of open-minded global thought. So, as you can imagine, there are Christmas markets in Shanghai where a laowai (the Mandarin word for foreigner) can buy all of his or her holiday needs in one place. Hell, most of the stuff we decorate with during Christmas is MADE IN CHINA anyway, right? These same items just travel shorter distances to get to the stores in Shanghai.

And I know we always say that the holidays have become one big commercial; just a marketing ploy to sell more products to the consumers. Christmas is starting in what, mid-August now? But you have to understand that this bombardment of Jingle Bells and Silent Night, this full frontal assault of candy canes and gingerbread folk, and the in-your-face explosion of red and green that you all take for granted and complain about? Well, it prepares you for the holiday and puts you in a festive spirit.

In China, there are only Christmas decorations in certain places and, you guessed it, these are places that target foreigners and charge out the ear for it. If you strive to stretch your paycheck, especially when you have kids, then you avoid those places most of the time. In doing so, you find the Christmas spirit is delivered to you only in small bursts, like checking Facebook and seeing your friends and family back home post about the upcoming holidays. The build-up to the Big Guy coming in on his sleigh is much slower in China.

To combat this, especially as a parent, you have to bust your butt to make Christmas special. All of those fancy places with the Christmas decorations? No one says you have to actually buy anything there—just take the kids and go look at everything! That, after all, is free.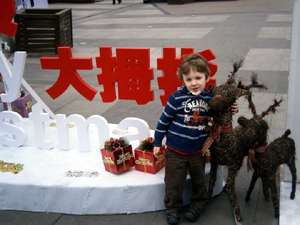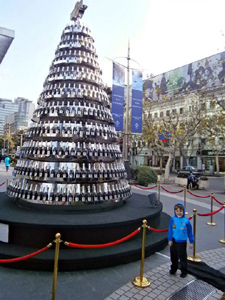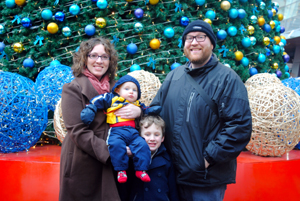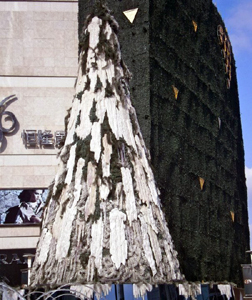 And unquestionably you should visit the local Christmas market full of cheap and tacky decorations. Yes, you should also go to every International School's Christmas Bazaar. And yes, you should also go to all the German Christmas markets, like the Christkindlmarkt. But, those are all pricey. Go to them, look around, buy a cup of mulled wine, and if you see something truly incredible, get it! But to make your cash go further, do the bulk of your decoration shopping in the local market. You'll be surrounded by a different set of sights than at the more upscale shops, but your house will be much more full of Christmas cheer, and your wallet will thank you.

Even in the local neighborhoods, the Chinese residents know about Christmas. And one thing they love is to decorate for festivals and holidays. So, you will actually see the locals attempt to make things festive. They just don't put in as much effort as they do for Chinese holidays. It's usually a simple Merry Christmas sign, a man selling Santa balloons from his electric scooter, or... an angry black Santa?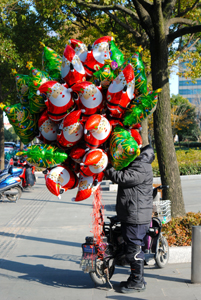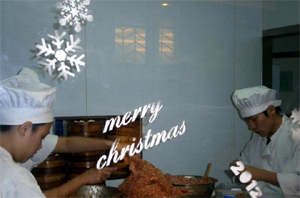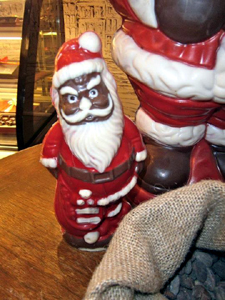 If you have kids in an International School, that helps a bunch. They always go all out during December with arts & crafts, parties, and Santa even comes by for a visit. Having Santa around will always make things feel like Christmas.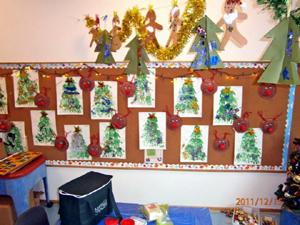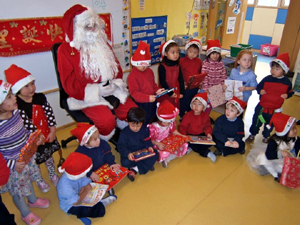 The problem is this: Santa doesn't always look the way you want him to look through your westernized eyes. One year, at a staff Christmas party, they brought in a Santa for the kids. He was a young and very skinny Chinese man wearing a golden suit that appeared to be on loan from a wizard. His beard was too big for his face and hung down around his neck. The kids were not well pleased and pegged him as an imposter right away. However, if you search hard enough, you can find ways for your youngsters to sit with an authentic-looking Big Guy in his traditional red suit.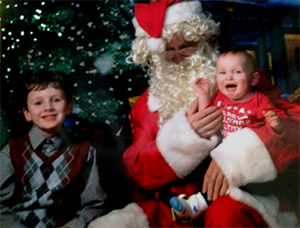 So, in China, you don't hear Christmas music everywhere… well, you'll hear Jingle Bells sometimes, but that goes on all year long. To the Chinese it has nothing to do with the holiday season—it's just a catchy tune. You also won't be told what the hot toys are for the kids this year, or where to buy them. Everywhere you look won't be decorated with red and green, covered in tinsel, or sprayed with fake snow.

What I'm saying is, you won't be spoon-fed your holiday cheer. It is all up to you. So you decorate the house with your cheap local Christmas market loot. You throw a party and invite all of your friends, (inducting them into the super-secret Scorpion Liquor Club), you put out cookies and milk for Santa and carrots for the reindeer, and you Skype with family back home so they can watch your kid open his presents. As an expat, you do all of this to make Christmas special; so that your children grow up being as excited by this time of year as you were.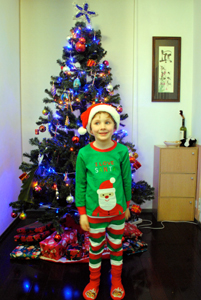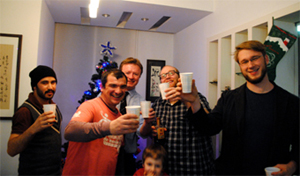 "That doesn't sound too hard," you might be saying right now. And to be fair, you're right. It's not impossible, nor is it difficult like manual labor. It just takes more of your effort and creativity to make this season feel like Christmas while in China. But that's only part of why it's hard.

You see, there is one thing that expats do when living abroad and are given time off from work for any holiday…TRAVEL. I mean, we live this lifestyle mostly because it affords us the ability to see more of the world. So when it's paid vacation time, you get up and go! And not only is it something you want to do, but it's also something you are pressured to do by other expats.

Every time there is a paid vacation, you'll constantly get asked, "Where are you going for the holiday?" You'll be asked this question multiple times a day, and honestly, the person asking is probably using it as an excuse to tell you where they are going for the holiday. There is this unspoken competition in some expat circles to see who can visit the most places, see the most stuff, and be the coolest and hippest world traveler in the known universe. Should you answer their question with, "Oh, we're staying in town for this holiday. Saving money, you know," people scoff, or offer their condolences to you for missing this opportunity to mark another location off of your travel bucket list.

So the pressure is always there to be going, seeing, and doing things during the holidays. Of course, some people use this opportunity at Christmas to go back to their home country and be with family. But four plane tickets to America are mighty expensive, and two 20 hour travel days with kids is a lot of work for only a week back home. So, we were always left with the choice between staying in Shanghai for Christmas, or going on vacation.

Year one, we stayed. It was great, and I regret nothing. We worked hard and made Christmas happen for our son; a Christmas that we could be proud of, and a memory to last a lifetime.

Year two, we thought, "What the hell, other people do it, so we can too! Let's go on vacation for Christmas." We didn't go far, just to Hong Kong (which is China, but not China. IT's complicated, so Google it.) There were some holiday decorations up around town, but not many. The spirit of Christmas was even harder to find here since we didn't have our home to use as the North Pole; we only had a hotel room. Imagine Christmas morning, and there is no tree or wrapped presents; just a nightstand covered in dinosaurs.

Lucas was ecstatic, though. He didn't know any better. "Hey, Santa came and brought what I wanted!" And there were wrapped presents back in Shanghai under the tree that he could open when we returned. But Christmas day…it felt wrong to me. I was determined to turn that around. So we left the hotel room in search of Christmas. We found a goat, instead.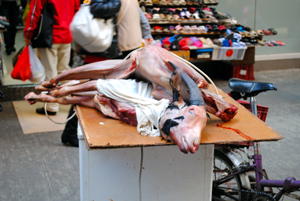 "No, that wasn't one of his reindeer, son." Moving on as swiftly as possible, we came across a bunch other grody market displays in the street. Strange and unusual foods that we couldn't figure out, the smell of raw and freshly butchered animals; not to mention it was warmer than we were used to it being at Christmas time. "What are we going to do?" I asked myself.

And that's when a mannequin caught my eye. He stood in the doorway of a shop that sold a wide assortment of random things, like a Dollar Tree store back home. The red suit may have been sparkly with sequins and, though he wasn't fat, we knew this Santa mannequin was a sign for our family. It was a sign that Christmas exists wherever you are as long as you try hard enough.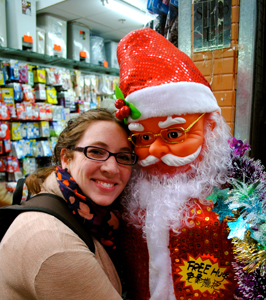 So we gave our son the best Christmas present we could think of; we took him to Hong Kong Disneyland (an actual Disney property, not like Happy Valley Shanghai, which was a poor knockoff at best). And Disneyland will always celebrate Christmas in style, no matter what country you're in.

So, while this Christmas vacation contained scenes like these: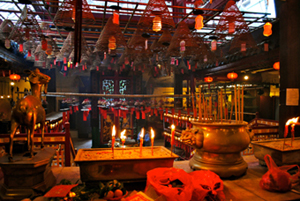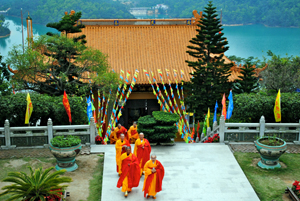 We tried our best to make it feel like Christmas by seeing things like this: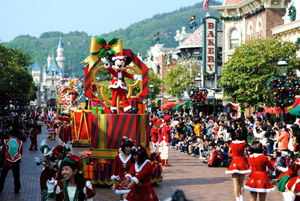 Year 2 Christmas was great, and I regret nothing. It was a Christmas that we can be proud of, and a memory that will undoubtedly last a lifetime.

Plus, we learned a valuable lesson that year; Christmas in China isn't the same as back home. You have to work hard to make special memories for both your children and yourself. And while we do live this life of wanderers and travelers for a reason, it's best to start the vacation on December 26.

Merry Christmas, y'all.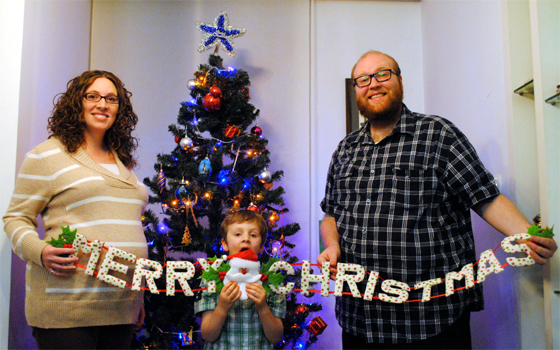 Related Thursday Review articles:

Ice & Beer: The Frozen North; Michael Bush; Thursday Review December 13, 2015.

Thank the Lord for Ice Cream!; Michael Bush; Thursday Review October 23, 2015.